Waterproof.  Water-Resistant.   Hmm… You may hear these terms and wonder what the difference between them is.  
Whether you're choosing a pair shoes, or a new wristwatch, waterproof  vs. water-resistant is an important distinction to make, and one that could affect your comfort, and the longevity of your purchase.
Use the following Table of Contents to navigate this article:
TABLE OF CONTENTS
Without further delay, let's jump right in that puddle!
Under Armour Men's Culver Low Waterproof Sneaker Hiking Shoe
Timberland Men's White Ledge Mid Waterproof Ankle Boot
Clorts Women's Mid Hiking Waterproof Lightweight Boots | Perfect For Outdoor Backpacking Trekking Lady Hiker Shoe
Gubarun Boys Snow Boots Winter Waterproof Slip Resistant Cold Weather Shoes (Toddler/Little Kid/Big Kid)
---
What Does Waterproof Technically Mean?
Waterproof means that an item, such as a shoe or boot can be completely submerged in water, and water would not soak into the materials.  
Waterproof boots, for example, are often made of rubber or synthetics, such as neoprene or polyurethane.
Even if you slog through wet mud and puddles, and submerge your boots for a while, your feet will stay dry.  
The outside would simply shed water like a duck's back. The effect would look something like this…
---
Beware Of Stiffness In Waterproof Footwear
Waterproof materials are usually on the stiff side, and therefore can be not all that comfortable, although many companies are trying to make waterproof articles of clothing, footwear, and other items more comfortable to the touch.  
Theoretically, if your waterproof attire is exposed to moisture of any kind, it should be able to handle it time and again, and you should be kept warm and dry.  This is, in fact, the entire reason it was made. 
That said, flexibility may be a concern if you are buying waterproof boots or shoes in particular, but of course you'll just have to pick your battles, or else shop for the best combination of waterproofing and comfort you can find.
With things like hats, or jackets, the stiffness factor doesn't come into play as much, but you will probably find that even a waterproof coat is still relatively more stiff than one which has not been made using waterproof materials.
---
Homemade Waterproofing
Buying a product that is made from waterproof materials is one way to go, but you can also make your own home made waterproofing solution, and apply it to things like boots and shoes, if you are going to be stomping around in the bog.  
Watch this video by OutsideFun1, and see how to make your own waterproofing solution, using environmentally safe ingredients such as beeswax, petroleum jelly, and essential oil.
As far as waterproof materials go, they do tend to lack breathability. They hold in moisture from perspiration.  
In hot weather they can get stuffy, and in cold weather, if your feet sweat, they might make your toes more chilly.  This is why finding the best waterproof attire is so important.
Not only that, but the nonporous materials can harbor bacteria that can lead to doors, or foot-health problems.  
A breathable lining, or socks that wick away moisture, can help with these issues.
Footwear manufacturers use testing to determine water permeability.  The test, called the IP test, is also used for electronics.
A score of IPX-0 means water will soak right in, while IPX-8 means that the item is completely waterproof.
Here is a great video by TechQuickie explaining these waterproofing ratings.  Very helpful!
Moving onward!
---
Water-Resistant – Dry For A While
Water-resistant means a certain degree of protection from water.  
A water-resistant shoe or boot, for instance, would stay dry after brief submersion, but pretty quickly, water would soak into the fibers.
Here is a side by side picture of two boots that took a dip into some water, with the one on the left being water resistant, and the one on the right not.
Water-resistant items are more breathable than waterproof items, as well as softer and more comfortable, so they are a better choice for day-to-day wear.  
Canvas and suede shoes and boots, both of which are soft and pliant, are sometimes sold with a water-resistant treatment.
More tightly woven, and less porous, material offers more protection against water.
Polyester and leather are both water-resistant, with different grains of leather offering different levels of water permeability.
When buying water-resistant shoes, take the seams into consideration. This is one area where water can seep in.  You may want to be sure to get waterproof soles as well.
You can use a spray to add a thin, water-resistant film to shoes that seals the outside against water, but remember, this is not the same as waterproofing.
The disadvantage to spraying shoes is that it can cause dis-coloration.  
Also, you must maintain the spraying regimen…. not often….. but if you forget to spray, it will lose its effectiveness.
Water-resistant shoes sometimes soak up dirty water, which can cause bacterial growth.
---
Gore-Tex
Shoe companies sometimes use Gore-tex booties as liners inside their shoes, to assure both total impermeability and breathability.
Gore-tex takes a high-tech approach to waterproofing.  
They stringently test their materials, filling boots with water, and spin them in a centrifuge to detect leaks.
They also utilize moisture sensors. Gore-tex wicks away moisture to keep feet dry.  
This helps feet stay at a comfortable temperature.
---
Other Waterproof Materials
Waterproof boots are usually made with rubber, neoprene, vinyl, nylon or polyurethane.
Water-resistant boots are typically made of leather, nylon and a variety of coated materials.
Waterproof and water-resistant boots are usually labeled on the inside.  
If they're not labeled, it's best to assume that they're not waterproof or water-resistant boots.
---
Swim Products
Certain products, like these neoprene swim socks, are clearly labelled as being waterproof, since they are, after all, made for swimming.  
There ought to be no confusion with items like this.
Moving onward…
---
Watch Out For "Weatherproof"
The term "weatherproof" also tends to mean water-resistant, but also can mean a rugged or warm.  
Be sure if you encounter this word on some product, that you double-check what you're actually getting.  
It can be a bit of a misnomer, as it might mean fully waterproof, water resistant, or simply extra rugged.  
---
Water-Repellent: A Middle Ground
Water-repellent shoes offer the second-highest protection, between water-resistant and waterproof.  
These shoes are constructed differently, and treated with different substances, than water-resistant footwear.
They are woven with a tighter, less porous weave.  Polyurethane, neoprene, and vinyl are often used in water-repellent shoes and boots.  
Just as it sounds, water does not soak in to these materials, yet they are not completely impermeable.
When it comes to footwear, some shoes and boots are made with a mixture of materials that offer different degrees of protection from moisture, for instance, leather and rubber.  
These are good if you're walking in a wet area with no deep water.
Active people want the best of both worlds–comfort plus dryness. When choosing shoes, think of which climate and weather conditions you're going to be experiencing.  
You might want a pair of waterproof shoes for very wet days, as well as some water-resistant ones for short trips outdoors in the rain.
Remember – better to be prepared than not, but sometimes no amount of waterproofing can protect you from Mother Nature!
---
Brands 
Let's start with the ever-popular Aleader.
---
Aleader
Aleader are arguably the leader when it comes to water shoes, of any description, for pretty much anyone.
A home grown Californian success story, this is a young company, which was only formed in 2013.
Since then, they have managed to become established as one of the best water shoe manufacturers out there.
Aleader make quality footwear which is principally amphibious – this means that the water passes through it with ease and dries up quickly after it has got wet.
Although their output is mainly aimed at swim and beach gear, they do also produce some casual shoes too.
To check out some reviews of Aleader products, click here.
---
Baffin
Designed for Canadian winters, Baffin trade proudly under the strapline "Born In The North".
Indeed, they are based in Canada today, although their origins lay in that wettest of isles – Great Britain!
As a Canadian company, their focus is, perhaps not surprisingly, firmly on winter. This means special attention is paid to both insulating and waterproofing!
Baffin get their name from Baffin Island, in the Arctic Circle. This gives you some idea of the standard that they make their footwear to!
Check out our review here!
---
Bogs 
Click on the Bogs website and you are immediately presented with a picture of rainboots leaping into a puddle.
This is what Bogs are about – if it isn't waterproof, then they don't do it!
Bogs are an Oregon brand, owned by the parent company Weyco – the group who also own Stacy Adams.
To see some reviews of Bogs footwear, look here.
---
CLC
CLC don't stand on ceremony. When you check out their website you can see it's full of rugged men who do a rugged days work!
There's nothing fancy here and nothing's for show. CLC are unashamedly a company who do what it says on the tin, nothing more or nothing less.
As the primary producer of workwear, they know a thing about waterproofing and we trust them to keep our feet both protected and dry, whether at work or play!
Find their website here and also check out our reviews of their rainboots!
---
Columbia
Columbia is a brand which has got some history behind it.
Originating in 1938, the CEO's parents established it after escaping from Nazi Germany, beginning life as the Columbia Hat Company.
Of course, the focus did not remain solely on hats and Columbia have been making shoes fit for the great outdoors ever since! This includes all aspects of waterproofing, which can be found in many of their products.
Columbia manufacture all types of sportswear, including for extreme temperatures and wet weather.
Find out more at their website.
---
Daily Shoes

 
On their website, Daily Shoes like to keep it short and sweet. They are about fashion and making it affordable – and there's nothing wrong with that!
A young company, they have been producing fashionable footwear since only 2011 – but you would think it has been much longer!
They also know a thing or two about waterproofing and produce some highly cute snow and rainboots – check them out here.
---
Joules
Joules are a British company, producing the quintessentially British Welly!  
Given that England is no stranger to rain, it seems a good idea to entrust the water-proofing of your rainboot to these guys!
Active since 1989, the company is the brainchild of founder Tom Joules.
Initially the company sold clothing but since then they have expanded to encompass footwear and much, much more.
There is an insouciance about their designs and something unmistakably British to be found in their printed footwear – with designs of London buses and dogs taking precedence!
For wet boot inspiration take a look at their site and also some reviews of their 'wellies'.
---
Kamik
Kamik's story starts over a century ago, in 1898, in Quebec, Canada.
As a brand born and bred in the north, its primary focus is toughness and resilience to whatever the weather condition is.
And this naturally includes water resistance.
Kamik take performance seriously and also the environment and have a green manufacturing strategy as well as recycling program for used footwear.
We like their commitment to the environment and their attention to detail.
Check them out for yourself here.
---
Keen
Keen are a young company, from Portland, Oregon, only founded in the early noughties.
Producer of the legendary Newport sandal, Keen were, well, keen, to go on quest to make sandals a safe place for your toes.
For too long, sandals have been seen as something that were just a bit risky for 'serious' walking in. But Keen have ensured that a sandal can be used a perfectly good hiking shoe.
Sandals are not all that this active brand are interested in, they create footwear for all types of outdoor wear, including hiking and water resistant shoes and boots.
Find out more on their site here!
---
Hunter
Another British company, Hunter supply wellies to the Queen, no less!
Footwear is not all they make, with a nice line in outerwear and complementary accessories too. However, shoes, boots and wellies are what they excel at and produce foremost.
The million dollar question is, are they water resistant?
But the fact that they have a section on their website specializing in festivals should give you a clue!
And if the Queen of England trusts them to keep her feet dry, then you should too!
Let's take a look at Merrell…
---
Merrell
Merrell's story starts in 1981. Randy Merrell applied his craft, learnt at shoe making school to the concept of the American cowboy boot and then spliced it with the finest Italian manufacturing standards and threw in a pinch of athletic expertise along the way.
The result was the Wilderness boot, a design classic and signature style of the brand – it is still on sale today!
Find out how their snow boots fared when we tested them out!
---
Muck
You want dirt? Here's a company that love it! As the name may imply, Muck are not afraid to get their products dirty – as we discovered when we reviewed some of their kids' boots earlier!
Muck produce boots which can take everything that nature can throw at them – and then some!
And as for waterproofing, what they don't know about it isn't worth knowing.
So if you're serious about staying dry and clean in the great outdoors, then Muck is the brand for you. 
---
Nomad
Fashion is the order of the day for independent minded Nomad.
Formed in 1997, the organization set out to produce unique, fun loving and fashion conscious footwear, with an individual twist.
Just because something needs to be rainproof doesn't mean it shouldn't look good too and we reckon you'll find something to suit your tastes over on their website here.
---
Servus
Servus are a creation of Honeywell – a company that do more than 'just' create waterproof footwear.
If you check out their website you'll see they cover almost everything from aircraft technology, to well, just about everything!
Amongst (many) other things they're also connected to the Muck brand of footwear also.
---
Sorel
Sorel are an all Canadian company, who were created in 1962.
Although they are inspired by all things outdoors, it is common sense and proper waterproofing which matter above all.
And while it is true that not all of their produce is purely functional, even their most fashionable styles have been designed to stay the distance.
---
Speedo

 
Setting the standard in all things swimming, Speedo are the brand to turn to when you want a water shoe.
Active since 1914, they are an Aussie brand, with Scottish roots.
And although water wear is a different proposition to waterproofing, it still dictates that the materials used should not become submerged or heavy when immersed.
---
Teva

 
Named after the Hebrew word for 'nature', Teva are the outdoor specialists and they know a thing or two about waterproofing!
The first Teva sandal was born in 1984, when a river guide hooked two Velcro bands together to stop his flip flops floating away, when on the water. The rest, as they say, is history.
Nowadays Teva do more than just water shoes or sandals, but this is their main passion.
---
The North Face
The North Face have been going for longer than some out there – since 1966 in fact!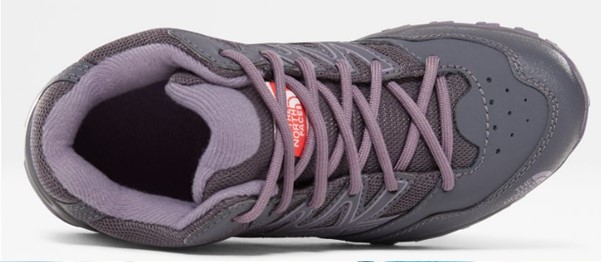 This San Francisco company has its roots in the challenge of nature – appealing widely to climbers and skiers alike. Since their start they have e
grown plenty and extended their range, but this is still very much what they are about.
Perhaps sunny California seems a strange place to launch a company concerned with such snowy pursuits – but The North Face have made it their own and are now rightly regarded as one of the top brands for climbers and arctic explorers!
---
Tingley

 
Tingley are a company which makes work and heavy duty apparel, for the world of heavy industry.
Active for over a century, Tingley pretty much wrote the book on waterproofing – they stock everything from raingear to boots and overshoes.
Overshoes are a protective layer that go over existing footwear, to save it from hazard or damage.
Given that they make footwear to withstand chemical spills, then we think they will definitely cope with water.
No, they're not sexy and definitely not going to be premiering at London Fashion Week either, but they make good sturdy products for tough situations including kids shoes! 
---
Timberland

 
Timberland's story goes back to 1933, when it was still the humbly named Abington Shoe Company, based in Massachusetts.
It wasn't until 1978 that it changed its name to Timberland – and it was named after their prototype model of 1973.
The Timberland was the first completely waterproofed boot that the company produced – of many!
Since then they have exploded onto the fashion scene, for their style and grace, but their hallmarks have always been high standards and top quality in their output.
All this and they are committed to sustainability!
Timberland are a brand to be reckoned with and are a leading exponent of waterproof footwear.
You may know this next oddly named brand…
---
Ugg

 
Ugg need no introduction! The iconic fashion brand are well known for their distinctive, furry or sheepskin footwear.
What might be less well known is that Ugg's memorable style has its origins in Australia – spliced with some Californian inspiration!
The company was created by an Aussie surfer visiting California in 1973.
Once again, it seems a strange mixture – hot weather and warm booties, but we think it works! And it should go without saying, that they can be relied upon not to let the rain in! 
By now, you should know a thing or two about waterproof vs water resistant.  Let's cap things off!
---
Love The Rain

 
It's easy to put off your daily walking when it is pouring down outside. But as those of us who live in wet climes know, there comes a time when you just have to brave it!
The fact is, there is nothing inherently scary about the rain. It's just a question of preparation.
Once you have got your footwear sorted, there really is nothing to fear about stepping out into a rainstorm – or even a snowstorm!!
By following our brand guide, you should be well on your way to choosing the right waterproof shoe for you!