The good news for walkers is that they do not need to have the expensive treadmills that runners or joggers will require.
That of course means that people who like to be able to continue to walk, when the weather is bad outside, or who are just simply private, can buy a good quality treadmill for walking, without breaking their budget.
As you may already know, these can get very expensive, but for walkers like you and me, there is no need at all, for many of the features on those expensive models of treadmills.
We only need to make sure that the basic and important features are on the machine, and when they have that, it will simply come down to your own preferences.
Now of course, if you want a model with all the bells and whistles, then there are many of these available, many of which are suitable for both walking and light jogging.
Exerpeutic Tf1000 Ultra High Capacity Walk To Fitness Electric Treadmill, 400 Lbs
Weslo Cadence G 59 Treadmill
Sunny Health & Fitness Treadmill Folding Motorized Running Machine
Proform Performance 600I Treadmill 2015 Model
Basic Considerations of Getting A Treadmill
This is what you should think about if you're going to get a treadmill.  The more honest you can be with yourself, the more money you'll save!
Will It Really Get Used?
This may sound like a very silly, even cheeky question. In our opinion a treadmill is like an exercise bike, home gyms, rowing machines and other such training aids.
When people buy them, they are highly motivated and can not wait to get started. The "thrill of the start" does not always last that long.
If you ever check on your local "buy and sell" adverts, you will find any number of bikes, rowers and treadmills for sale. If you're a dedicated bargain hunter, you might get lucky looking in one of those places. 
Hidden away in many garages, roof spaces and other storage areas, is a treasury of these no longer loved machines.  If you're going to buy new and online, then make sure you buy smart!

So our strong advice is only invest in a top quality treadmill, if you have a long term commitment to walking, staying fit or getting healthy.
Who Should Buy A Treadmill?
There are a few reasons that as a walker, you should consider buying a treadmill for the home. 
Some people are simply just very private, and do not want to go for a walk outside. The most common reason though is bad weather.
So, although we may love walking outdoors, it is better not to do that in inclement weather conditions. 
Ice in particular can be a huge risk for falls and breaks.  Many times a walker has said "I won't let the weather stop me from going out!" 
And they do go out, and they slip on ice.  A much better alternative to that is a treadmill, elliptical, or home gym. This way, the weather really can't affect your routine.

People who do not like gyms, or simply don't want the hassle of getting ready to go to a gym, will also benefit from having their own treadmill at home. 
While going to the gym is motivating for some, for others it can actually discourage you, for a number of reasons. 
Some people also prefer to make use of a home gym rather than pay monthly fees.
Think About Space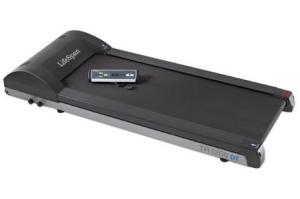 One thing you should really consider is having enough space to use a treadmill, as they are not generally small objects.
You may be fortunate enough to have adequate space, where you can simply leave the treadmill to use when you want to. 
Most homes however, will not have the luxury of an over abundance of space. 
So if that is the case, you need to think about how easy it is to store, and the room that it will take up.
We would recommend if you are in that position, then go for one that folds up, and can be easily stored away. Quite often, you will also find that these are also cheaper.
Treadmill Buying Guide for Walkers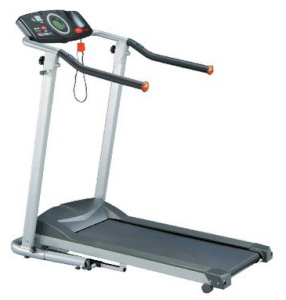 Treadmills are normally used by runners who need some type of indoor machine that closely replicates running outside.
They will need a longer deck to run on, a more powerful motor to turn the mill, and they will simply by the nature of their activity, be much harder on their machine.
Walking is clearly a more gentle activity, and as such a standard 50″ walking deck is perfect.
Nor do we walkers need anything that has a super powerful motor which in effect makes the deck turn faster.
We need to think a lot more about the important features which you will need for walking activity.
Considerations
There are in our opinion, three main criteria to consider, which we have shown below.
The Price – the bottom line is you can only buy what you can afford, or are willing to pay
The Motor – you will need a motor that will last
Warranties & Guarantees – you want to make sure these are in place for peace of mind. Specifically you need to check what is covered and how long the cover is for.
In addition to that, you may want some additional features such as:
Some type of audio or sound system – walking on a treadmill can get boring – You can use your own phone, or MP3 player, but some treadmills have a range of musical options. These include iPod, MP3, storage for music files etc. Some will also have wireless access.
Different workout programs – you can of course have your own programs such as length of time, speed of the walk etc. However some of these come with walking programs which really help a lot. They can add variety and improve your fitness levels. There are also some that you can adjust the incline or slope.
Measurement – Some can measure heart rate using pulse sensors, some have screen displays
How Easy Is It To Set Up?
Now two things generate a lot of complaints about treadmills generally. Set up is one area, and warranty is the other.
When you buy your new treadmill, there will always be some type of set-up. Many that we have seen, would need a NASA technician to be able to complete it.
If you are going to purchase a treadmill, then check that the set-up procedure is simple. Ideally, and in most cases you will need a couple of people to get it set-up and ready for some walking action.
Below, we have included, reviews on the highest rated treadmills, that are most suitable for walking.
Exerpeutic TF1000 Walk to Fitness Electric Treadmill
This one will cost around $400, and has been specifically designed for walkers of all ages.
This one has a 1.5 HP, high torque motor, and you can easily adjust the speed in 0.1 mph increments all the way up to 4 mph.
That means you can do about 4 miles in an hour at the top speed.
The belt is 20″ wide, but what I really like about this one is that it has very long safety handles, which I think is a great idea, and will prevent any risk of accidents.
For us walkers though, the LCD display will show, time taken, distance covered, speed, the amount of calories we have burned, and also the pulse rate.
This one can support weights of up to 400 lbs.
The frame can fold away for easy storage, and this treadmill comes with a 5-Year frame and motor warranty.
---
Weslo Cadence G 5.9 Treadmill
At under $290, this treadmill will be affordable for most people. This is also the best selling one at Amazon.
That is because it combines all of the main features, important for walkers, and yet does not cost anything like the more expensive $1,000 models.
This one folds up quickly, and as such is a great space saver, and ideal if you can not leave your treadmill up all of the time. There is also a 2 position incline, and it has a cushioned track.
This one is a good solid basic model that does not cost a fortune. It will take you around 30-45 minutes for the initial set-up, but you will need two people to install 4 bolts on the bottom.
The main display covers the important things for walkers….calories count, distance covered, and time elapsed.
This is in our opinion a perfectly good and compact treadmill that will suit most people, and comes at a very good price.
---
Sunny Health & Fitness Treadmill
Now this one has the highest rating by actual retail buyers, and at 4.7 out of 5 stars by actual buyers over at Amazon, it really does not get any better than this one.
It does however cost more, but you should be able to pick it up for under $380.
It uses a 2.2 HP drive system, folds away for easy storage and also has handrail controls, where you can start it, stop it and control the speed.
This one has 3 manual incline positions for those of us who want a more challenging type of walking.
Like the one above, this one also has an LCD screen that tracks your speed, time taken, distance covered, your pulse rate and also the calories that you have burned.
This one can be used for people weighing up to 220 lbs.
The machine itself weighs 103 lbs, and has a minimum speed of 0.5 mph all the way up to 9 mph.
In terms of folding up, it uses what is called a "soft drop" system, which means it collapses gently and will not cause any damage to floors.
---
Proform Performance 600C Treadmill
Now if your budget can stretch to around $800, then this is probably one of the best treadmills on the market right now.
The Proform company is well known for making these higher end products. This particular model certainly gets great ratings, and you will own a very high end machine.
This one really does have all the bells and whistles, and comes with a lifetime frame and motor guarantee.
This one is ideal for both walkers and runners, and you are really paying for a 2.75 CHP motor, a 5 foot long track, cushioning and all of the features that I have mentioned in my buying guide.
It even comes with a workout fan, is iPod compatible, has quick control for setting any inclines, and also has an entire range of very good workout programs.
Those are the types of extras that you get, if you can afford and are prepared to invest in a more expensive treadmill.
---
Sole Fitness F80 Folding Treadmill
At the very high end we have this excellent treadmill, which is a whopping $1,500. Now, as much as I would like to own this one, it is out of my reach at the moment.
I only use a treadmill when the snow or ice is on the ground. I could not justify spending that amount on a treadmill for a few weeks a year.
Plenty of people have bought this one though, and they rate it very highly. If I had the money, then I would buy it. It has a very well cushioned deck, and is powered by a 3.5 CHP motor and you can also set the inclines.
It comes with all the bells and whistles, and has a lifetime guarantee on the frame, the motor and the deck.
This one comes with built-in speakers and a very clear LED display.
This constantly displays the information that is important such as Speed, Incline, Time, Distance Traveled, Calories, Pulse and Pace, and there is also a 1/4 mile track feature, and a Peak and Valley graph for different programs.
---
Treadmill Motors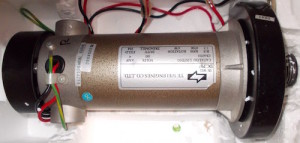 These can range in power quite a lot. In general terms, they are from around 1.25 horsepower(HP) to 5.0 HP.
On treadmills, you may also see the term "continuous horse power" (CHP). This simply refers to the actual power when being used continually.
This is a better measurement when considering buying a treadmill.
The ideal size of motor for walkers is around 2 CHP. We would only recommend a higher rated motor for people who are heavy in weight.
For anyone over 225 pounds in weight, go for a 3 CHP. The motor needs to be strong enough to withstand the load placed on it.
One final thought when it comes to motors is the noise level. Bigger or commercial grade motors are a lot quieter. However, they are also considerably more expensive.
Size of Track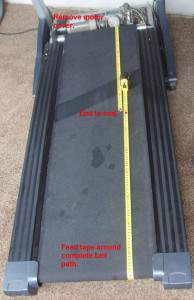 I mentioned earlier in this review that a standard treadmill size is ideal. I did also want to inform you of what sizes are available.
There are two measurements to consider which are the width of the track, and the length of the track. Widths usually vary between 16-24″ wide and are between 42″-64″ in length.
For walkers, almost any measurement will do. If you are a tall person, you should probably consider a slightly longer length.
The average stride length is about 30″, but if you have a longer stride, then look for one with a longer length setting.
If you move your arms a lot when walking, then you may need a wider track. For most people though, the standard track size is just fine.
Treadmill Durability, Cushioning, & Speed
For walkers, we will not need a track that is particularly thick. Runners would be advised to go for a 4-ply thickness.
However, as we will not be pounding up and down on the track, again most treadmills surfaces will suffice.
We also do not need treadmills with a lot of speed. Most treadmills can be moved up to 10 mph and as walkers, we will never go at that speed.
The cushioning really helps protect the joints, as it provides a big reduction in impact.
If you walked on a hard surface, then the impact on the joints is heavy.
A little well placed cushioning really helps support the feet as well, so ideally you should get one with that included.
Incline Or No Incline
Walking is good even on the flat, but if you want to walk for weight loss or fitness, then walking up a slope can improve cardiovascular technique, and also help burn off a lot more calories.
Some treadmills at the cheaper end need to be manually adjusted, but the more expensive ones can be controlled by a second motor.
Best Treadmill for Walking and Light Jogging
Now some of us who like to walk, may also want to break into a light jog from time to time. For this we will need a slightly different model of treadmill.
It needs to primarily cater for our walking activity, but still be capable of being pushed a little harder every now and then.
Something like the Sole F85 treadmill is right at the top of the range for this, but would probably be too expensive for most people.
It is the type that you find in gyms and universities where they specialize in injury recovery.
However, if I had to recommend just one for the mix of walking or light jogging, I would recommend the LifeSpan TR4000i Folding Treadmill.
That is the one that is on the picture on the left, and it really is one of the best treadmills suitable for this dual purpose workout.
It is of course from the high quality Lifespan brand, and it gets very good reviews by those who have bought and used this machine to help improve their fitness levels.
It is packed with features, with a 20 x 60″ running deck and comes with a lifetime frame and motor warranty. This  would make a perfect choice, and will last you for many years to come.
Best Budget Treadmill
If you are on a tight budget and you still want to buy yourself a good quality treadmill, then we think we may have the answer for you right here.
We literally checked a whole range of treadmills to find the one with the highest rating at the most affordable price.
The Confidence GTR Power costs $450 on average, and gets the highest ratings from a large number of satisfied buyers.

This one has been designed specifically for home use, will fold down for simple and easy storage, and you can manually set 3 levels of inclines.
This one works well for walkers like us, but is also suitable for some light jogging.
One of the routines that I like to go through, is to walk for 5 minutes and then jog for 2 minutes. It helps make the workout more interesting, and at the same time also increases my levels of overall fitness.