SHOE TYPE: HIKING/SNOW BOOT
GENDER: MENS
SIZES: 5-13 US
HALF SIZES: NO
MATERIAL: LEAHER/ TEXTILE/OILED SUEDE
SHIPPING WEIGHT: 12 OUNCES
SOLE: SYNTHETIC
INSOLE: MEMORY FOAM
BOOT SHAFT HEIGHT: 7 INCHES FROM ARCH
PLATFORM: 1 INCH
HEEL:  1.5 INCHES
WATERPROOF: YES
COLORS: BLACK, BROWN, DARK BROWN, COGNAC, GREY/ NAVY, COGNAC/ NAVY
ALSO: WATERPROOF/ INSULATED TO -22F/ PAJAX TEX MEMBRANE/ MOLDED WOOL INSOLE/ SHERPA LINING WITH LACE UP VAMP/ PADDED TONGUE
MANUFACTURER: PAJAR
FIT AS EXPECTED: 72%
OUR RATING:  4.3 STARS OUT OF FIVE
PRICE GUIDE: $121-190+
Sorel Men's Conquest Snow Boot, Bark, 10 M Us
Pajar Trooper Boots – Men's Black 43
Kamik Men's Greenbay 4 Cold Weather Boot,Black,10 M Us
Columbia Men's Bugaboot Plus Iii Omni Cold Weather Boot, Charcoal/Bright Red, 95 D Us
Oh No!
The worst has happened. A massive split appeared out of nowhere, in the seams of my trusty snow boots and there wasn't much time to replace them in.
I needed a new snow boot before the snows really came down and so I didn't have the luxury of deliberating over them for hours!
We were due to go out the following day and the weather threatened to be bad. Without much time to choose in, I took a leap of faith and found myself trying on the Pajar Trooper Snow Boot.
This is how I – and they – got on!
I was relying on this boot to carry me from the snow and ice seamlessly, into stores or restaurants. 
Because, while I love being outdoors snowboarding or strapping on snowshoes, there are times when I have to go from the outdoors into a restaurant with my family.
Stylish, lightweight and protective are the words of the day for the pair of boots I needed.
Thankfully, I found those boots in the Pajar Men's Trooper Snow boot.
Actually, if I'm being honest, my wife picked out the style that she wanted me to wear.
They're a beautiful pair of ground grabbers, while not compromising on quality construction or warmth. We're both happy!
About the Company
If you didn't know that Pajar is a Canadian company, all you have to do is look at the bottom of their boots. You're leaving behind a trail of Canadian leaves with each step.
They're very proud of their ability to provide men, women and children with boots that are fashionable as well as comfortable and warm.
The company was founded in 1963, and over the years they've won numerous awards from the International Footwear Fair, as well as the distinction of being La Griffe d'Or's Best Canadian Footwear designer winner.
Overall Look at the Features
Sherpa Lining – The shaft is lined with Sherpa, which is a soft, thick material meant to mimic fleece. It's incredibly warm and great insulation.
Minimal Lugs – While this wouldn't seem like a good feature in a snow boot, it's great since the snow, mud, and ice isn't tracked indoors.
Zippered Side – To slip the boot off and on, there's a convenient zipper on the side.
Padded Collar – This provides extra support and a snug fit, which works to keep snow from entering the top of the boot.
Insulation for the Pajar Men's Trooper Snow Boot
The Sherpa lining and Pajar-Tex membrane work to keep the snow and water from entering the boot. The boots are temperature rated at -22F(-30 degrees C).
There's also a removable memory foam insole that keeps the foot comfortable but has the added bonus of protecting the foot from being too close to the rubber outsole of the boot.
It provides added warmth and protection.
My Experience
With my wife's help and suggestions, I purchased the gray/navy since it'll match with dark jeans, which is most of my wardrobe.
The stitching and logo, as well as the Sherpa lining, were as stylish as we expected. As we were headed out to a local restaurant for dinner, everyone commented on the boots.
From the car to the restaurant's doors, I didn't pick up a ton of snow and salt from the parking lot, so while my dinner companions were stomping the snow from their boots, I was not.
The boots were still stable without the huge lugs in the bottoms, too.
Is the Pajar Men's Trooper Snow Boot Waterproof?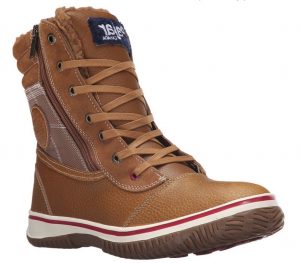 These are advertised to be waterproof. In all the time I've worn them, they have proved to be water resistant at least.
I am not in the habit of stomping through large puddles or small rivers, so I can't be sure about the full range of waterproofing abilities, but I'm satisfied that during normal wear, my feet will stay warm and dry.
The construction of the Pajar boot includes tape-sealed seams and adhesive construction, which lends itself to a dry interior.

Fit and Comfort Level
There's so much to be said for a comfortable boot that can be worn for an entire day, whether inside or outside. These boots have a memory foam insole, which makes these incredibly comfortable.
The cozy warmth of the lining means I don't have to worry about wearing thick socks, so my feet don't get overheated while I'm indoors, either.
This is great because the boots seem to run small. In my experience, I normally get a half size larger due to the fact that I like to wear thick socks with my boots.
Luckily, I did purchase a bigger size because they just fit.
Snow and Ice Traction
I'm not sure if this boot would be great for large snow piles in the woods.
It could definitely be warm enough, but the ridges on the sole are not made for hiking long distances in the snow. They're great on ice, though.
Ice covered parking lots were no problem for these boots.
Considerations for Purchase
When purchasing, keep the small sizing in mind. If you'd like to add thicker socks, you might need to go a whole size up to give yourself room.
These are stylish, everyday boots that can be worn indoors as well as outdoors. Keep this in mind when ordering.
Overall, I purchased these boots to be a hybrid of outdoor boots that I can wear indoors with ease. They were perfectly suitable for that purpose.
I'd be comfortable wearing them outdoors for hours, too.
They're lightweight, which makes them perfect for activities like bike riding or snowmobiling where you don't need a heavier boot.
Ask The Experts: Questions And Answers!
So you've read our review, from the personal perspective of our reviewer. But you have more questions and would like a more general picture of this boot.
We asked our team of testers for their considered opinions on various aspects of the Pajar Trooper Snow Boot – and this is what they came back with!
Can I Wear These In Extreme Cold?
Yes! Can you hell wear these in extreme temperatures! These have been specifically designed to keep your tootsies toastie and warm, even in the bleak midwinter.
They have been insulated to withstand temperatures of -22F – that's  -30C – pretty cold in anyone's book!
More than this, the uppers have been seam sealed, to ensure a completely warm experience!
Do These Boots Slip On And Off?
No. Sadly these boots do not just slip on or off. The zips at the side make it easier to get the boot off, but it does not remove it. The laces are the only way to get this boot on and off.
However, this does mean that the fit is a lot better in the long run, for it.
Are These Boots Truly Waterproof?
Yes. We put the question to our panel of experts and they pass the test.
Now we have to admit that maybe for one or two customers, they were not adequate – but for the main part they keep out the water pretty well.
This is to say that these boots should be water resistant and not instantly leak the second you step into the snow or wet.
However, for prolonged periods or lots of stomping through puddles, it might be a different story.
Remember, these are snow boots, not waders!
Will These Boots Slip In The Snow?
No. The consensus of opinion is that despite not having the most advanced lugs in the world on them, these grip just fine.
Better than that, you can then transfer them to an indoor situation (possibly the office) without them bringing in the polar ice caps too!
However, if you are up for some serious hiking through the snow, then we think you might be better choosing something with more appropriate soles.
Will I Get My Regular Size To Fit?
Yes. We think so. However, don't hold us to this.
The Pajar Trooper Snow Boot is a pretty good fit – with nearly three quarters of people who tried them on for size, completely satisfied.
Obviously, this still leaves a margin of error for nearly a quarter of the population – who were evenly split between thinking they ran either a bit too large or too small.
One word of advice, if your feet are wide, then you may want to size up. There have been one or two reports of them being on the tight side!
Can I Wear These On Warmer Days?
Mm. Sort of. We know that maybe this sounds like a crazy question on the surface of it, but in actual fact a lot of you wanted to know whether or not you could wear these snow boots in other situations, or if they would be too hot.
We think that these are fine for slightly warmer climes and you won't feel like your feet are roasting to death, the second the snow melts.
The good thing about these snow boots is their lightness.
Generally, snow boots are not well known for being feather light, but these are an exception.
One of things are team of testers really liked was the fact they didn't feel like concrete blocks on their feet!
However, we would probably think twice before walking across any deserts in them!
Do I Need To Wear Thick Socks With These Boots?
No. Not necessarily. However, this does somewhat depend on just how low the temperature goes.
For many customers, there is simply no need to ever trouble themselves with anything other than a regular sock. This is because of the beautiful soft and warm Sherpa lining inside them.
So, if you're not a fan of the dreaded winter 'lumpy sock', then these make an excellent choice of footwear.
One word of warning, however, is that should you decide to 'sock up', the consensus is that you may be in need of a wider fitting, or size up.
Pros And Cons
Unfortunately, most of life's good things come with drawbacks.
And it's not very often that we find a pair of footwear which pleases all the people all of the time.
Although these Pajar Trooper Snow Boots tick most of the boxes on our list for style and comfort, there are one or two niggles – alongside the whole gamut of reasons for choosing them in the first place!
This is what our panel thought were the negatives and positives of these boots!
The Cons
They Don't Slip Off Easily – One of the biggest disappointments of these snow boots is the fact that they don't simply unzip at the sides. They require careful lacing and unlacing, as our panel of testers can assert!
The upside to this is a toastie warm fit, which is both supportive and snug.
As far as downsides go, we think we can live this.
The Pros
Stylish – It makes a pleasant change for a gentleman's snow boot to not resemble something out of Robocop, for once.
We've lost count of the number of great wearing, but slightly dull snow and winter boots, we have reviewed on these pages and are happy to report that these are not among them.
These boots will allow you to stay warm and retain some urban charm. Win win!
Lightweight – We've said it before, but we'll say it again. These boots are light.
This is not something that is the norm in our experience for a snow boot which is so warm.
It nice not to have your entire foot weighted down by a snow boot and it also means you might even think you are wearing slippers, when you come indoors!
Comfortable – If we have neglected to mention in before, comfort is something that the Pajar Trooper Snow Boot has in spades.
Nearly everyone was impressed by the cozy, light and above all comfortable walking experience in these boots.
Versatile – You want something that you don't feel obliged to remove, on setting foot in a slightly more genteel environment?
These Pajar Trooper Snow Boots fit the bill nicely. They will keep you warm and dry outside and still allow you ease of access to the ski club bar when you're done.