When you picture the south-western state of Arizona, you might picture one big desert. But Arizona's landscape is really quite varied, ranging from forests to mountains to canyons.
Arizona is bordered by Mexico to its south, Nevada and California to its west, New Mexico to its east, and Utah to its north.
Its climate is desert-like – hot summers and mild winters. While contending with heat and steep mountainous climbs may seem daunting to some hikers, the breath-taking landscapes and uniqueness of the scenery makes the journey well worth it.
All you really need is a little preparation and planning. It also helps to know which trails are best-suited to you, which is the purpose of today's article.
Arizona has a vast assortment of hiking spots across different levels of difficulty to please every hiker, and today we'll be taking a look at 10 of the very best.
---
1. Bright Angel Trail, Grand Canyon
Let's start with one of the most renowned hikes in the state – The Bright Angel Trail.
Arizona is of course home to the Grand Canyon, one of the seven Natural Wonders of the World, and this is where the Bright Angel Trail is found.
Therefore, it is not surprising that this is one of the most popular and one of the most breathtaking hikes in the state (figuratively and literally).
This hike begins at the South Rim of the Grand Canyon and descends into the Grand Canyon. The trail hugs the side of the canyon and drops off at the outer edge.
It is a fairly steep path, and the drop off may be a bit scary to those who are afraid of heights, but it is quite safe. The trailhead elevation is 6 580 feet, and it drops 4 200 feet down to the Colorado River.
The trail is a dirt trail and is clearly defined and well-maintained. There is usually some shade on the trail cast by the canyon wall, but this depends on the time of day.
You might want to avoid this trail in winter and be cautious even in early spring, as the top of the trail can be quite icy.
The nice thing about this hike is that you can make it longer or shorter according to your preference. If you so desire, you can hike right down to the Colorado River, which is a 9-mile hike.
However, it is not recommended by the National Park to attempt hiking from the rim to the river and back in one day. There is camping available, both at the Bright Angel Campground or the Indian Gardens.
If you are looking for something shorter, however, you can make your hike as short as half a mile, because the trail offers many day-hike destinations along the way.
In the summer months there is water available at rest stops 1.5 miles and 3 miles into the hike. In winter, water is available at a 4.5-mile rest stop. It is, however, crucial to bring your own water with you so you don't get dehydrated.
Take a look at this informative video to learn more about the trail and get a clear image of what it looks like!
Address: Grand Canyon Village, AZ 86023
Website: https://www.nps.gov/grca/planyourvisit/upload/brightangeltrail.pdf
https://www.nps.gov/grca/planyourvisit/upload/bright_angel_trail.pdf
Difficulty: Difficult
---
2. Cathedral Rock, Sedona
Cathedral Rock prevails over the landscape of Sedona, Arizona. It is a beautiful hike that offers incredible views along the entirety of the trail.
Rather than looping around, this is an in-and-out type of trail. As the round trip is 1.4 miles, it is quite a short hike and usually takes around an hour to complete. Hikers can follow the constructed cairns to lead them along the path.
The trailhead elevation is 4 040 feet and the elevation gain is 700 feet, with the accumulated gain being 750 feet.
There are some steep parts of the trail – in the middle there is an almost vertical section that requires climbing, and near the end, a short, steep climb gets you to the top of Cathedral Rock.
Once atop the rock, you are presented with stunning views – it's a wonderful spot to take a rest, admire the scenery and watch some wildlife.
The trail is on the east side of the mountain, therefore it is best to undertake this trail in the afternoon, so you are hiking in some shade.
Dogs are also allowed on this trail, provided they are on a leash. Keep in mind that there are steep parts of the trail which could prove difficult for some dogs. Always bring water for your dog as well.
Address: 500 Back O Beyond Road, Sedona, AZ 86336
Website: http://www.sedonahikingtrails.com/cathedral-rock-trail.htm
Difficulty: Medium
---
3. Echo Canyon Trail, Chiricahua National Monument
For something a little less strenuous, Echo Canyon Trail is a great choice.
This is a beautiful trail that traverses the mountain range known as Sky Island, above the desert. It is located in southern Arizona, and although there is no accommodation nearby, it is an excellent place to camp.
This trail is a 3.5-mile loop trail. It takes you along ridges, between stone spires, and through a slot in the rocks referred to as "Wall Street". The towering stone pillars in the canyon are really quite magnificent.
The trailhead elevation is 6 773 feet and the trail has an elevation gain of 515 feet. Preferred times to hike this trail are the fall and spring.
Address: Bonita Canyon Drive, Chiricahua National Monument, AZ 85643
Website: https://www.nps.gov/chir/planyourvisit/hiking.htm
Difficulty: Easy
---
4. Bull Pasture/Estes Canyon Loop Trail, Organ Pipe Cactus National Monument
This unique trail in southern Arizona near the Mexican border is often overlooked, but I think it deserves to be on the list of top 10 hikes in Arizona.
This trail offers some marvellous views of the canyon, the desert, and the mountains in Mexico. But the main attraction of this trail is the unique Organ Pipe Cacti that are found in Arizona only in the most southern regions.
You can follow the maintained gravel road to the parking lot at the trailhead. The trailhead elevation is 2 369 feet and the accumulated gain is 1 000 feet.
There are a couple of trails that lead off from the trailhead, so you have some options depending on what kind of mood you're in. The Bull Pasture Trail is to the right, the Estes Canyon Trail to the left, but they both meet at a high ridge later on.
The Bull Pasture Trail is a gentler climb and less strenuous. It will take you to the Bull Pasture Overlook, a lookout over the grassy Bull Pasture where cattle used to roam freely during the ranching days of this area. You can take this trail in and out for a 3-mile hike.
The Estes Canyon Trail is a bit steeper in spots and is a 3.2-mile hike in and out.
However, many people make these two trails into a loop. You can take the Bull Pasture Trail to Bull Pasture, backtrack a bit until you connect with the Estes Canyon Trail, and then follow that trail back.
Both trails offer amazing views of the dramatic landscape, much wildlife and organ pipe cacti, as well as saguaros cacti.
The trail is accessible all-year round, but conditions are quite hot in the summer. Best times to hike this trail are early fall to late spring.
Address: Ajo Mountain Drive, Ajo, AZ 85321
Website: http://www.americansouthwest.net/arizona/organ_pipe/bull-pasture-estes-canyon.html
Difficulty: Easy-Medium
---
5. Humphrey's Peak
Humphrey's Peak is the highest mountain in Arizona, so of course it earns a spot on our top 10 list of hikes. The 12 633 feet elevation at the top makes for some spectacular views.
There are two trail options that will get you to the summit of Humphrey's Peak.
The first is Humphrey's Summit Trail, which starts at the Arizona Snowbowl and ascends at a steady incline of 3 300 feet in 5 miles. This is a steep uphill climb all the way!
The second option is the Inner Basin Trail, which climbs at a more gradual rate, but is still strenuous.
This trail is also the more scenic of the two, especially in the fall when the aspens along the trail change colour. The Inner Basin Trail is 7 miles each way, slightly longer than Humphrey's Summit Trail.
The steep incline of these trails makes this a difficult hike. Keep in mind as well that the air becomes thinner at such high elevations, which also makes this journey more taxing.
It is important to pay attention when hiking this trail, as the path is only vaguely defined and can be hard to see.
The best season to hike this trail is from early summer to early fall.
From the top of Humphrey's Peak, the view is grand. On a clear day, you can see all the way to the north rim of the Grand Canyon, so the uphill climb truly is worth it.
Address: W Fort Valley Road, AZ 86001
Website: https://www.arizona-leisure.com/humphreys-peak.html
Difficulty: Difficult
---
6. Mount Kimball via Finger Rock Trail
Mount Kimball is a major peak in the Catalina Mountains in Tucson.
The Finger Rock Trail is a steady climb to the top, but once at the summit, you are presented with a 180-degree view of the Catalina Mountains which is really quite stunning.
This in-and-out trail is about 5 miles each way, and the accumulated gain is 4 400 feet.
The trail is relatively flat at the beginning, but then it begins a steady climb through the valley, with beautiful views of the canyon below.
Around 3 miles into the trip, an unmarked side trail splits off to the right – this is known as Linda Vista, a south-facing saddle with a nice view of Tucson. This can be a good addition to your hike, or you can even make this your destination if you are looking for a shorter hike.
If you continue on to Kimball Peak, you will hike through forests of oak and pine, with a steep incline.
It is preferable to do this hike in the spring or fall, as it can get very hot in the summer. Most flowering plants will flower in the early spring, so this would be a nice time to visit.
Website: https://www.fs.fed.us/wildflowers/regions/southwestern/FingerRockTrail/index.shtml
Difficulty: Difficult
---
7. Broken Arrow Trail, Sedona
This is a simple yet beautiful trail in the Sedona area. It is not too demanding and is easily accessible.
The main attraction of this hike is the beautiful red and white rock formations of Munds Mountain Wilderness, as well as the juniper, pine and cypress forests.
The trailhead elevation is 4 250 feet and the accumulated gain is 600 feet. The trail is wide, well-maintained and well marked. On your way you'll see a sink hole sectioned off by barbed wire – this sink hole is called "Devil's Dining Room".
When you keep going, you are faced with a fork that leads either to Chicken Point or Submarine Rock. Both are beautiful options. From a higher elevation, Chicken Point gives a view of the valley below.
Submarine Rock is a nice hike downwards through a wooded trail dotted with black volcanic rock to a beautiful view of Submarine Rock above.
The hike is about 3.5 miles round trip and is accessible all year round.
Address: 799 Morgan Road, Sedona, AZ 86336
Website: http://www.sedonahikingtrails.com/broken-arrow-trail.htm
Difficulty: Easy
---
8. Havasu Falls
These bright turquoise falls will mesmerize you! They are truly idyllic, and if you like to swim, this is the hike for you! These waterfalls feel like paradise.
The waterfalls are located inside the Havasupai Indian Reservation which means you need a permit for hiking and camping. Unfortunately, a permit can be difficult to acquire, because of the popularity of this site.
Starting from the trailhead, it is an 8-mile downhill hike to a small village known as Supai, and another 2 miles to the campground.
Once at the campground, you can hike to all the waterfalls in the area. Beaver Falls is another waterfall worth seeing – it's about a 4-mile hike from the campground.
The Upper and Lower Navajo Falls also make a beautiful spot to swim, just half a mile from the campground.
Take a look at this little video to get a better idea of what this beautiful area looks like!
Make sure to bring your bathing suit for this trip!
Address: Havasupai Trailhead, Supai, AZ 86435
Website: https://grandcanyon.com/planning/south-rim-planning-planning/havasupai-falls-arizona/
Difficulty: Difficult (because of the length of the hike)
---
9. West Fork Oak Creek Trail
West Fork in Oak Creek offers unforgettable scenery and lovely wildlife.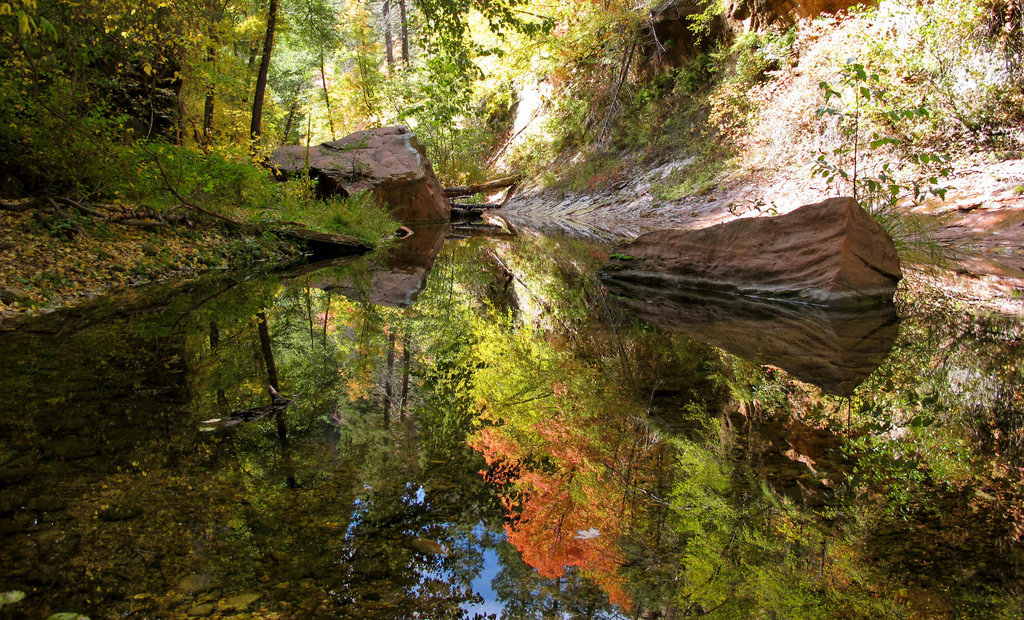 Oak creek is a clear, winding creek. It narrows and widens and pools, making for a soothing and peaceful hike. The trail hugs along the crystal water and follows the twists and turns. There are many trees and foliage surrounding the path.
The trail along the creek goes three miles each way, but you can choose to make the hike shorter if you want by turning back sooner. This hike is less about the destination and more about the journey.
This trail is beautiful in all seasons. In spring, you will see many migrating birds dancing through branches above. In autumn, the blazing colours of the trees will decorate the forest.
Make sure you are prepared to get a bit wet when hiking this trail. You will have to walk through a bit of water at times, so water shoes would be a good choice to wear.
If you are interested in camping, there is camping available 6 miles up the canyon.
Address: W Fork Trail, Sedona, AZ 86336
Website: https://www.fs.usda.gov/recarea/coconino/recarea/?recid=55432
Difficulty: Easy
---
10. Camelback Mountain, Phoenix
Last on our list we have Camelback Mountain. This is a famous mountain in Phoenix, but for this reason it can be a bit crowded with tourists. It is so popular that there is a full-time ranger stationed at the start of the trail to inform new hikers about some of the obstacles on the trail.
This hike is popular because it's fairly quick and offers spectacular scenery. The views from the lookout point on Camelback Mountain are simply remarkable.
There are two paths that lead up Camelback Mountain – the Cholla trail and the Echo Canyon trail.
The Cholla trail climbs 1250 feet in 1.42 miles. It starts with an uphill hike that is challenging but enjoyable and finishes with an upward climb/scramble which is more intense.
The Cholla trail offers more wildlife, especially during the right time of the year.
The Echo Canyon trail is intense – it gains 1 280 feet in 1.23 miles. In fact, this hike sees more rescues in a year than any other hike in a metropolitan area in America.
There are some very steep areas of the path that use guard rails to help hikers keep their footing. Along the hike, however, you will find phenomenal views.
Parking can take a long time to find if you arrive after 6am because of how popular this trail is.
Website: http://climbcamelback.com/
Difficulty: Difficult
Conclusion
These are our top ten hikes in the state of Arizona. There are, of course, so many other amazing hikes in this state. The scenery is truly unique and hiking in Arizona is an unforgettable experience.
A great resource for learning more about the various hikes offered in Arizona is this website: https://hikearizona.com/