We gathered together some of the absolute best women's winter boots of 2020-2021 in the following short and to-the-point reviews. They're warm, stylish, and will keep your feet warm and protected.  We think you'll love them!
We kick things off with the amazing…
Columbia Women's Minx Mid II Omni-Heat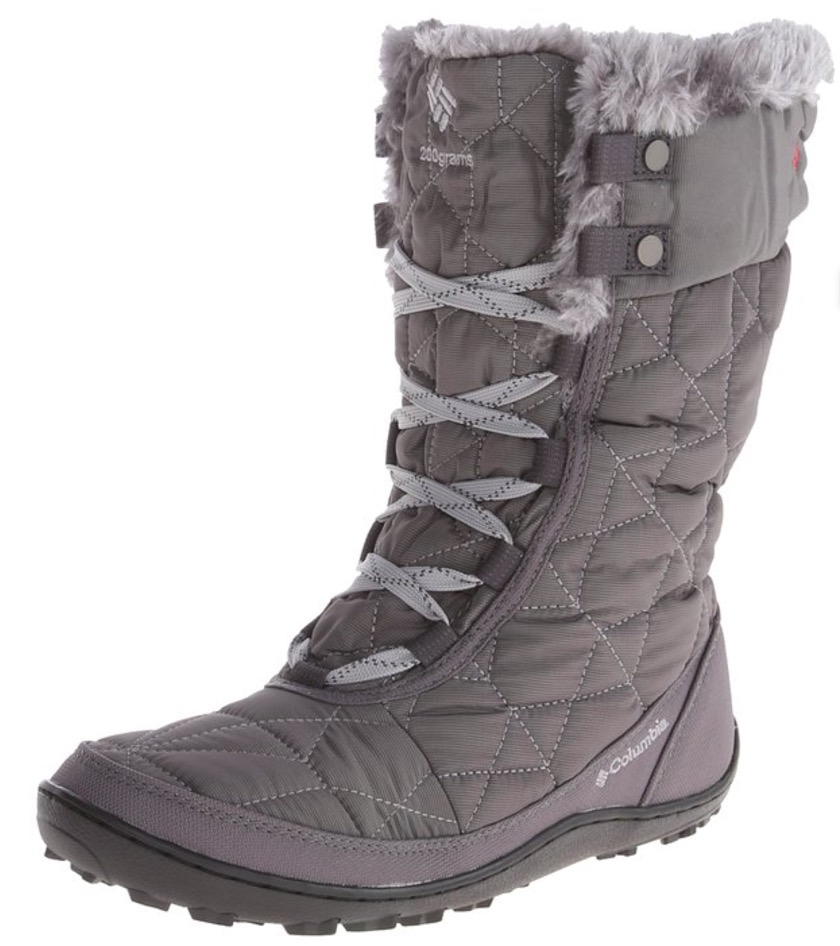 When choosing boots, you want a pair that will keep your feet warm but still look fashionable. The Columbia Women's Minx Mid II have a wonderful quilting detail that makes them different and unique. They also have a variety of colors like the umber, shale, charcoal, and nori.
Our Favorite Features
Reinforced Overlay – The quilting overlay provides an extra layer of protection against snow and wetness.
Faux-Fur Collar – This keeps the snow from falling into the top of the boot, while also keeping cold air from entering and chilling your legs.
Omni-Heat – Columbia's proprietary Omni-Heat insulation keeps the wearer's legs and feet toasty warm.
Traction on Snow and Ice
The non-marking rubber outsole has increased traction that will keep you from slipping and sliding on an icy surface. The traction is available in Columbia's boots because of Omni-Grip, which is another proprietary system to differentiate these boots from others on the market.
Comfort and Style
The footbed of the boots are contoured to provide comfort and functionality. You'll be able to wear these boots for the entire day.
From mornings at the bus stop with the kids, to afternoon walking to the local lunch spot, you'll be comfortable and stylish in these Columbia Minx Mid II women's winter boots!
---
Kamik Women's Snowvalley Boot
These boots come in a variety of colors like the black/gray, white, olive, burgandy, and navy. There are 10 colors total, so you could buy a pair for each outfit you have. They're a great snow boot for wearing with jeans or long skirts depending on your daily routine.
Our Favorite Features
High Shaft – This will keep snow from casually entering the top of the boot.
Faux-Fur Lining – Soft, fuzzy faux-fur makes these some very comfortable boots.
Traction on Snow and Ice
The sole of the boots make for a very secure walking boot. You'll be able to walk through the snow, hit the pavement, or walk into a building without worrying about slipping or falling.
Comfort and Style
The boots are incredibly comfortable, due to the lining and the waterproof materials that will keep the interior of the boot dry.
Columbia Women's Minx Mid Ii Omni-Heat Snow Boot Black, Charcoal 85 B Us
Kamik Women's Snowvalley Winter Snow Boot ,Black Bk2,8 M Us
The North Face Nuptse Purna Ii Boot – Women's Tnf Black/Beluga Grey, 70
Keen Women's Hoodoo Iii Low Zip-W Snow Boot Black/Magnet 85 M Us
---
North Face Women's Nuptse Purna Boot
These beautiful boots are available in a few colors and slightly different styles, which is an amazing feature if you love the boots as much as we do. You'll be able to buy the moonlight ivory, black, iron gate gray, dove gray, or desert palm brown to match any outfit you own.
Our Favorite Features
Velvet Suede – Along with the stunning material choice, the suede is also waterproof.
Lightweight – You won't have to worry about clomping around in your boots at the store or a restaurant.
High Shaft – The high 10 inch shaft will keep snow from being dumped into the top of the boot.
Traction on Snow and Ice
The lugs on the bottom are fairly thick, which means more stability and traction on snow and ice. The very bottoms of the soles have adorable snowflakes that you'll leave behind when you walk.
Comfort and Style
These boots are stylish and very comfortable. You'll want to wear warm socks with these boots to ensure that your feet are toasty warm. That goes for any winter boots, though. They're lightweight and can be paired with jeans or a long skirt and will look very good.
---
KEEN Women's Hoodoo III Winter Boot
These boots come in three different colors with a beautiful fringe of faux fur at the top. When you think about winter boots, there's nothing more comforting than having a fur lining in your boot.
Our Favorite Features
Snow Collar – The fur snow collar will keep the leg warm and snow from slipping into the boot.
Insulation – 200 grams of insulation will keep your feet cozy.
Traction on Snow and Ice
The rubber sole and thick lugs will keep you solid on any surface, whether it's full of snow or ice.
Comfort and Style
Quilted material keeps the boot waterproof and protected against snow and water.
---
Teva Women's Jordanelle 3 Winter Boots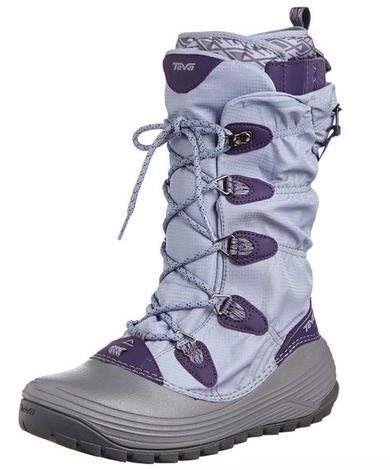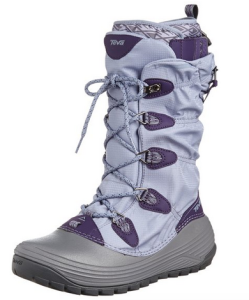 When it comes to a stylish pair of boots that can handle the stresses of winter like snowdrifts over a foot high, the Teva Jordanelle boots are a fantastic choice. They come in two different colors. One is a beautiful Lavender Ash, and the other is a traditional black with gray accents.
Our Favorite Features
High Shaft – With over 10 inches of coverage from the arch to the top of the boot, it'll take a huge snow mound to penetrate the tops of these boots.
Zip Pocket – This great detail will keep travel documents as well as extra cash safe. It's a pocket meant for the travel bag, but you can use it for anything you wish.
Waterproofing – The sealed seams ensure that all water and snow is kept out of the boot.
Traction on Snow and Ice
The Spider Rubber outsole of the Teva Jordanelle boots provide great traction on slippery surfaces. The lugs are thick, and will give the wearer a sure-footed grip on the ground while walking. They're great for taking a walk around the block, or hiking in the woods.
Comfort and Style
The boots run a little narrow, so it's recommended that buyers go up a full size if they plan on wearing thick socks with these boots. They're incredibly comfortable and the lace-up shaft gives the wearer stability on slick surfaces.