Last Updated on
By: Best Walking Shoes
Here, on this page we have reviewed what we believe to be the best walking shoes for women available on the market in 2020.
Believe us when we say the competition was fierce this year!  Some brands rose up to become to true favourites and other brands sank down into obscurity, as advancements in shoe technology is made. 
You wouldn't think that the battle for "top women's walking shoe" would be this dramatic, but, actually, it was!
The great news is that almost all of the shoes that we did review which made our Top 10 list made it through our testing stages, and, on top of that, were generally well-received by buyers.
Use the following table of contents to navigate around this massive post!
Alright, let's dig in!
---
The Best Walking Shoes For Women –
A Complete Buyers Guide!
So, what makes a good walking shoe for women? This is the thorny question that shall uncover for you in this section!
Near the bottom of the page, we have our considered selection on the best walking shoes for women, including the best sneakers or sandals.
What isn't covered, are ladies walking boots, which are a whole different ball game and have their own dedicated section here.
---
Are The Shoes All-Terrain?
One of the first questions to answer, is what is the kind of terrain you will want to wear your shoes in?
A lot here will depend on the part of the world you live in, or whether you are thinking of packing for a specific vacation somewhere.
---
Are They 100% Waterproof?
One thing that we find constantly astonishing, when it comes to the world of walking shoes, is that not all shoes are waterproofed.
Perhaps this isn't as strange as it may sound, because not everyone needs protection from water. If you live somewhere that the climate is arid, then it is probably not a top consideration.
All the same, this is something to be aware of. And if you do not know for sure that a shoe – or sandal – is waterproofed, then it is probably best to assume that it is not.
Furthermore, there is the perplexing distinction between waterproofing and water resistance.
Although there does seem to be some wiggle room around the topic, in general we think that waterproofing should mean that you can safely immerse your foot in a puddle, without it so much as getting a bit damp.
Whereas water resistance can mean anything from not disintegrating in a couple of drops of rain, right up to deep sea diving. Which gets a little confusing.
But in general, we wouldn't expect the same standard of dryness from a shoe that called itself water resistant, as we did to one which claimed to be waterproof.
Then of course, there are amphibious shoes and ones which are specifically designed to be worn in water as a principal usage. These are another matter entirely and covered in a different section of our site here.
Feature Picks – Best Walking Shoes For Women
---
How Breathable Are My Shoes?
Waterproof walking shoes are not usually too breathable, but that doesn't mean they can't be relatively light.  
Not surprisingly, breathability and waterproofing are quite hard to combine. Although, many water shoes are made from a mesh fabric, which allows both air and water to run through them.
(NB: water shoes are not waterproof. They are designed to actually get wet, but then dry out quickly – not to remain dry at all times).
One of the advantages of choosing a shoe which isn't specifically waterproofed can be considerations of coolness and breathability.
Put simply, when walking over long distances, even the most fragrant of feet are likely to start to pong a bit.
So choosing a sole – and upper – which is specifically designed to repel moisture and allow the air to circulate, is a must.
If full waterproofing is not a necessity, then you probably will want to choose a more breathable design.
The one disadvantage of waterproofing is its' propensity for making a sweaty foot even sweatier!
Finally, many designs now feature specific antibacterial properties, designed to reduce foot odour.
---
Shoe Care
Additionally, you should pay careful heed to the instructions for care on your walking shoes, sneakers or sandals.
An important part of getting the right shoe, is making sure it stays in tip top condition.
So how to clean and care for them is paramount.
Many people simply want to be able to toss their shoes into the wash when they come in from a long, muddy trail and forget about them.
However, not all walking shoes are washing machine compatible, so before you total your expensive new hiking sneakers, you want to check this is possible!
Some designs will require special cleaning products and may only be wiped clean with a damp cloth.
Wherever possible, we aim to tell you in our comprehensive reviews about any special cleaning instructions. But you should always check these things, prior to buying!
In our opinion, the best walking shoes for women are the ones which clean up nice and easily and then dry quickly, as well.
Also, there is the added hazard of making sure they don't start smelling when they get wet – which is sadly a thing that can happen to some models.
---
We Need Comfortable Soles
The sole is at the heart of any shoe, and never is this more important than in a walking shoe.
Put simply, we want it to do everything.
It must be firm, supportive, springy, flexible but also protective. You want it to be soft and comfortable, but also tough enough to avoid sharp bumps and lumps in the terrain.
---
What's The Outer Sole Like?
Equally, it needs to be skid resistant in wet conditions, but also capable of gripping to a dry surface.
You may need to consider whether these shoes are to be worn largely on the smooth, uniform surface of a road, or more off the grid conditions, such as over soil, sand and rockier climes.
Then, there is the possibility that you want these walking shoes for mainly an indoor use.  It's not likely, but it's possible.
Walking shoes which are designed for the world of (indoor) work come with their own set of criteria, which are quite different to an outdoor walking shoe.
The difference here is whether the shoe is comfortable enough for all day wearing (see below; best shoes for everyday walking) or are more for the occasional, if lengthy, expedition.
Not all walking shoes are designed to be worn all day long and your feet may simply begin to rub in some of them, if you wear them too frequently.
When looking for a sole, you will have to weigh all these things up, as well the practical considerations such as the material they are made from (i.e. EVA), the traction they offer and other issues such as the type of grips they have.
---
The Midsole
On the top of the sole, is the midsole of the shoe. This is the part which is going to offer the resilience from the bumps and shocks in the road and also give your foot the support it needs.
Generally speaking, a pair of walking shoes – or sneakers, or sandals – will offer proportionately less protection from the elements than a pair of actual boots will do.
However, a quality pair of walking shoes will still offer a decent level of protection (see our reviews for more details!)
---
Do You Prefer Lace Ups?
One of the first choices you will be confronted with when choosing a walking shoe, of any description, is whether to lace or not to lace.
We would say that the vast majority of serious walking shoes for women feature laces.
But even within these, not all is equal!
Issues such as how many holes the laces have, the extent of the lacing, whether the tongue is moveable, and a load of other considerations come into play.
The only way to check for sure, is to try them on and really make sure they are the right fit, first time.
---
What About Walking Sandals?
Now some women simply prefer walking sandals.
This may simply be due to the part of the world you live in. Or maybe you just don't like the feeling of having something heavy and enclosed on your feet.
Either way, there are many considerations when it comes to choosing sandals, in particular.
To Toe Or Not To Toe?
Whether to opt for open toed sandals or go for one with a closed toe is a prime consideration for any woman looking for sandals specifically to walk distances in.
The answer to this will be primarily determined by where you are planning on wearing them.
For rougher terrain, where there is a hazard of falling objects, you may prefer to play it safe, with something with a closed toe.
However, even with an open toed design, it is possible to get a toe protector on many walking sandals. This can be a great compromise for the woman who wants the freedom that open toed brings, without risking stubbing her toes continually!
Check out our selection of walking sandals.
These are not like ordinary sandals though, but ones that have been designed to complement your walking efforts. These come from great brands like:
They are very stylish, but more importantly they are designed with great care to offer maximum support and comfort for walkers of all ages.

Read our detailed reviews for the Best Women's Walking Sandals
---
Tips When Buying
So what are the top things which you should bear in mind, when choosing a pair of walking shoes – whether they be sandals, shoes or sneakers?
---
Try 'Em On!
Yes, it may be blindingly obvious, but you are going to want to try them on before you buy them!
Even if you are buying online, a reputable seller will always allow for returns of items which do not fit, or simply fail to please.
We would advise testing them fully before leaving the shop or deciding to keep them. This means making sure they are comfortable and fit straight from the off.
Check them out on any walking ramp there is available in the shop, as returning them after they have been taken on a twenty-mile hike through the Rockies may prove tricky!
Shoes are a slightly different category to boots and should fit straight from the off. So our advice is to go with your instinct and do what your feet are telling you to!
---
Be Prepared To Go Up A Size
When it comes to walking shoes, you might find yourself more comfortable in a pair that are half a size up from your usual fitting.
This is because you are more likely to need to wear thick socks with them.
We would always advise bringing your own favorite pair of walking socks with you, when trying on shoes – and sandals.
That's if you are a socks under sandals type of gal, of course!
---
How Are They On Hills And Inclines?
Remember, these boots – or shoes – are made for walking. And that means going over life's troughs and peaks.
In other words, how comfortable are these things at taking a hill?
And don't forget, going downhill can often be as much as a challenge as going up one. Do they support your feet as you take an incline?
---
Shoe Shopping At The Optimal Time
Did you know there was such a thing as the wrong time to go shoe shopping?
For some women, of course, there is never a bad time to buy shoes!
But from the perspective of podiatrists (and of course, your feet, which have been screaming at you for years) there most certainly is!
And the morning ain't the time to do it!
In fact, it would seem waiting until the afternoon – even as late as four o clock – is the optimal time to hit the shops.
This is because your feet expand and swell as the day goes on.
So if you want to be assured of the best fit possible for your walking boots, shoes, sneakers or sandals, then wait until after noon before you indulge in some retail therapy.
---
The Best Walking Shoes For Women
Ok, you've heard what we have to say about how to select the best possible walking shoes.  Many factors were discussed, and now it's time to look at the actual shoes themselves.
Keep reading for more detailed reviews of each shoe!
---
Skechers Women's Go Walk 3 Tilt
We're often asked, "Are Skechers good shoes for walking?"  In other words, how easy are these shoes on your tender feet? 
The answer is that your feet needn't worry, and the Go Walk 3 Tilt is one great option for casual walking shoes in the slip-on style that we love.
The Go Walk 3 Tilt remains the most popular choices for ladies walking shoes, which is why we rate this shoe 4.5 stars out of 5, and if you read our full review for these shoes, you can see why (*see link below).
Features:
Textile

Imported

Manmade sole

FitKnit Mesh fabric upper

GO Pillars

Cushioned footbed with GOga Mat® technology

Resalyte® midsole with SQUISH' component technology

GOimpulse sensors
Depending on the size or color, and where you buy the shoe, this one prices between $60-70.
It is generally available in 6 colors and comes in sizes 5-11 B(M) US.
The manufacturer has designed this product for athletic walking, as it has high rebound cushioning, to help power through those miles out on the road.
Read our full review of the Skechers Women's Go Walk 3 Tilt
---
Skechers Women's Shape Ups Walking Sneaker
The clue is in the name with this great looking shoe. This is a high quality product with a leather upper made from Nubuck, for absolute comfort.
With the Skechers Women's Shape Ups, you get the following:
Leather

Rubber sole

Shaft measures approximately 7″ from arch

Heel measures approximately 1 1/4″

Platform measures approximately 1″

Boot opening measures approximately 10″ around

Two-tone sneaker with breathable leather, and mesh upper

Padded tongue and collar
This one also gets a very high 4.75 out of 5 star rating from us, and costs between $60-70, and over on Amazon, this shoe is a blockbuster hit!
It comes in black and white only, and the sizes available are 5-10 B(M) US & 5-10 C/D US
This shoe as you can see looks great, is built for comfort and is one that you will want to be seen walking in.
It really has a very classical sport's style look and appearance, and I think really does help make you look the part. One of our favorites for sure.
Read our full review of the Skechers Women's Shape Ups Walking Sneaker

---
Skechers Women's Go Walk Extend
This is another interesting shoe in the "Go Walk" line. Yet again you need have no fear about its quality, as this also gets a solid 4.6 out of 5 stars.
Features Include:
Synthetic

Imported

Rubber sole

Lightweight walking shoe in stretch canvas, with convertible fold-down heel featuring Memory Form Fit memory foam in the footbed, heel, and vamp

Resalyte midsole foam
Now the good news with this model is that it is at the lower end of the price point as $35-60, and as such should be affordable for most. It would not be my own first choice but some ladies just love this style.
They have been made for comfort, and are easy to care for.
They are extremely light weight , available in 8 colors, and cater for sizes 5-11 B(M) US
Read our full review of the Skechers Womens Go Walk Extend
---
Reebok Women's Skyscape Runaround
This is the first Reebok shoe to appear on the list, but it's a good one! 
Now personally, I do not like the black color in these, but some of the other colors like the Persian Blue look amazing. There are 16 colors in total to pick from, so plenty of great choices.
We definitely love this shoe, and this about matches the sentiment out there in the marketplace. 
The Reebok Skyscape Runaround offers the following features:
Synthetic

Imported

Manmade sole

Lightweight lace-up sneaker in stretch fabric featuring Memory Tech 365 insole, constructed of a resilient foam compound that is lighter in weight than traditional polyurethane

Ribbed toe bumper
The sizes available are 5-11 B(M) US with a few half sizes available.
Read our full review of the Reebok Women's Skyscape Runaround
---
Skechers Women's Performance Go Walk 3
This one remains the Skechers best selling shoe, and is a highly popular choice for many ladies all around the US. 
With all of the buyer reviews pouring in for a product like this, it has maintained a 4.5 star rating across the board, and it is easy to see why this is a best seller.
Check out the features of the Skechers Women's Performance Go Walk 3:
Fabric

Imported

Manmade sole

Heel measures approximately 1″

Slip-on shoe with lightweight, flexible sole featuring cushioning goga mat insole
Pick from 10 colors and the usual sizes are available.
These shoes are not only light and comfortable, but have been built to last. That is why these remain a great buy, and mainly that is down to their durability.
Read our full review of the Skechers Performance Women's Go Walk 3
---
Skechers Women's You Walking Shoe
MANUFACTURER:  SKECHERS
MODEL NO: 

14951

SIZES:   5-13 (M) (W) (US)
HALF SIZES: YES
WEIGHT: 5 OUNCES
SHIPPING WEIGHT:  12 OUNCES
COLORS:  BLACK, WHITE/ BLACK, BLACK/WHITE, CHARCOAL, TAUPE, NAVY, BURGUNDY
OUTER MATERIAL:

 

WOVEN MESH FABRIC
SOLE: RUBBER
ALSO: GOGA MAX INSOLE, SOFT KNIT UPPERS, BAREFOOT FRIENDLY, AGEON ANTI BACTERIAL
FIT AS EXPECTED:  77%
PRICE GUIDE:  $23.98-$89.95
OUR RATING: 4.5 STARS OUT OF FIVE
For the people who like the You Walks, it seems they like them a lot. And fortunately, they are in the majority, with over three quarters of customers scoring them top marks for all round performance!
Before we begin, we should emphasize that although these are some of the best Skechers shoes for walking all day in – and they love feet of all descriptions – they are more designed for general walking.
That is to say that they aren't specifically intended for hikes, trails or long-distance marches!
However, they are the shoe of choice for everyday and ordinary usage.
Now maybe that isn't extremely sexy, but once you put your foot into them, you will rapidly change your mind!
It would seem that there is still some slight controversy when it comes to deciding are Skechers actually any good for your feet?
And this is a question we shall attempt to answer!
In general, yes, these make an excellent support for most types of feet.
However, should you be someone with a need for enhanced arch support, then these may not be the shoes for you.
For most people, these will provide ample support, though.
More to the point, the reason why these have won such a devoted following is not only are Skechers You good shoes for walking in, but they are extremely comfortable as well.
If you are someone who wants a minimal feel on your feet, then look no further.
You by Skechers have frequently been described as being a 'nude' style. That is to say these are so lightweight, that it is almost like being barefoot.
Many customers prefer to wear these on their own and without socks.
But should you wish to wear socks, these both look and feel great with them. Which is something that is worth knowing in the coming fall and winter months.
Now as you may be imagining, these mesh design do not love the water and are not designed to be worn when it is snowing, or anything like that. So respect them and try and keep them as dry as you can.
Is there any down sides to owning a pair of these You shoes by Skechers?
Honestly, the only whisperings that we have heard is that they are a tad on the narrow side and might be a little difficult to fit some wider feet in.
But then, these do come in two widths, normal and wide – so even then we think that this is a minor concern.
Top all this off with a state of the art Goga Max sole, which lends itself to the most sporty of Skechers shoes and we have a winner on our hands!
---
Skechers Women's Go Walk 3 Renew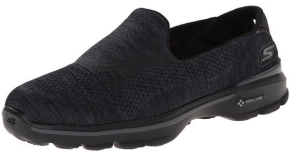 Now I like to be honest, so I have to say I really do not like the look of this product at all. You can also ignore me as well, because many buyers will disagree with me.
It is hard for me to argue with the response it has received by so many fitness fanatics, but for me these look like slippers, and I would struggle to wear these when out on the road.
Here are some of the features of the Skechers Women's Go Walk 3 Renew:
Fabric

Imported

Rubber sole

Slip-on walking shoe with SQUISH technology featuring breathable Skech Knit mesh upper and Goga Mat insole with high-rebound cushioning

GO Pillars shock-absorbing sole

Grippy outsole
One reviewer said this:
I love sketchers Go Walks, but these Go Walk 3's with the goga mat under my feet is heaven.
I have one flat foot (painful) on my right, and heel spurs and plantar fasciitis on my left foot, (UGH) so to find shoes I can actually walk all day in is amazing.
So it just depends on your own preferences. You can get these in 5 different colors, and the normal sizes are available.
Read our full review of teh Skechers Women's Go Walk 3 Renew
---
Reebok Women's Skyscape Harmony
Now this pair from Reebok I really do like. I like the style, and these could just as easily be used for people who have to be on their feet all day, as they could for going for a walk in the evening.
Here is a list of features for the Reebok Women's Skyscape Harmony walking shoes:
Synthetic

Rubber sole

Heel measures approximately 1″

Fabric upper Slip-on design with cushioned removable MemoryTech insole, EVA foam midsole, Synthetic sole provides traction & durability
The prices vary, but are really low on some of the options.
There are plenty of buyers for this model, and there are 7 distinctive colors available, so hopefully one will suit you. It was interesting to note that a few buyers bought these to wear as slippers around the house.
Read our full review of the Reebok Women's Skyscape Harmony
---
Skechers Women's Go Walk Aspire
These remain a consistently high selling model in this range.
These are actually designed to help develop a really good strong walking stride, and that certainly makes them different from many of the others on our list.
Here are some of the features of the Skechers Women's Go Walk Aspire:
Fabric

Imported

Manmade sole

Slip-on walking shoe featuring cushioned footbed and pull-on port at counter

Resalyte midsole to absorb impact

Pod-treaded outsole
Although limited to just 4 colors, they are good choices of colors, and will suit most outfits.
A consistent 4.5 star rating has been maintained with good strong sales of this model.
These are very soft and very light, and on Amazon right now you can get some really great prices on these.
Read our full review of t he Skechers Women's Go Walk Aspire

---
Reebok Women's Daily Cushion 2.0 RS
The clue is once again in the name. Reebok are stating that these cushioned shoes are ideal for walking every day, and as such are built to last, but these could easily double as runners.
Many times buying a pair of shoes simply comes down to the style you prefer, and this cushioned pair of Reeboks you'll either love or hate. 
Features include:

Leather

Rubber sole

Beveled heel

Cushioned footbed

Leather and textile upper

Perforations and overlay details

Mesh lining
The white in this one I love, and the black one I really do not like. In many ways simply changing the appearance makes these look like  two different shoes…I found that quite amazing.
The rating is again high at 4.5 overall, and all the usual sizes are available.
Read our full review of the Reebok Women's Daily Cushion
---
Saucony Women's ProGrid Integrity ST2
This model from Saucony is at number 10 on our list, but has a very similar 4.5 rating, which is comparable with many others on our buying list.

This one is in fact one of the biggest sellers on the market. I own a pair of these, and I just love the look of them.
They are very comfortable and light, and I have been using them on and off for about 2 years. They still show very little sign of wear, so are a durable product.
Features Include:
Full-grain leather

Rubber sole

Non-marking walking shoe with padded tongue and collar and durable XT-900 material in high-wear portions of outsole

Grid cushioning unit

Walk-Trac comfort outsole

Stretch Zone is a comfortable stretch section to ensure ideal fit

Walk-Trac comfort outsole for cushioning

Non-marking outsole
Read our full review of the Saucony Women's Progrid Integrity ST2
---
Why Skechers Seem To Win The Day Here – Brand Analysis
By now, you know we are fans of Skechers shoes, and you probably know why, after everything we've said.  
But the more we researched Skechers shoes, the more we began to learn more about why they kept appearing again and again on this list.
Skechers make affordable, wearable and deeply comfortable shoes for women, all wrapped up in a simple style which don't make them look like something mad aunt Mabel rejected as being too frumpy.
We know only too well the pain that women will put themselves through, in the desire to cover some serious miles and still look good.
The thing is, unlike "conventional" walking shoes, women may often seek something that is lightweight and easily worn barefoot.
You don't always want to be bogged down with thick, sweaty, lumpy socks – especially in the warmer summer months.
Perhaps you want to go bare under your walking shoes, or maybe be able to quickly slip on a pair of walking sneakers after work, when you're wearing panty hose.
Either way, women have a myriad of reasons for needing soft, practical, walkable, lightweight and above all wearable footwear.
These would be the pair you keep stashed in your purse or desk drawer ready for the arduous commute back home.
You don't want them occupying a ton of space, or weighting down your bag.
For all these reasons, and then some more besides, women choose Skechers, time and again!
So, Skechers has risen to take up several of the top spots on our list.  Why?
First of all, Skechers is a well-reputed brand, when it comes to walking shoes.
And why is this?
The reasons are manifold. There are lots of things that customers like about the Skechers brand in general.
---
Things We Love About Skechers
Skechers make comfortable walking shoes
This is our top reason for thinking that Skechers rule the roost, when it comes to walking shoes.
They are pure comfort, distilled.
Just about everyone says this, whoever they are or whatever their reasons for choosing them.
Skechers make supremely wearable shoes, which are surprisingly comfortable, for a variety of situations.
There's no messing about or gimmicks, just a soft, comfortable shoe which supports you from the get go and needs little, if no, breaking in.
Skechers are great for arthritis
Shoes like Skechers Go Walk have been adopted by sufferers of arthritis for their light touch and gentle support.
These are shoes which will work for anyone with arthritis of the knees, ankles, hips or feet.
If you are in this unfortunate category, you may have lost count of the pairs of supposedly 'comfortable' shoes you have purchased, only to discover, later down the line that they are anything but!
The great thing about the Go Walk range (and other shoes by Skechers) is that they provide a reliable alternative to clunky and frumpy orthopedic style shoes.
And when you are a lady with arthritis, we can't praise this highly enough!
Skechers provide great support
Naturally, Skechers are beloved by women in need of a greater level of support. Here, though, some in their range provide a greater support than others, so you should check carefully when choosing your ideal walking shoes.
Skechers combine fashion and practicality
Skechers shoes, especially the 'Go Walk' range, have a nice wide toe box and can hide even the most "problematic" of toes.
There's a reason that Skechers make such good walking shoes for ladies and that reason is they don't actually look like walking shoes, let alone orthopedic shoes for foot conditions.
After all, no one wants to look as if they just stepped out in a surgical support!
Skechers are reasonably priced
Whereas Skechers are clearly a premium brand, they don't come at stupid prices.
No, they aren't dirt cheap, but you are paying for quality, rather than the label.
Skechers are for everyone!
All the family can wear Skechers. This is one of the great things about them. Kids love them, older adults appreciate them, and young people can find something that suits as well.
Visit the Skechers website here: https://www.skechers.com/en-us/
---
Which Shoes Are Similar To Skechers?
Of course, Skechers are not without their competition. They have been compared favorably to Adidas – although they do not come with such a hefty price tag attached.
In the considered wisdom of this website, the only brand challenging them in any serious way at this time is Reebok.

For those who do not follow the raging debates around what walking shoes qualify as this year's best, Skechers may have once been considered an underdog in the walking shoe arena, but in recent times they've just been putting out one great walking shoe after another!
---
Are Go Walk The Best Skechers For Walking In?
We could hardly talk about Skechers and walking without mentioning their Go Walk range.
This is a style of shoe which has, unsurprisingly, been designed to walk in. However, they do not look as if they have been.
These are a diverse range of footwear, for both men and women.
The Skechers Go Walk span the more traditional "walking" style lace ups, to the simpler slip-ons which feature below in some of our reviews.
They are predominantly a woven fabric mesh design and they are ultra-lightweight.
Women like them because of their soft, cushioned sole featuring both Goga Mat and Goga Max technology (the difference is subtle).
This makes putting your feet into them a dream come true. They are also airy and have antimicrobial properties (at least, some of them do).
For more information on the exact difference between all the Skechers Go Walks, check out some of our reviews!
---
Goga Mat Vs Memory Foam
So what exactly is 'Goga Mat', or even 'Goga Max' and how does it perform in a face-off with memory foam?
Check out this video below where one of the brand's product managers in Turkey explains the difference between Goga Mat, Goga Max and memory foam technology.
And why they make some of the best women's Skechers for general walking in!
Essentially, Goga Max is a stage in the development of Skechers' insoles and has been designed specifically for sporting use.
It provides above and beyond the support needed in everyday life and may be considered the go-to choice, for anyone looking to exercise seriously.
However, it is predominantly designed for the hobbyist and the leisurely sports player. A professional athlete may choose to look for a greater level of support.
Naturally, these shoes make an excellent choice for everyday walking as well, although memory foam technology will also tick those boxes more than adequately.
In other words, for the casual walker and sports player, it is a matter of personal choice whether you opt for memory foam or Goga Max.
---
More Info
Skechers have their headquarters in Manhattan Beach California and also have a facility in Belgium that services Europe.
They have over 1,000 company owned stores and also sell their shoes in many other departmental, specialty, and independents in 120 countries throughout the world. Clearly they are a big outfit.
The company offers two distinct footwear styles:
A lifestyle division which includes Skechers Memory Foam and the charity line BOBS from Skechers.
Skechers Performance which includes Skechers GOrun and Skechers GOwalk footwear.
For us walkers it is that second line where most of our walking shoes comes from. Within that they have certain lines which are:
GOmeb

GOrun – for runners

GOFLEX

GOwalk 2 – mainly golf

GOwalk 3 – for walking

GOwalk City

Womens D'lites

Womens Energy

Womens Equalizer

Womens Flex

Womens Premiums

Womens Relaxed

Womens Skech-Air

Womens Skechers

Womens Shape ups – for walkers

Womens Synergy
So, as you can see, they have a lot of styles available.
For walkers though this can be reduced down to a few of the finer points of each shoe.
We reviewed those small but important details were found somewhere our top 10 list.
---
Comfort & Style
The main consideration for any women should be comfort, but let's be honest, we also like our style.
That means that different ladies will prefer the different looks available. The good news is that with any on our list your comfort is guaranteed.
With that assurance you can just focus on the particular style that you like.
---
The Right Support
A crucial consideration for all ladies should be the level of support offered by a shoe. As we mentioned in our buying guide, having the right support is important.
We will each have our own individual walking gait and we should all know, that not all feet are in the same shape.
Some people may have flat feet, some may have raised arches and some may have bunions or hard skin.
When our feet hit the ground, the impact of that goes through our legs and into both the knee and hip joints. With proper cushioning that impact can be greatly reduced and help protect those joints.
Think of your shoes like shock absorbers and you will know what I mean.
Here's a great video from the good people at Good Feet Houston to explain how arch support works and why you need it.
Best Women's Shoes for Travel
If you are a lady who likes to travel, or indeed enjoy your vacations, then you will know the importance of having light and comfortable shoes.
It is of course fun to travel and visit all the many sights that the world has to offer. When you sit down at the end of those trips, the last thing you will want is sore feet and blisters.
Taking good care of your feet will make sure that doesn't happen. Having the right shoes will go a very long way to make sure you enjoy your traveling in comfort.
---
Reebok Skyscape Harmony – Best For Commuting
Many ladies have to take the daily commute to work. Ideally the sneakers that you wear need to be well fitted and provide as much comfort as possible.
Now that could of course be by train, tube, car, bicycle, by walking or most likely a combination of all or some of these modes of transport.
You can see from our list, that there are plenty to choose from.
The ones we would recommend for your daily commute are the Reebok Skyscape Harmony, which you can read about below, or by clicking here.
---
Skechers Go Walk 3 – Best For Everyday Walking
If you are a woman, looking for sneakers that you can use everyday, then you need to look for certain characteristics.
The most important thing is of course comfort.
In addition to that though, you should also consider durability.
If you are going to be walking in these everyday, then they need to be easy to put on and take off, and also have a sole that will last for a long time.
The ones we recommend for that are the Skechers Go Walk 3 Renew. You can read about those by clicking right here.
We have also done a short review down below if you prefer to read that.
The Reebok Women's Daily Cushion is also a very goo choice so depends on which style you like. You can read about the Reebok one by clicking here.
---
Skechers Women's Shape Ups – Best For Speed Walking
If you are on the fitness trail, and have taken up speed walking, then you will of course want a pair of sneakers that helps with the stride pattern.
You will also want a pair that helps tone and firm up the leg and hip muscles. There are a lot to select from that offer these key features.
The pair we would recommend to you are the Skechers Women's Shape Ups. These have been specifically designed for speed walkers of all ages.
Read a full review by clicking here
---
Skechers Women's Performance Go Walk 3 – Best For Distance Walking
As with speed walking some ladies prefer to do what is called distance walking. As you can see there are many different types of walking, and distance walking is growing a lot in popularity.
The features that you need in shoes like these are comfort, plenty of air around the feet, and durable and long lasting soles.
These will take a lot of pounding out on the streets and roads so make sure they are built to last.
For this type of walking we would recommend something like the Skechers Women's Performance Go Walk 3 – read our full review here.
---
Skechers Women's Go Walk 3 Tilt – Best Shoe For Casual Walking
In our own walking club we have plenty of ladies who enjoy a casual walk.
They know the benefits of walking and simply enjoy a nice stroll with a few good friends. They will still want comfort but will also want a bit of style.
For this type of walking we would recommend the Skechers Women's Go Walk 3 Tilt, which is a very popular choice for many.
Click here to read a full review
---
Saucony Women's ProGrid Integrity ST2 – Best Sneaker For Overweight Women
Many ladies start walking for fitness reasons or to lose some weight. When starting out the chances are they are overweight and want sneakers that can achieve two things.
They will want comfort and will also want strong support for their ankles.
The type of shoes is important as they will need a shoe that promotes a good stride, has a toning effect and is yet supportive to the ankles and knees.
For this type of walking we would highly recommend the Saucony Women's ProGrid Integrity ST2.
Read our article that features the 5 best walking sneakers specifically designed for overweight women
---
Skechers Women's Shape Ups – Best Sneaker For Walking & Running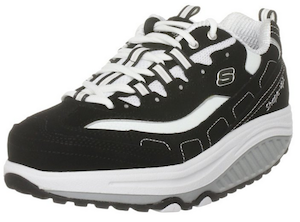 Now what if you want to combine walking and some light running.
Do they require two different types of sneakers? The answer is thankfully no.
For running though you will need shoes that can be laced up. In terms of walking slip on shoes work perfectly well.
For running there is a lot more pressure on the heel, and slip on does not work for that.
You will also need more of a sporty shoe. When you have that then you can easily combine both disciplines.
The sneakers we would recommend for that are the Skechers Women's Shape Ups – Strength Fitness Walking Sneaker.
Click here to read a full review
---
…And Finally!
Shopping for shoes shouldn't be a chore.
When confronted with all the information, it can sometimes seem a little overwhelming.
Which is why we have done all the hard part for you and verified the credentials of each and every shoe in our footwear reviews.
Whichever of the shoes you opt for in our reviews, you shouldn't go too far wrong as they all make a highly comfortable choice!