Last Updated on
By: Best Walking Shoes
Ortholite. You might have heard of it. You are probably wearing it in some form.
Many of the most popular shoe and boot brands on the market today feature something called OrthoLite foam. But what is OrthoLite exactly – what does it mean?
And if you haven't heard of it, there's a good chance you've worn it, because it is used so much in footwear, not to mention backpacks, sporting equipment, and furniture.
In fact, take a look at the shoes you have on right now. The odds are they have an OrthoLite footbed!
It is everywhere!
Their slogan, fittingly, is "comfort from the inside out".
OrthoLite is most often found in footwear, as an insole or lining made from recycled rubbers and proprietary polyurethane material. It is eco-friendly, and made to be sustainable.
To learn more about this substance, keep on reading and we'll explain the technology that goes into OrthoLite, and why it is used in so many products around the world.
Table of Contents
Reviews of Some of the Best Ortholite Footwear
---
About OrthoLite Foam Technology
The OrthoLite company was originally trademarked in 1997 and ever since then, it strived to provide the best quality insulation for footwear of all types, but with a particular focus on shoes and boots.
For years now, they have been a trusted manufacturer of active lifestyle products, by providing top-notch cushioning in the form of comfortable shoe insoles that offer substantial support, regardless of the shape and structure of a person's foot.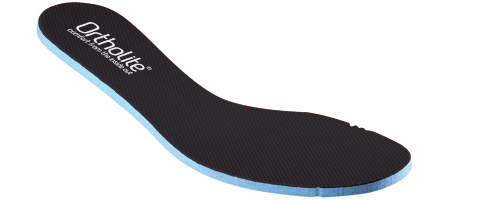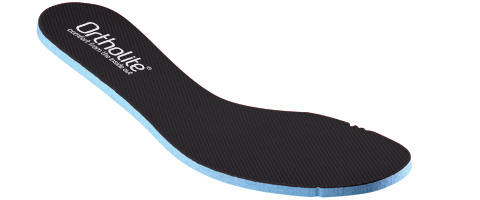 Strictly speaking about shoes, the number of shoe companies that annually integrate OthoLite into their products counts over 200 million pairs of shoes per year.
The world's leading shoe and boot brands such as Asics, Nike, Merrell and Timberland include this insole feature in their products.
Ortholite is a global company. It is currently working out of the United States, Vietnam, Asia, and Europe.
However, you can also find their manufacturing facilities successfully seeing growth in China, Indonesia, and Korea. OthoLite also runs a research center in China.
See the below map to see where OrthoLite is located worldwide.
---
Main Features Of OrthoLite
Durable Cushioning
There have been many tests performed by independent researchers on OrthoLite insoles, and their results show exactly what the public appreciates about the material.
For instance, after the first year of using OrthoLite, a standard foam insole still manages to maintain over 95% of their cushioning.
This means that after an active year of wearing your OrthoLite-infused shoe or boot, they will still feel the same – comfortable and cushy.
In this way, OrthoLite ensures unrivalled durability, and their buyers can rest assured that they will be able to run and hike without encountering problems such as annoying blisters, too much sweat, or burning sensations due to strain.
High-Level Breathability
Due to OrthoLite's PU foam being 95% to 100% breathable, they allow the circulation of the air, by creating a breathable space around your feet, as air circulates in and around the insole.
This feature helps to avoid tenderness of the foot, as the open-cell PU foam allows the foot to be cool inside the shoe.
Moisture Manager
Another feature that effectively demonstrates the open-cell structure of OrthoLite is its moisture management system.
It enhances the shoe's performance by removing the moisture from the shoe and foot, in order to generate the ideal temperature, and provide the wearer with an overall drier, healthier environment for your foot to inhabit.
You can say goodbye to your sweaty socks and feet, with no more (or at least less) unpleasant smells/ doors to contend with.
Lightweight
If you're a runner or a hiker, it's very important for your feet to feel comfortable for longer durations of time, while also feeling light and nimble for any type of strenuous adventure you might embark upon.
OrthoLite insoles are made to be lightweight exactly for that reason, so that they may enhance the general performance of the shoes, providing a suitably airy environment for your foot to move around in.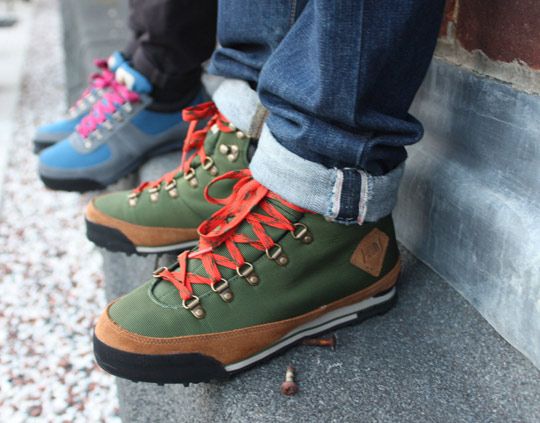 Anti-Microbial
As a result of the patented anti-microbial structure which is added to all OrthoLite foam, your feet are safeguarded from all negative effects that may come in the form of infection, not to mention unwanted smells.
A salt-based anti-microbial formula eliminates the presence of odors, fungus and other microorganisms, which is why OrthoLite is a welcome ingredient to any product that uses it.
Washable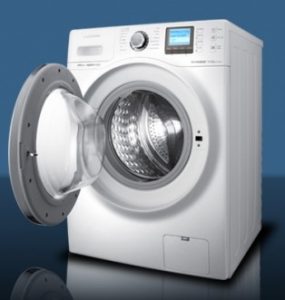 For people that value impeccable hygiene for their feet, the ability to wash OrthoLite is a very beneficial feature. They are washing machine-safe, and once they come out they're still as good as new.
Trim-able
Although they don't come in half-size editions for your shoes and boots, the company advises wearers to trim them so that they can fit in the boots if they're slightly too large.
With OrthoLite, The Innovation Continues…
With OrthoLite, they're always interested in continuing to add more features to their product. Here are some more recent additions that make them even better!
WHAT IS AN ORTHOLITE FOOTBED?
Lazy Recovery Foam– This design conforms to the foot and instantly rebounds to original shape. OrthoLite Lazy Recovery Foam molds to your foot shape, making your shoes truly yours and for you only!
Impressions– This is a slow recovery foam, which takes the shape of the foot over time. Impressions are partly constructed from bio oil. They ensure that right from the first wearing, the impression made on the sole will be a long lasting one that it quickly adapts to your feet.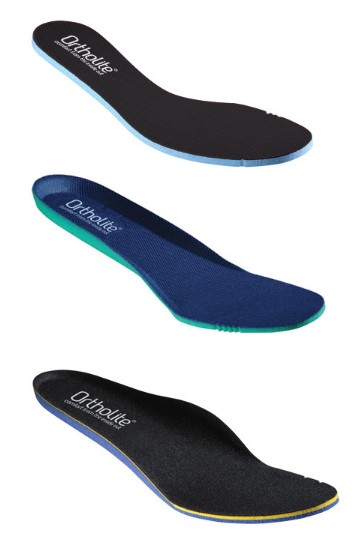 X-40 High Rebound– This technology boasts an elasticity rating of over 40%. The X-40 High Rebound footbed has been developed with sports and intensive wear in mind. It is used predominantly in sporting shoes, but can also be included in fashion shoes, because of the thinness of the foam used.
ESD – Static Control – This feature protects against static build up. This makes it a good choice for anyone who works in an electrostatic environment. Or just anyone fed up with getting electric shocks all the time!
ECO OrthoLite– This is an environmentally friendly, bio-based formulation. It is used to reduce by a fifth, the petroleum in the creation of polyurethane foams. Instead, a formulation is made from castor beans. This means that Eco OrthoLite is a renewable material, impacting less on the earth's resources.
ECOPlush– This gives the wearer a plush ride, but with a higher degree of green These are used for shoes which require a good level of cushioning, but also need an eco-friendly footprint.
3D Skive– This foam cutting technology creates the sensation of walking on air. It is used with most types of OrthoLite, except for the Impressions and Lazy range. This is cushioning that makes you feel as if you're walking on air and brings the comfort you expect from OrthoLite technology.
IMPERIAL–Imperial brings a new level of cushioning, wrapped up in a thin insole. The .22 density gives exceptional levels of comfort, even with minimal usage. Because of this, it is often used in dressier shoes which require lighter padding. Imperial helps create a super light shoe, with outstanding bounce!
IMPERIALplus– The Imperial plus has the highest rebound performance of all OrthoLite foam. It gives the very best levels of protection, even with the scantiest of applications. This superior product is frequently chosen for the lightest, most delicate shoes that don't have room for a chunky sole!
Ortholite Vs Memory Foam?
OrthoLite is a superior form of memory foam technology.
Memory foam technology is something that is used in the creation of both mattresses, as well as footwear – amongst its other applications.
The advantages of memory foam is that it is supportive and springy. This is of especial value in a shoe, particularly one designed for heavy duty use, such as sports or long-distance walking.
For this reason, many manufacturers utilize memory foam technology in their footwear.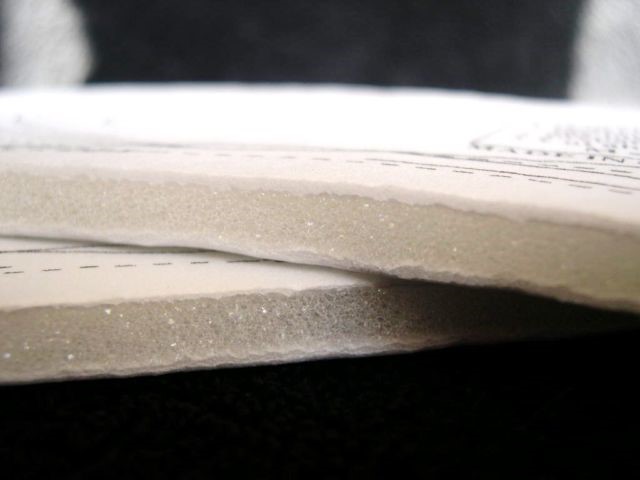 However, the downside of such a supportive, comfortable material is often found in its temperature control issues.
Put simply, memory foam can be hot. More than this, it may also encourage the build up of sweat and moisture. And this in the application of a sports shoe is not a good thing!
So memory foam technology remains a trade off between the beautiful comfort and support provided – particularly for sufferers of fallen arches and other podiatry conditions – and having to suffer a terminal case of sweaty sneaker syndrome.
But does it really have to be like this?
What Are Ortholite Shoes?
Enter OrthoLite technology. As we have said, it has been around for just over two decades. Its prime advantages over 'regular' memory foam technology are in the management of moisture build up in the shoe.
This renders it first choice for the best shoe manufacturers in the world. As you will discover in our Adidas OrthoLite reviews (found below) – brands trust it to deliver the dryness and comfort you crave from a sports shoe.
And it's not just restricted to running and sporting use. No sir!
Another great plus of the OrthoLite technology is just how lightweight it can be. This makes it a shoe-in for use in, well, shoes!
And of course in OrthoLite boots too.
In fact, OrthoLite sockliners and footbeds are used in all sorts of footwear, from the toughest of boot, to the most hoity-toity stiletto – all because it can deliver excellence, even in wafer thin layers!
And that is more or less the complete OrthoLite definition! For more info on the company, check out their website at www.ortholite.com!
Ortholite Vs. Lunarlon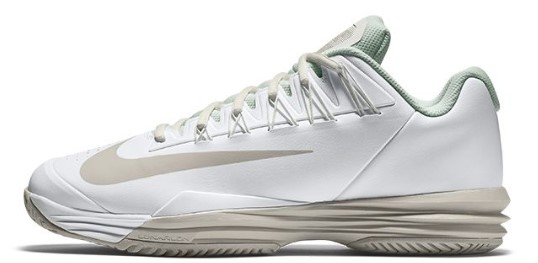 You may have heard about Lunarlon, which is the technology created by leading sportswear manufacturer Nike.
This is similar to OrthoLite and a type of foam technology, designed to deliver a greater springiness to its sports and running shoes.
Designed to be lightweight, this foam cushions feet as they train and helps to even out the distribution of the impact of exercise on the soles of the feet.
Lunarlon of course has its place within sportswear, but OrthoLite is more widely used in all types of footwear.
Now for some of our reviews from trusted manufacturers, currently producing some of the best OrthoLite float and sockliners in their footwear!
Best Footwear with Ortholite
---
CLARKS WOMENS
CLARKS WOMEN'S BLANCHE CACEE FLAT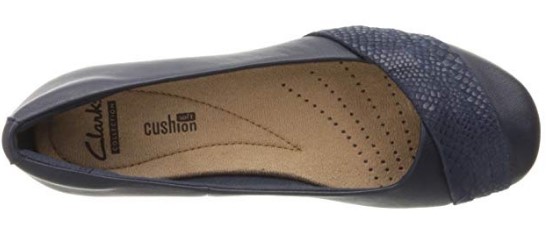 MANUFACTURER: CLARKS
MODEL NO: BLANCHE CACEE
SIZES: 5-12 M/W (US)
HALF SIZES: YES
SHIPPING WEIGHT: 6.6 OUNCES
COLORS: BLACK, NAVY, SAND, SAGE
OUTER MATERIAL: LEATHER
SOLE: RUBBER
HEEL HEIGHT: 1 INCH
ALSO: ORTHOLITE FOOTBED, COMFORT SOFT TECHNOLOGY
FIT AS EXPECTED: 51%
PRICE GUIDE: $22.50-$199.99
OUR RATING: 4 STARS OUT OF FIVE
THE BLANCHE CACEE FLAT
Comfort.
The first word you think of when it comes to Clarks shoes and in the case of the Blanche Cacee, it is also the last word too.
Everyone loves these super comfy flats, from sensible shoemaker Clarks.
They get that you want an easy on easy off sort of shoe, for an easy life and have designed the classic slip on shoe, in a ballet pump style.
Maybe the design pulls no punches, but it is straightforward, simple and smart.
You won't have to worry about these being out of place, as they have been made to fit into almost any outfit, any situation. And, of course, these Clarks come with an OrthoLite insole.
Perhaps they're not party shoes, but they're going to treat your feet right and at the end of the day, that's what it's all about!
---
CLARKS MENS
CLARKS MEN'S REAZOR DRIVE SLIP-ON LOAFER
MANUFACTURER: CLARKS
MODEL NAME: REAZOR DRIVE
STYLE: DRIVING/ SMART SHOES
SHIPPING WEIGHT: 10.6 OUNCES
SIZES:7-13 D (M) US
HALF SIZES: YES
COLORS: BLACK, NAVY, BROWN, SAND, NAVY NUBUCK, SAND NUBUCK, TAN LEATHER, BLUE, BRICK
OUTER MATERIAL: LEATHER
LINING: SHEEPSKIN
SOLE: RUBBER
ALSO: BREATHABLE UPPER, NON-MARKING OUTSOLE, FLEXIBLE SOLE, ORTHOLITE FOOTBED
FIT AS EXPECTED: 42%/ RUNS LARGE
PRICE GUIDE:$39.90-$150
OUR RATING: 4 STARS OUT OF FIVE
THE REAZOR DRIVE LOAFER

Beep Beep!
There are shoes for walking in, there are shoes for running in. There are shoes for stomping through muddy terrain in and of course, shoes for getting wet and cold in. There are even shoes for going on a boat in!
But did you know there are also shoes for driving in?
It might not be something that has attracted your consideration before, but when faced with the open road and a prolonged period of putting your foot down, then it is something you might wish to think about.
Because it's not just the girls who need to don something a tad more comfortable on their feet, when going on a long road trip.
Driving shoes for men are thing and what's more, they are damn stylish.
The Reazor Drive from Clarks does what it says on the tin and allows you to both drive in comfort and style.
Not only do these come with the grippy soles you were hoping for but they can definitely be worn in greater civilization and make top shoes for the office – just not for long distance walks or hikes.
And with an OrthoLite footbed, these Clarks insoles will deliver the goods your feet are longing for – and all the reviews seem to agree!
---
ADIDAS WOMENS
ADIDAS WOMENS TUBULAR SHADOW ORTHOLITE SHOES REVIEW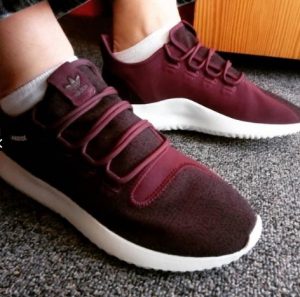 MANUFACTURER: ADIDAS
MODEL NO: AC8794
SIZES: 5-11 (M) US
HALF SIZES: YES
SHIPPING WEIGHT:12 OUNCES
COLORS: BLACK/CORE BLACK/LEGACY WHITE, CORE BLACK/ CORE BLACK/WHITE, NOBLE INDIGO/WHITE, WHITE/WHITE, BLACK/GREY FIVE/WHITE, GREY THREE/WHITE, ST MAJOR/BLACK/OFF WHITE, GREY FIVE/GREY FIVE, NIGHT CARGO/LEGACY, TRACE CARGO/CHALK WHITE, MAROON/LEGACY, CLEAR BROWN/ASH GREEN/ WHITE, CLEAR BROWN/ASH GREEN/WHITE, HAZE CORAL/LIGHT ONYX/BLACK, RAW PINK, WHITE/GREY 2/WHITE, WHITE/PEARL GREY/HAZE CORAL, WHITE/WHITE/CORE BLACK, CLEAR BROWN/ASH GREEN S18/OFF WHITE, MEDIUM GREY HEATHER/SHARP GREY/WHITE, GETHR/GETHR/WHITE AND MORE
OUTER MATERIAL: TEXTILE/ SYNTHETIC KNIT UPPER
SOLE: RUBBER SOLE
ALSO: ORTHOLITE SOCKLINER, EVA MIDSOLE, MESH UPPER, HEEL TAB, REFLECTIVE 3 STRIPES,
WATERPROOF: NO
FIT AS EXPECTED: 48%/ RUNS BIG
PRICE GUIDE: $39.99
OUR RATING: 4 STARS OUT OF FIVE
THE TUBULAR SHADOW
Available in about 4000 spectrum of colors, the Tubular Shadow does not disappoint and with an OrthoLite sockliner, brings comfort to this fashion sneaker by Adidas.
Cute and fashionable, feminine and fun, these casual Adidas sneakers deliver comfort via the OrthoLite sockliner and EVA midsole.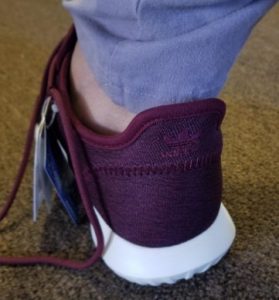 This is a lightweight, lace up shoe for everyday wearing. It's not designed for long distance running or anything hard core. And we doubt very much it is waterproof at all, considering its mesh knit construction.
That said, for general, common or garden wearing, this finishes tops for a lot of women out there.
Our only issue with the Tubular Shadow is that runs at least a size too big – and possibly wide – so you are advised to size up when ordering.
---
ADIDAS MENS
ADIDAS MEN'S ORTHOLITE ROCKADIA M TRAIL RUNNING SHOE REVIEW
MANUFACTURER: ADIDAS
MODEL NO: CG3982
SIZES: 5-15 D (M) US
HALF SIZES: YES
SHIPPING WEIGHT:4/12/14.6 OUNCES
COLORS: CARBON/WHITE/HI-RES BLUE, COLLEGIATE NAVY, MATTE SILVER, SOLAR ORANGE, CORE BLACK/MATTE SILVER/CARBON, BLACK/BLACK/DARK GREY HEATHER, BLACK/BLACK/ENERGY, BLACK/BLACK/ENERGY, BLACK/DARK GREY HEATHER
OUTER MATERIAL: TEXTILE/ SYNTHETIC
SOLE: RUBBER SOLE
ALSO: MESH UPPER MAX VENTILATION, GRIPPY OUTSOLE, TEXTILE AND SYNTHETIC OVERLAYS, LACE UPS, HEEL LOOP/ORTHOLITE SOCKLINER
WATERPROOF: ONLY SLIGHTLY
FIT AS EXPECTED:81%
PRICE GUIDE:$39.99-$139.90APPROX
OUR RATING: 4.1 STARS OUT OF FIVE
THE ADIDIAS ROCKADIA M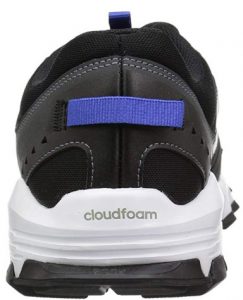 Serious running needs a serious shoe and the Adidas Rockadia delivers, in this stylish package, complete with OrthoLite sockiner.
The mesh upper makes these nice and light and perfect for running in, although they aren't made for getting wet in.
These fit as expected, pretty much every time and bring the comfort you expect to your running schedule.
Perhaps they are suited better for casual use and not actual athletics, but they come highly recommended by all comers. And that is good enough for us!
---
TIMBERLAND WOMENS
TIMBERLAND WOMENS EMERSON POINT CLOSED TOE ORTHOLITE REVIEW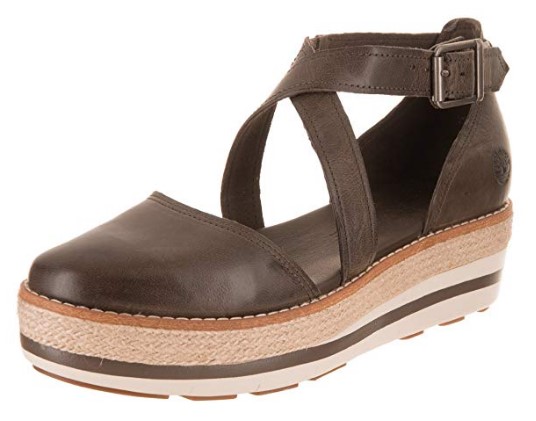 MANUFACTURER: TIMBERLAND
MODEL NO: A1KKD
SIZES: 5.5-11 B/M (US)
HALF SIZES: YES
WEIGHT: 11 OUNCES EACH
SHIPPING WEIGHT: 2 POUNDS
COLORS: OLIVE, LIGHT BROWN, NAVY
OUTER MATERIAL: FULL GRAIN LEATHER
SOLE: RUBBER
HEEL HEIGHT: 2 INCHES
PLATFORM: 1.5 INCHES
ALSO: ADJUSTABLE BUCKLE, EVA MIDSOLE, SENSORFLEX TECHNOLOGY, ORTHOLITE FOOTBED, SYNTHETIC LINING, RECYCLABLE MATERIALS, WOVEN JUTE DESIGN WRAPS ON EVA MIDSOLE
FIT AS EXPECTED: 75%
PRICE GUIDE: $72.24-$119.95
OUR RATING: 4.8 OUT OF FIVE STARS
THE EMERSON POINT CLOSED TOE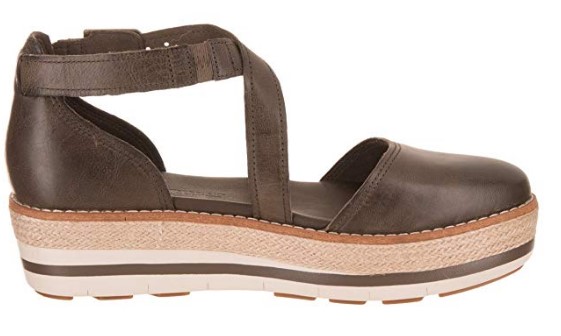 Style doesn't have to hurt and to prove the point, shoemaker Timberland have created the Emerson Point Closed Toe.
Now we know that these are more of a summer shoe – or sandal – but for those of you in sunnier climes, or perhaps heading off for some winter sun, these are just the ticket for comfort and practicality.
These deliver two extra inches of height, without ever appearing to have a significant heel. And they don't feel like they're going to trip you up or cause you any aggro wearing them either.
The Emerson Point Closed Toe have an OrthoLite footbed to keep your feet comfy. It also has a moisture control design built in, so you don't sweat to death.
As a closed toe sandal, these are just formal enough to take from beach to dinner in, without ever having to change your footwear.
Because of the OrthoLite footbed, they're eminently walkable and wearable.
Popular with nearly everyone who tries them, we reckon you can't go wrong with these sturdy sandals!
---
TIMBERLAND MENS
TIMBERLAND MENS KENDRICK WATERPROOF CHUKKA BOOT REVIEW
MANUFACTURER: TIMBERLAND
MODEL NO: A1R34
SIZES: 7-15 US
HALF SIZES: YES
WEIGHT: 1.5 OZ
SHIPPING WEIGHT: 3.24 POUNDS
COLORS: BLACK FULL GRAIN/ DARK BROWN FULL GRAIN
OUTER MATERIAL: LEATHER
SOLE: RUBBER SOLE
ALSO: ORTHOLITE FOOTBED/ DRESS BOOTS
WATERPROOF: YES
FIT AS EXPECTED: 87%
PRICE GUIDE: $159.96-$159.96 APPROX
OUR RATING: 4.6 STARS OUT OF FIVE
TIMBERLAND KENDRICK WATERPROOF CHUKKA BOOTS
Walk everywhere, get wet and still remain smart enough for the office. You can do it all with the Kendrick Waterproof Chukka Boot.
These versatile boots come courtesy of footwear designer Timberland and do not disappoint.
With a high satisfaction rating all round, we think you should be able to order your regular size with confidence.
Perhaps they're not cheap, but full grain leather of this quality isn't, and they aren't exactly shabby either.
Reliability and durability are the keywords here, as is the moisture control OrthoLite footbed these come equipped with – because sometimes rain boots can be prone to, well, pong a little!
---
ASICS MEN
ASICS ORTHOLITE GEL TECH WALKERS
MANUFACTURER: ASICS
MODEL NO: GEL-TECH WALKER NEO 4-M
HALF SIZES: YES
WEIGHT: 11 OZ
COLORS: BLACK/BLACK/SILVER
OUTER MATERIAL: FABRIC AND SYNTHETIC
SOLE: RUBBER SOLE
ALSO: ORTHOLITE SOCKLINER
WATERPROOF: YES
FIT AS EXPECTED: 85%
PRICE GUIDE: $110 APPROX
OUR RATING: 4.3 OUT OF FIVE
ASICS ORTHOLITE GEL TECH WALKER NEO 4 REVIEW
Out of all the OrthoLite Asics shoes we have seen reviews for, these Gel Tech Walker Neo 4's consistently seem to impress.
Perhaps it's down to the superior fit and construction, which sees them at once breathable and lightweight, as well as supportive and sturdy.
Maybe it is the OrthoLite sockliner, providing comfort and dryness and helping combat the dreaded 'sweaty sneaker' syndrome.
Possibly, it's a combination of all these factors, plus a few extras thrown in.
Hovering around the $100 mark, perhaps they are not the cheapest, but we think for the quality on offer, they are probably some of the best value walking shoes on the market for men.
Try them for yourself!
---
ASICS WOMEN
ASICS WOMENS GEL CUMULUS 20 MX
MANUFACTURER: ASICS
MODEL NO: GEL CUMULUS 20 MX
SIZES: 5-12 M N W
HALF SIZES: YES
WEIGHT:12 OZ
COLORS: AZURE/BLUE PRINT, STONE GREY/BLACK, BLACK/DARK GREY, BLACK/WHITE, MOJAVE/ FUSCHIA PURPLE, BLACK/FLASH CORAL, BLUE BELL/AZURE, GLACIER GREY/SILVER
OUTER MATERIAL: FABRIC
SOLE: RUBBER SOLE
ALSO: ORTHOLITE SOCKLINER, REARFOOT AND FOREFOOT GEL TECHNOLOGY CUSHIONING SYSTEM, BOUNCEBACK AND RESPONSIVENESS
FIT AS EXPECTED: 82%
PRICE GUIDE: $83.12+
OUR RATING: 4 OUT OF FIVE
ASICS WOMENS GEL CUMULUS REVIEW
Walking in the air? That's just for starters! With the Asics Women's Gel Cumulus 20 MX you'll be running through the clouds!
These have been created specifically for the needs of women's feet and particularly, women who run.
They are also designed with either under or neutral pronation in mind. With the Asics OrthoLite sockliner your feet deserve, these Cumulus's take care of your feet and ensure the support they need to roll and fall safely, as you run.
With a generous toebox to boot, you can trust Asics to deliver both comfort and the right sort of support to your feet, when they need it the most!
---
NIKE MENS
NIKE MEN'S SB AIR MAX BRUIN VAPOR SKATE SHOE REVIEW
MANUFACTURER: NIKE
MODEL NO: AIR MAX BRUIN VAPOR SKATE 882097312
SIZES: 5-14 M
HALF SIZES: YES
SHIPPING WEIGHT: 3 POUNDS
COLORS:23 COLORS INCLUDING RED, BLACK/DARK GREY, GREY/ RED CRUSH/BLACK-WHITE
OUTER MATERIAL: LEATHER
SOLE: RUBBER SOLE
ALSO: ORTHOLITE SOCKLINER, HERRINGBONE SOLE, AIR MAX UNIT
FIT AS EXPECTED: 90%
PRICE GUIDE:$44.90+
OUR RATING: 4.3 STARS OUT OF FIVE
ORTHOLITE NIKE MENS AIR MAX BRUIN VAPOR SKATE SHOES
Take good care of these beautiful Nike OrthoLite shoes and they will take care of you.
With the air max unit you have come to expect from Nike, these will wow with their comfort as well as their style.
Definitely on the more stylish end of our OrthoLite reviews, these Nikes are the pair to be seen in and should be treated as primarily a fashion item.
There is certainly more than enough choice of colors and style in this particular model.
But while they are great for walking in, they probably aren't the best choice for muddy sports or running long distances in. Not because they aren't comfy enough, but because we don't think they have really been designed to take that amount of action.
In other words, treat them gently and they will reward you by looking pretty for longer!
---
NIKE WOMENS
NIKE WOMEN'S ROSHE SHOES
MANUFACTURER: NIKE
MODEL NO: ROSHE LD 100 QS 810382
HALF SIZES: YES
SHIPPING WEIGHT:15 POUNDS
COLORS: BLACK/WHITE
OUTER MATERIAL: MESH AND SYNTHETIC LEATHER
SOLE: RUBBER SOLE
ALSO: ORTHOLITE SOCKLINER, DEEP FOREFOOT FLEX GROOVES
PRICE GUIDE: $97.05+
OUR RATING: 4 STARS OUT OF FIVE
NIKE WOMEN'S ROSHE SHOES
Billed as comfy enough to wear 'nude', the Nike Women's Roshe boast an OrthoLite sockliner, to make them extra cozy and soft.
With many close relations, the Nike Roshe is a simple shoe – there's nothing fancy or jazzy to see here and this particular model is straightforward in black and white.
Lightweight, supportive, casual and laid back. These are the shoes for relaxing in, kicking back from work and just, you know, hanging out in.
Other variations have funkier colors, if you want the enhanced experience. But for us, the Roshe's secret is its simplicity and we like them just the way they come!
More Popular Posts From This Website