Many of the most popular shoe and boot brands on the market today feature something called Ortholite foam.  But what is OrthoLite exactly?  If you haven't heard of it, there's a good chance you've worn it, because it is used so much in footwear, not to mention backpacks, sporting equipment, and furniture.  It is everywhere!  Their slogan, fittingly, is "comfort from the inside out".
That said, Ortholite is most often found in footwear, as an insole or lining made from recycled rubbers and proprietary polyurethane material.  It is eco-friendly, and made to be sustainable.  
To learn more about this substance, keep on reading and we'll explain the technology that goes into OrthoLite, and why it is used in so many products around the world.
About OrthoLite Foam Technology
The OrthoLite company was originally trademarked in 1997 and ever since then, it strived to provide the best quality insulation for footwear of all types, but with a particular focus on shoes and boots. For years now, they have been a trusted manufacturer of active lifestyle products, by providing top-notch cushioning in the form of comfortable shoe insoles that offer substantial support, regardless of the shape and structure of a person's foot.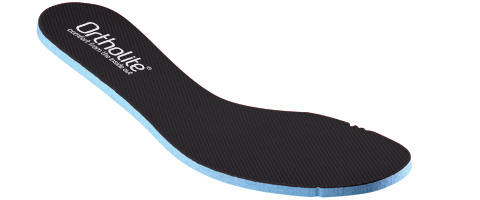 Strictly speaking about shoes, the number of shoe companies that annually integrate OthoLite into their products counts over 200 million pairs of shoes per year.  The world's leading shoe and boot brands such as Asics, Nike, Merrell and Timberland include this insole feature in their products.
Ortholite is a global company. It is currently working out of the United States, Vietnam, Asia, and Europe. However, you can also find their manufacturing facilities successfully seeing growth in China, Indonesia, and Korea.  OthoLite also runs a research center in China.
See the below map to see where OrthoLite is located worldwide.
Main Features Of OrthoLite
Durable Cushioning
There have been many tests performed by independent researchers on OrthoLite insoles, and their results show exactly what the public appreciates about the material.  For instance, after the first year of using OrthoLite, a standard foam insole still manages to maintain over 95% of their cushioning.  This means that after an active year of wearing your OrthoLite-infused shoe or boot, they will still feel the same – comfortable and cushy.  In this way, OrthoLite ensures unrivalled durability, and their buyers can rest assured that they will be able to run and hike without encountering problems such as annoying blisters, too much sweat, or burning sensations due to strain.
High-Level Breathability
Due to OrthoLite's PU foam being 95% to 100% breathable, they allow the circulation of the air, by creating a breathable space around your feet, as air circulates in and around the insole. This feature helps to avoid tenderness of the foot, as the open-cell PU foam allows the foot to be cool inside the shoe.
Moisture Manager
Another feature that effectively demonstrates the open-cell structure of OrthoLite is its moisture management system. It enhances the shoe's performance by removing the moisture from the shoe and foot, in order to generate the ideal temperature, and provide the wearer with an overall drier, healthier environment for your foot to inhabit.  You can say goodbye to your sweaty socks and feet, with no more (or at least less) unpleasant smells/ doors to contend with.
Lightweight
If you're a runner or a hiker, it's very important for your feet to feel comfortable for longer durations of time, while also feeling light and nimble for any type of strenuous adventure you might embark upon.  OrthoLite insoles are made to be lightweight exactly for that reason, so that they may enhance the general performance of the shoes, providing a suitably airy environment for your foot to move around in.
Anti-Microbial
As a result of the patented anti-microbial structure which is added to all OrthoLite foam, your feet are safeguarded from all negative effects that may come in the form of infection, not to mention unwanted smells.  A salt-based anti-microbial formula eliminates the presence of odors, fungus and other microorganisms, which is why OrthoLite is a welcome ingredient to any product that uses it.
Washable
For people that value impeccable hygiene for their feet, the ability to wash OrthoLite is a very beneficial feature. They are washing machine-safe, and once they come out they're still as good as new.
Trim-able
Although they don't come in half-size editions for your shoes and boots, the company advises wearers to trim them so that they can fit in the boots if they're slightly too large.
With OrthoLite, The Innovation Continues…
With OrthoLite, they're always interested in continuing to add more features to their product.  Here are some more recent additions that make them even better!
Lazy Recovery Foam – conforms to the foot and instantly rebounds to original shape.
Impressions – this slow recovery foam takes the shape of the foot over time.
X-40 High Rebound – boasts an elasticity rating to over 40%.
ESD Static Control – protects against accumulation of static build up.
ECO OrthoLite – environmentally friendly, bio-based formulation.
ECOPlush – a plush ride with a higher level of green.
3D Skive – foam cutting technology – creates the sensation of walking on air.
IMPERIAL – a new level of cushing in a thin insole.
IMPERIALplus – the highest rebound OrthoLite foam.