There's nothing as exciting as when those first few snowflakes start falling from the sky. Watching from your cozy home, you'll likely be eager to pull on your warmest winter snow boots and head out into the snow.
It's amazing to be experiencing a winter wonderland… until you fall and twist your ankle on some black ice!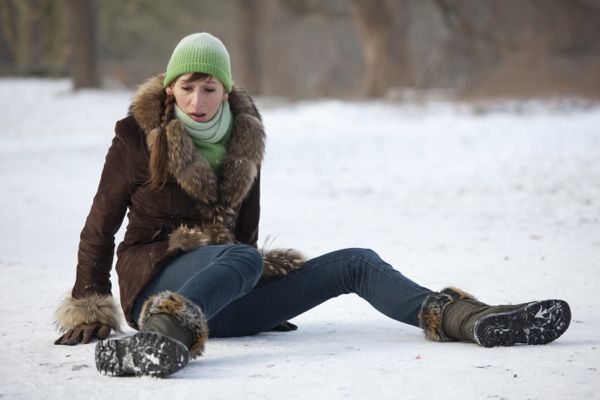 That trip to the hospital because of slipping on snow or ice can test the good cheer of even the most winter-loving citizen.
This is why it's important that you choose boots that will keep you from slipping and falling. Some boot manufacturers specialize in great traction, while others don't.
We like to avoid the ER if at all possible, and we decided to investigate which are the best women's winter boots with amazing traction, and we came up with some great options, that are also stylish as can be for the frosty season!
Sit tight as we dive into the wonderful world of no slip women's boots featuring the best traction.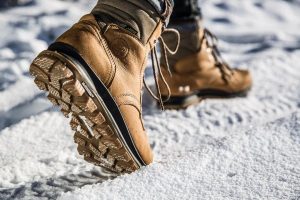 We will start with a guide explaining the difference between winter boots and snow boots, then we talk more on what makes a boot sole have good traction, and then on to our reviews of the best women's snow boots for good traction!
Table of Contents
---
What's The Difference Between Snow Boots and Winter Boots?
First things first.  Are you looking for a snow boot or winter boot?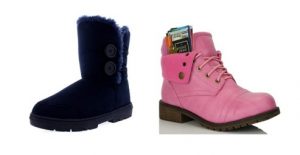 Did you know that there is a difference between snow boots and winter boots? And that most of this can be determined by how good the traction or sole is.
However, there is more to it than just this.
So whereupon a first glance, snow boots and winter boots may seem like the same thing, they are actually subtly different, and the difference is worth noting.
The boots featured in our review today are a mixture of snow and winter boots, and it pays to take a moment to decide for yourself if you would be better off with snow boots or winter boots, or maybe something that combines the two.
So this is how they differ;
Snow Boots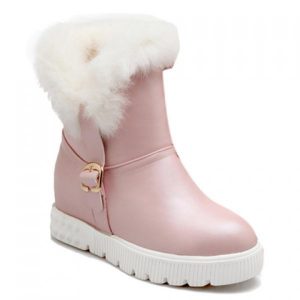 Snow boots are generally heavier, warmer, and usually provide more support – especially around the ankle area, than a winter boot.
Here, even within the category of snow boot, there is some diversity.
Real snow boots are more focused on warmth and practicality, than pure fashion.  The other thing snow boots focus on is no slip soles and great traction.  Otherwise, how could the boot claim to be good for snow?
Although many fashion boots may call themselves snow boots, they are often more likely to be winter boots in disguise.
The fact is, that there are a lot of lightweight snow boots aimed at the women's fashion market.
Although these fashionable snow boots may be fine when the white stuff starts to come down, they may serve you less well when it turn to slush!
Here is where the distinction between a hiking boot and a fashion boot come into play.
You need to check thoroughly the level of waterproofing and insulation of the boot and ensure it is sufficient for your needs.
On the whole, the pros of snow boots are many – as long as you actually want them for walking through snow in!
The best waterproof warm boots will usually be the ones designed for wear in snow, and you may well see that word on the box somewhere – "snow boot".
If you're actually only looking for something to walk to work in, then a winter boot may do just as well.
For serious pounding through the wilderness, knee deep in slush, you want snow boots (and possibly snow hiking boots as well)!
Winter Boots
Winter boots are generally regarded as being lighter and slightly less supportive than snow boots.
This isn't to say you can't get decent arch support with winter boots, but the ankle support might be lacking.
Are these good boots for snow ice?
Holly Womens Twin Button Waterproof Winter Snow Boots
Northside Women's Kathmandu Waterproof Snow Boot
Keen Women's Elsa Waterproof Winter Boot
Dailyshoes Women's Ankle Bootie High Lace Up Military Combat Mid Calf Credit Card Knife Money Wallet Pocket Boots
Well, they might be. But if you want some seriously non-slip boots for women's wear, then snow boots win out in the best traction wars, over winter boots (almost) every time.
Despite the warmest type of women's winter boots often being ones made specifically for the snow, a winter boot should still be warm.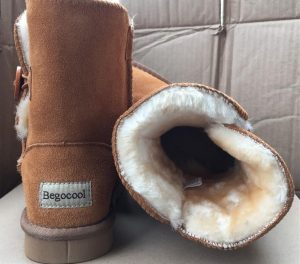 You just won't be going down any Siberian salt mines or trekking to the North Pole in them. Which is probably a relief.
On the other hand, these may well be the best pair to look cute in, if that is your primary consideration. Although not all winter boots are designed mainly for fashion, many are, especially ones for women.
One quick way of checking whether a boot is more likely a pedigree snow boot, rather than a winter boot in disguise, is to simply check the brand.
Manufacturers like Merrell specialize in outdoor and hiking footwear.
So, whereas their boots may come with an eye for fashion, it is more likely that a pair of Merrell women's snow boots really are designed for the snow, and provide traction.
Boots by a brand more renowned for fashion, for example, Sorel, may, not always prove to be the best boots for walking on ice in.
---
Snow Boot General Considerations
The Terrain
What you need to ask yourself now is, what are you mainly going to be doing in these boots?
Are they for long distance hiking in? Or are they simply for the commute to work in the winter?
If you need something that is going to keep your feet warm and comfortable all day long, for shovelling snow in, then this is an entirely different set of criteria to your workaday fashion boot.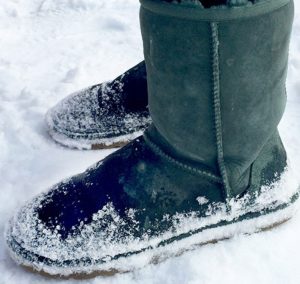 The best non-slip snow boots are really a question of expectations. In other words, something that has been bought for the correct purpose are more likely to live up to the hype, then something that hasn't been thought through properly.
We think that a bit of time and 'sole' searching earlier can save a lot of heartache and well, foot ache, later down the line!
---
The Fit
When considering what makes the best winter hiking boots for women, you need to think about the fit.
Basically, a loose-fitting boot will be warmer – or should be, especially if you layer up with thick socks – than a tighter fit.
On the other hand, a boot which fits more snugly may actually constrict the toes a little and restrict circulation in the foot. This will result in a colder foot.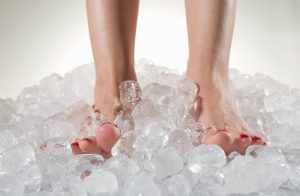 But if you are going to cover some serious mileage in these, then they will need to fit more accurately. And a warmer, looser boot will not provide the necessary support you need.
It might start to rub, which for specialist use over long distances, isn't something you want.
The type of fit is something that needs to be weighed up, before you make your decision.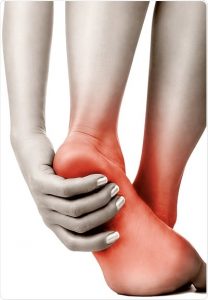 Naturally, sufferers of podiatry conditions will be looking to ensure the best women's snow boots with arch support.
Once again, we think that branding might be a clue here, look for the manufacturers who specialize in comfy footwear for fallen arches, or plantar fasciitis.
Uggs, New Balance, Skechers and the original painful foot specialist, Doctor Marten's, are all makes to look out for. But of course, your quest for supportive winter boots should not be limited to them alone!
---
The Sole's Grip

Whether you are walking or working in these babies, a snow boot's sole is specifically designed for the snow-because you need serious high traction boots, for trudging over piles of the white stuff in!
The types of sole on a women's snow or winter boot are typically more flexible than the sole on an "ordinary" walking boot, giving it good traction.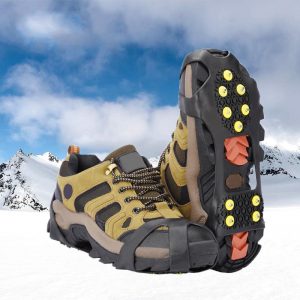 This makes them able to grip to the snow and ice properly and therefore outperform standard walking or hiking boots.
In our role of curating the nation's favorite footwear, we receive a catalog of comments from readers and wearers.
One theme that comes up time and again is disappointed customers who tried wearing their common or garden walking shoes for the icy weather.
On this score, all we can say is don't be tempted to use your old hiking boots for long hikes in the ice and snow – they just won't be as good!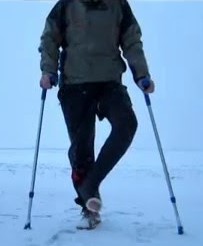 ---
How Cold Is It Outside?
If you're lucky, a mild disappointment will be all that you feel – but there's also the real danger that you will slip and fall!
Is it really worth risking your shin bone over?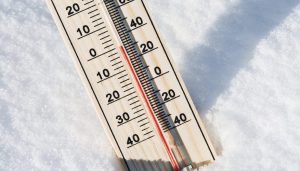 Just how low has the mercury plunged outside? Because this is another, fairly obvious consideration, when looking for the warmest women's winter boots on the market.
The temperature outside is your clue to how much insulation your boots should have. Check the details carefully before choosing.
Manufacturers often state a minimum temperature on the boots, which they can be worn at and still offer full performance at.
It may be that you don't need the frostiest of fittings and can manage nicely with the slightly lighter models, but you want to check this thoroughly.
Holly Womens Twin Button Waterproof Winter Snow Boots
Northside Women's Kathmandu Waterproof Snow Boot
Keen Women's Elsa Waterproof Winter Boot
Dailyshoes Women's Ankle Bootie High Lace Up Military Combat Mid Calf Credit Card Knife Money Wallet Pocket Boots
Look for the differing types of material used by manufacturers – these range from metallic linings (more uncommon) to fabrics such as neoprene (used in wetsuits) and synthetic fibers, such as Thinsulate.
These different materials all have their benefits, depending on whether you want greater warmth, comfort, or dryness from a boot.
---
Is The Boot Waterproof?



To some greater or lesser extent, we expect our winter boots to be water resistant.
But when looking for the best waterproof warm boots, there are a number of factors which need to be studied (yes, studied!)
Number one on the list is the materials they are constructed from.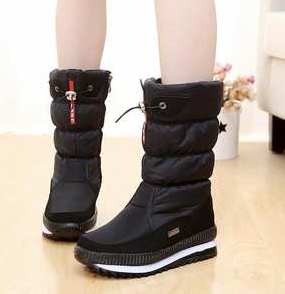 Is your boot made from a fully waterproofed material such as neoprene, leather or rubber?
If so, these are going to score highly on the water resistance test, although in the case of natural fabrics such as leather, they may still need to be treated for waterproofing from time to time.
However, not all of the best rain or snow boots are automatically constructed from leather. Which is good news for vegans!
They may not always be made from neoprene or rubber, either, but could use another material, which isn't as waterproof in itself. These boots become waterproof by utilizing a membrane inside the shoe as a lining – a bit like an anorak.
Whilst this is enough to keep your foot dry, it might not be sufficient to keep it warm unless the outer shell of the boot has been waterproofed.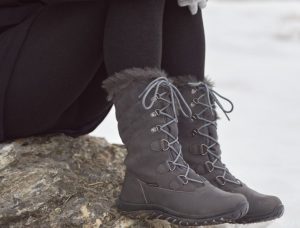 Water conducts the cold far more efficiently than the air can ever do and so if the top of your boot is getting a soaking – even if your foot is dry – it is going to get cold, mighty quickly.
This is an important lesson, in the difference between a rain boot and a snow boot, and it is not one you want to learn the hard way!
The material is not the only factor in how waterproofed your snow boots really are.
There is also the actual design itself.
A low fitting shoe or boot, with space for water to trickle in, is going to result in a cold, wet foot, no matter how well waterproofed it is!
---
Lace Up Or Slip On?



Not all snow boots have to have laces.
A lot of boots these days are slip on. This is mainly for ease of use.
Perhaps if you're just popping out to clear the driveway, you may not want to spend five hundred years lacing up sixty five eyelets!
On the other hand, lace ups have their place and that place is to keep your feet – and ankles – extra warm and dry.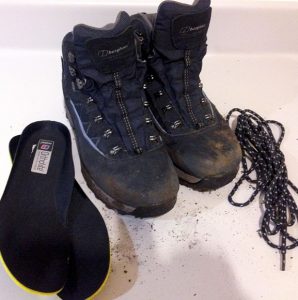 Put simply, they closer they fit, the less chance of any ice or cold water slipping inside them.
On the whole, we would probably err on the side of laces for colder climes and long-distance use and consider slip-ons to be more for casual and fashion purposes.
Of course, many styles nowadays combine both – bringing a degree of control and warmth to the ease of slip on snow shoes.
Ok, now that we've gone over some general points, let's answer the more specific question…
---
What Makes Snow Boots Have Good Traction?
So, now, let's get to grips with… ice grips! Because grips are at the heart of the matter, which is the sole of your boot.
And we need to focus down on, specifically, women's boots with grip soles.
What makes a boot have good traction, is an especially pertinent question, and the first thing you will want is a non-slip sole.
Many manufacturers promise the earth (as in their boots ability to grip it), but sadly, few deliver when it comes to the crucial issue of not going ass-over-tit on the ice come winter.
Footwear with a non-slip sole have a variety of uses and are not only developed for use in the ice and snow.
Footwear like this is also worn in the workplace, such as kitchens, hospitals and industrial settings.
Special outsoles are required in these professions, to prevent accidents from occurring on oily, greasy or wet surfaces.
They may also be useful in the snow and ice (more on this in next section).
---
Friction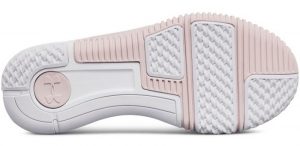 When looking for women's winter boots with best traction, you should begin with the tread of the grooves. This makes them have a higher level of friction.
High friction prevents slips and falls in challenging conditions. As a rule of thumb, the more grooves are on the outsole, the better the grip.
---
The Patterns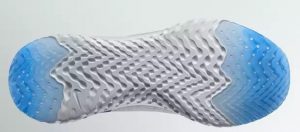 If you've ever studied the outsole of winter boots with the best traction, you might have been sidetracked by the patterns on them. However, there is more to them than simply looking pretty!
Boots with circle designs are good and improve traction in the wet. The same goes for footwear with lots of different types of shape on them.
What you want to avoid is a flat looking outsole, it's less likely to get liquids away from the sole and therefore cause slippage.
But there's more than just that. There's also a difference in tread provided by soles with an enclosed pattern and one which is unenclosed.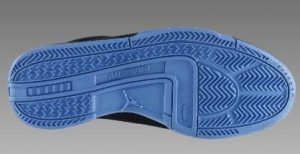 By this, we mean soles with outlines and grooves around the tread.
A boot with an enclosed pattern will be more prone to trap liquids in it – causing slips and falls.
To be extra sure that your women's snow boots this season have truly non-slip soles, then be on the lookout for an outsole with an unenclosed design on it.
---
The Material
Of course, the material used for a truly slip-resistant outsole matters as well.
The best grip snow boots will be made from rubber – but not just any rubber, a quality grade of rubber. Checking the material of the soles is vital to any decision to purchase snow boots with good grip or traction.
It should also probably be of softer texture than more regular boots – even ones made for rugged terrain.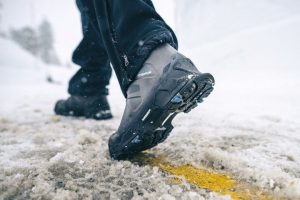 A rigid sole is less likely to stick to the surface properly. A soft rubber is what is needed to ensure the boot grips well to the ice and snow surface.
Soft soles are often used for workplace footwear, which will be used to grip to shiny wooden floors, for example.

Of course what is good for the indoor workplace might not necessarily be enough for trekking up Mount Everest!!
Choosing the best snow boots for traction on ice also requires an appraisal of the temperature control of the overall boot and its waterproofing.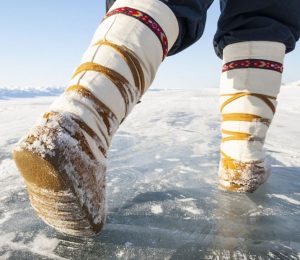 As well as being soft and flexible, there are other innovations being used by footwear developers in the quest for the best non-slip snow boots.
---
Green Diamond Technology
One such bright idea is green diamond technology. This entails placing silicon dioxide granules on top of the outsole, at high temperatures.
Then it's covered with a light coating of rubber, which is sanded down. This exposes the silicon dioxide granules, effectively making them like studs, to improve the boot's traction.
Another innovation goes further still, using glass fibers within the rubber sole. These are highly effective at gripping on slippery surfaces like snow and ice.
Worryingly, it seems a lot of manufacturers still have some way to go, when it comes to the quest to design the best non-slip women's snow boots.
In 2016, a study undertaken in Toronto revealed that only nine percent of footwear touted as being the best for anti-slip winter boots actually lived up to the expectations!
---
Traction Spray For Boots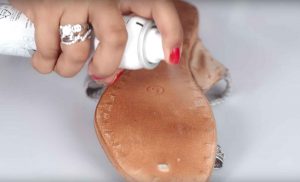 Good boots for ice and snow are not always born. They can sometimes be made. By you. And for less than you think it might cost as well.
Because we know that you already have an all time favorite pair of boots that have possibly seen better days, there are things you can do to resurrect them.
Footwear with good traction can be simply achieved by nothing more than pointing and spraying some solution on them.
Traction can be improved considerably and you just gave your boots a new lease of life for next to nothing!
Holly Womens Twin Button Waterproof Winter Snow Boots
Northside Women's Kathmandu Waterproof Snow Boot
Keen Women's Elsa Waterproof Winter Boot
Dailyshoes Women's Ankle Bootie High Lace Up Military Combat Mid Calf Credit Card Knife Money Wallet Pocket Boots
Still too much fuss? For a real temporary fix – and we do mean temporary – you can even spray hairspray onto the sole to render your favorite winter boots non-slip.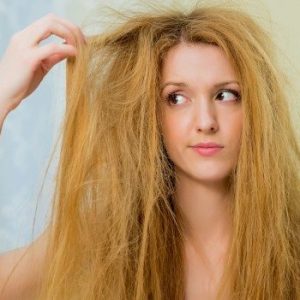 Tips don't come much cheaper and easier than that!
Ok, finally we're on to our best women's snow boots for good traction!  Took a while, but here we are!
---
The Best Women's Snow Boots For Good Traction – Our Review
Holly Twin-Buttoned Fur-Lined Boots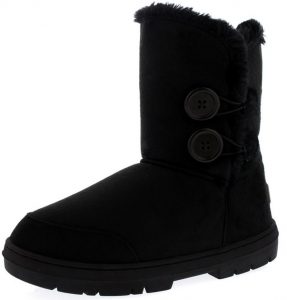 SHOE TYPE:  SNOW BOOT
SIZES:  5-12
HALF SIZES:  NO
MATERIAL:   SYNTHETIC
SOLE: MANMADE
BOOT SHAFT HEIGHT:   7 INCHES FROM ARCH
WATERPROOF: YES
COLORS: BLACK, GREY, TAN, BLACK KNITTED, NAVY, BROWN
ALSO: THICK DURABLE SOLES WITH A DEEP TREAD
MANUFACTURER: HOLLY
FIT AS EXPECTED:  82%
OUR RATING:  4.1 STARS OUT OF FIVE
PRICE GUIDE: $29.99+
You can purchase these boots in suede or knitted variety. The insides are incredibly soft and fluffy, which makes them warm as well as comfortable.
The elastic band closures with buttons are not for style alone. They will keep the boot from slipping off your foot, as well as providing security for your ankles.
Why They're Great In The Snow And Ice
The synthetic sole has large lugs that give the wearer a solid grip on the ground.
While the upper part of the boots are stylish and cute, the sole of the boots are shaped and created as if they are part of construction boots.
This mixture of style and function make these a great pair of boots for the snow and ice -.and they're among the best slip on winter boots we can find!
Warmth Of The Boots
There's a reason that animals have fuzzy coats. The interior of these boots are as fuzzy as a warm animal, but they are created using synthetic fibers. The boots are water resistant – but adding your own waterproofing spray to the exterior can't hurt.
We love the casual feel of the Holly Fur-Lined Boots, with the almost hidden benefit of the thick sole that will keep you from slipping on any surface.
---
Northside Women's Kathmandu Waterproof Snow Boots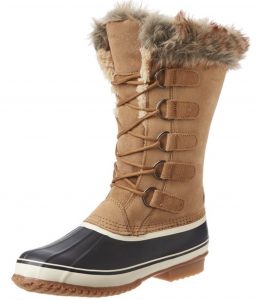 SHOE TYPE:  SNOW BOOT
SIZES:  5-10
HALF SIZES: NO
MATERIAL: SUEDE
SOLE:  RUBBER
BOOT SHAFT HEIGHT: 11 INCHES FROM ARCH
HEEL:   0.5 INCHES
WATERPROOF: YES
COLORS: DARK BROWN STONE, HONEY, MARSALA BLACK, ONYX, STONE, BIRCH, CHARCOAL, WARM GREY
ALSO: THERMOLITE INSULATION TO -25F, DUCK SHOE VAMP, ALL TERRAIN OUTSOLE GRIP
MANUFACTURER: NORTHSIDE
FIT AS EXPECTED: 77%
OUR RATING:   4.2 STARS OUT OF FIVE
PRICE GUIDE: $52.05-$104.95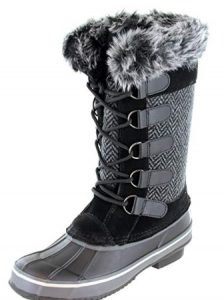 There are so many colors available for these boots including dark brown, marsala, honey and stone.
Along with being a beautiful pair of boots, they're a high boot measuring 11 inches from the arch, and have a fur snow collar, which gives you superior protection from snow or moisture.
Why They're Great in the Snow and Ice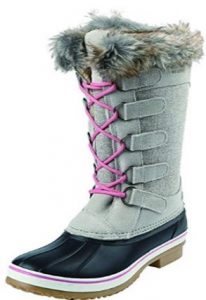 The Kathmandu boots have horizontal grooves across the width of the sole. This will make it easier to walk in the snow without slipping or losing your footing.
Warmth of the Boots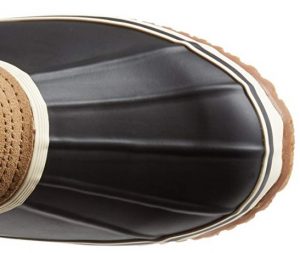 The boots are incredibly warm due to the Thermolite insulation that is cold rated at -40 degrees.
The grip on the soles is considered all-terrain, so you can walk in the snow, rain or ice with these boots quite easily. This makes it one of our favorite boots for the best traction.
---
KEEN Women's Elsa Waterproof Winter Boots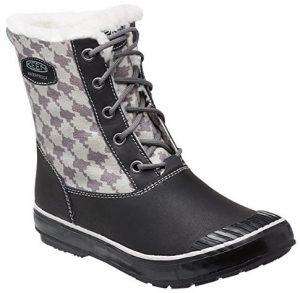 SIZES:  5-11
HALF SIZES: YES
MATERIAL: LEATHER AND SYNTHETIC
SOLE: RUBBER
BOOT SHAFT HEIGHT:  6.5 INCHES FROM ARCH
WATERPROOF: YES
COLORS: COFFEE BEAN, SYRA/ COFFEE BEAN, BLACK, BLACK/RED DAHLIA, HOUNDS TOOTH, STAR WHITE/BLACK, BLACK WOOL, BELUGA, CHILLI PEPPER, GARGOYLE MAGNET, BRONZE MIST, AVOCADO, DARK EARTH, TORTOISE SHELL, WOOL STRIPED, COCOA DESERT SAGE, DRESS BLUES, COCOA BROWN
ALSO: HEAT REFLECTING STROBEL, SHERPA COLLAR AND MESH LINING, WARMTH AND BREATHABILITY, SEAM SEALED, INSULATED TO -4F
MANUFACTURER: KEEN
FIT AS EXPECTED: 80%
OUR RATING: 4.4 STARS OUT OF FIVE
PRICE GUIDE: $39.98-$160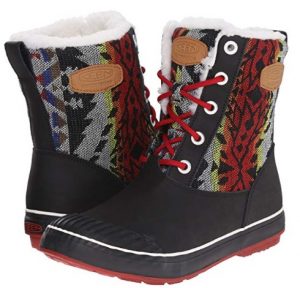 The Elsa boots come in over 10 different color combinations, so you should be able to find one that will fit your perfectly.
The rubber sole of the Elsa boot has thick, directional lugs that give you great traction.
We've also seen these boots over on Kathmandu (the New Zealand-based online store) and they usually have them in stock there as well.
Why They're Great in the Snow and Ice
Great traction comes from thick lugs that will hold while stepping on the wet ground. They're rubber, which means they're less slippery than other materials when wet.
Warmth of the Boots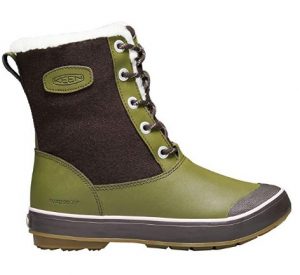 The shaft is short compared to other winter boots, but the boot itself is seam-sealed and waterproof, which provides added protection from cold moisture entering the boot.
Between the thick lugs and the rubber material, these boots provide great traction, and that's why they're included on this list.
---
Dailyshoes Women's Military Combat Boot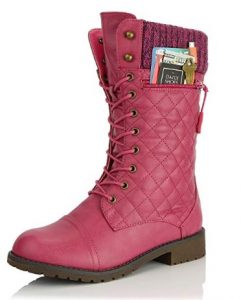 SHOE TYPE: BOOTS
SIZES: 5-13 (B) AND M (U.S.)
HALF SIZES: AVAILABLE
MATERIAL: SYNTHETIC/RUBBER SOLE
HEEL HEIGHT:  1.2 INCHES
BOOT SHAFT HEIGHT: 9.75 INCHES
BOOT OPENING CIRCUMFERENCE: 13 INCHES
SHOE HEIGHT: MID CALF HEIGHT
STORAGE POCKET: 3 INCHES BY 3.5 INCHES/ 3.5 INCHES BY 4
OVERALL DIMENSIONS: 7 X 11.9 X 10.2 INCHES
COLORS: EIGHTEEN PLUS AVAILABLE
ALSO: VEGAN, NON-SLIP SOLE WITH CHUNKY HEIGHT, 1.5 INCH RIBBED SWEATER BAND
MANUFACTURER: DAILY SHOES
FIT AS EXPECTED: 70%
OUR RATING:   4.3 STARS OUT OF FIVE
PRICE: $27.99-$69.99
The first thing we have to say about these warmest looking of women's winter boots is that there are many of them to choose from!
With several different varieties, there is quite an array of styles to choose from. There's ankle height and mid-calf and then there's the option of having the zip in slightly different places – so have a good look at all the choices before making your selection!
This boot is unique because it has a hidden pocket that you can use to hold money or an ID. The shaft is 9.75 inches, while the storage pocket is a little over 3 inches. They're available in a variety of colors including white, black, chocolate brown and quilted beige.
Why They're Great in the Snow and Ice
The sole of the boots is rubber, so it provides superior traction in the elements. You won't have to worry about slipping and falling with these boots. They'll keep your feet firmly planted on the ground.
Warmth of the Boots
The Military Combat boots have a sweater cuff at the top that will stop snow and water from entering through the top of the boots. With a thick pair of socks, these boots will keep your feet incredibly warm.
While these are a fashionable pair of boots, they're also a comfortable, warm pair of boots you can wear all winter. The tread will keep you from falling while you're out in the elements, or when you make the transition from the outdoors to inside with wet soles.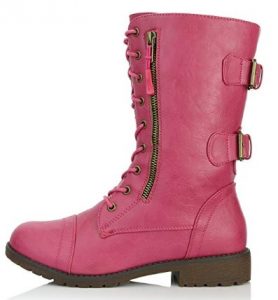 ---
Merrell Women's Snowbound Mid Waterproof Winter Boot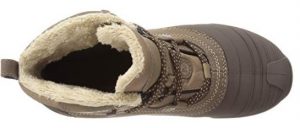 SHOE TYPE:  SNOW BOOT
MODEL: SNOWBOUND MID WATERPROOF
SHIPPING WEIGHT: 1.6 OUNCES
SIZES:  5-11 M
HALF SIZES: YES
MATERIAL: LEATHER/ FABRIC
SOLE:  RUBBER
BOOT SHAFT HEIGHT: 6 INCHES FROM ARCH, 8 INCHES FROM BASE
HEEL:   1.5 INCHES
WATERPROOF: YES
COLORS: CHARCOAL, DARK EARTH, BLACK
ALSO: LACE UP VAMP, PULL ON HOOK
MANUFACTURER: MERRELL
FIT AS EXPECTED: 77%
OUR RATING:   4.4 STARS OUT OF FIVE
PRICE GUIDE: $77.74 – $398.75
Always a firm favorite when it comes to the colder winter months, Merrell are a brand renowned for being the trek and hike experts. So it stands to reason that their snow boots should follow suit?
When we first take a look at this pair of Snowbound Mid Waterproof Winter Boots, we have to say that we are not disappointed.
Looking promising in the best winter hiking boots women's category, these feature a lace up vamp and come with a hook on the back of the heel, to aid putting them on with.
Presentation is a neat, simple affair. It's true that you're not gong to set the world alight with these – available in three colors (at the time of writing) which are gray, brown and black.
The reason why Merrell have inspired loyalty amongst their wearers is that they are consumed with trying to give the best performance possible from their footwear. This is a brand that want their boots to last the test of time. In fact, their publicity blurb mentions something about Stonehenge!
Our first impressions are of a solidly constructed snow boot, which is smart, quietly fashionable and hopefully, quite warm.
What is surprising about this pair is just how lightweight these snow boots are. They weigh very little indeed –  but still provide the resilience you need to wade through the white stuff.
Why They're Great In The Snow And Ice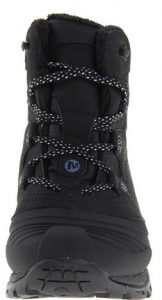 There are two main things our testers were looking for in these snow boots were their waterproofing, their resilience, their comfort and of course, their warmth.
In terms of comfort these Merrell's have been top rated as winter boots, scoring highly. One thing most respondents stated was that they were comfy. So if you are looking for something padded and featherlight to power through the ice and slush this season, you have found your match!
Warmth of the Boots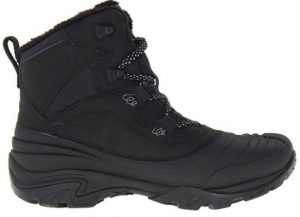 As well as comfort, the best boots for snow and ice need to be warm. So how do these perform in freezing conditions?
Insulated on the inside, these feature a nice and cozy fleece lining, to ensure warmth even on the coldest days.
In terms of performance, these score moderately well. They aren't going to be the boots to hike to the Polar Ice Caps in, but the commute to and from work should be okay. Unless you work in Siberia.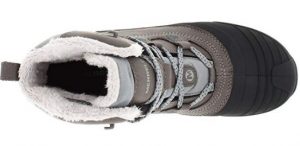 These are plenty warm and also dry, which is also vital as finding truly waterproof women's snow boots can sometimes be a challenge.
However, there are limits to what you can do in them. We don't think these will hold up to plunging ankle deep into icy puddles, nor fare particularly well in the most extreme cold – for long, anyway. Short icy blasts will be fine, hiking around the Artic, possibly not.
On the whole, our testers were impressed with the Merrell Women's Snowbound Mid Waterproof Boot – and we think you will be as well!
All the boots on this list have great traction, so they can be worn for the entire winter whether there's a serious snow storm, or streets full of watery slush.