Manufacturer: Birkenstock
Model Name: Arizona
Style: Sandal
Sizes Available: All US and EU sizes Male and Female
Half Sizes: Yes
Colors: Black suede, oiled leather, navy, tobacco brown, silver, blue, stone, orange, and over 80 other colors.
Outer Material: Suede
Sole: Cork and rubber
Additional Features and Details: Comfort cork foot bed to conform to the foot over time. EVA sole for cushioning.
Fit as Expected: 78%
Price Range Guide: $90.03 – $185.00
Our Rating: 4.5 out of 5 stars
Birkenstock Arizona Taupe Suede Sandal 39 R (Us Men's 6-65 / Us Women's 8-85)
Birkenstock Unisex Arizona Essentials Eva Black Sandals – 37 N
Birkenstock Arizona Unisex Suede Sandal
Birkenstock Unisex Arizona Taupe Suede Soft Foot Bed Sandals – 38 N Eu / 7-75 2A(N) Us
The First Peak
If you're looking for stylish foot charms to wear at a beach bar, you're not going to score any points with this pair of sandals.
The fact that they're basically unisex should tell you that you won't win any awards for cute feet at a club with them. It's all about the right sandal for the job.
This sandal is meant to keep your feet sweet and happy with every other situation out there from walking around for a day of sightseeing and shopping, or running errands with the kids.
These are the classic Birkenstocks that bring to mind hippies, environmental causes, and easy-going attitudes. They're a solid pair of sandals that conform to your feet after a few days of wear.
These aren't sandals you're going to be able to take over from your significant other because you love them. You'll have to buy your own!
The Materials
The upper straps holding the foot to the cork bed are made from imported materials. The material type will depend on the sandal that is purchased. There are suede, leather and synthetic Birko-Flor trademarked for the company as synthetic leather.
The foot bed is a cork that will conform to the shape of your foot over the first few days of use. The sole of the sandal has rubber for a sure grip on any surface.
There's a lightweight EVA sole layer in the sandal for cushioning and support. It's great for absorbing shocks while walking for a smooth stride.
The Brand
If you're looking for a brand that has stood the test of time, you can't get any better than the Birkenstock name. Master cobbler Konrad Birkenstock began selling these unique insoles in 1896, and in 1902, he developed the first contoured foot bed. How's that for a long history?
In 1932, the Birkenstock training course and system was developed and endorsed by physicians and podiatrists. As far as current day sandals, they're still using the same environmentally-friendly adhesives that were introduced in 1988, which set a new standard at the time. They're an innovative company that cares about the environment as well as your foot health.
The Fit
One of the beautiful things about these sandals is that they are available in a variety of widths. The range of sizes is impressive for both men and women, but you can also order narrow, medium, or wide width to ensure you have a good fit. The straps across the top are adjustable as well.
While it's an open toe sandal without heel and top coverage, it'll support and fit the foot wonderfully without the added material. Many customers found that the sizing was pretty close to true as long as they followed the sizing chart available.
Comfort Level
This is where the Birkenstock name really shines. The straps over the top of the foot have a soft material that ensures the straps won't rub uncomfortably on the skin.
The foot bed will contour to the shape of the toes with a deep heel cup and pronounced arch. This will allow you to wear the sandals for the entire day without your feet beginning to ache. You won't lose any arch or foot support by wearing sandals. In fact, they may improve your overall foot health by wearing them.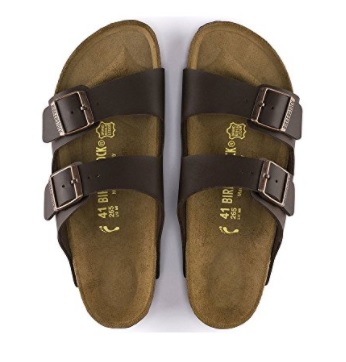 The Terrain
From walking for hours in the city to light hiking in the park, these Arizona sandals will keep your feet secure. They're open toe, which means that you can't really do any intense athletic activity with them or hike in the deep woods.
Aside from that, you can wear these sandals all day and never have to worry about normal terrain or the weather, either. Even if it's raining lightly, the sandals have a sure grip on the inside with a conforming foot bed and a sole that will keep you from slipping. They're a great walking sandal for a variety of situations.
Bottom Line
We definitely recommend these sandals when you're concerned about making sure that your arches and soles of your feet remain healthy while still wearing comfortable sandals.
Should I Buy These Walking Sandals?