You like walking, but unfortunately getting out for a stroll is proving troublesome.
This is typical of older adults and the elderly people who have sore joints, or perhaps you've even sustained some sort of injury.
And possibly… just possibly… Some of us seniors are not quite as steady on our feet as we used to be…!
Or, maybe you have the athleticism of a 23-year-old, and want to keep it that way. But when winter comes, you'd rather not go outside where you can easily break an ankle, and maybe the gym isn't your thing.
Young or old, but especially for those of us in our elder years – walking is literally the greatest exercise you can do.  Walking has many health benefits you should be aware of.
Now what?
Efitment Adjustable Incline Magnetic Manual Treadmill W/Pulse Monitor – T016
Sunny Health & Fitness Force Fitmill Manual Treadmill With High Weight Capacity, 16 Levels Of Magnetic Resistance And Dual Flywheel – Sf-T7723
Lifespan Tr1200I Folding Treadmill
Weslo Cadence R 52 Folding Electric Treadmill With Ifit Coach Technology
440 Xl Super High Torque Engine, Heavy Duty Walking Treadmill With Wide Belt, Black
Treadmill Progear Hcxl 4000 Features High-Torque Motor, Extra-Wide Platform, Extra Long Safety Handles With Heart Pulse System, Great In Achieving A Healthy Lifestyle
You need something you can walk on inside. But not something that is half the size of your living room that isn't easy to move or put away.
In other words, you might want a smaller treadmill, which can be easily stashed away when not in use, ie. a folding treadmill.  Or, you may not.  You may want something larger, where all the buttons and things are easier to see, and the actual belt of the treadmill is roomy and you won't have any problem stepping on or off.
These are just some of the things to think about before buying.
Treadmills for Overall Health
We spoke to Kevin Fernsler, aka "Coach Kev" over at Exodus Sport & Fitness in Bay City, New Jersey. 
His list of credentials is a long one, including: "NASM, PARISI speed school, TRX, kettlebell, Olympic lifts, IFA group fitness, COORDS, and CPR. Formerly Senior Sports Performance Practitioner at Athletes Arbor, Strength and Conditioning Coach at Oceanside Wellness, Speed and Agility Coach at East Coast Speed Academy, and CPT at Exodus Integrated Wellness, now proud owner of Exodus Sport and Fitness." – The Exodus website
We wanted his take on treadmills when it comes to seniors using these devices, and he says:
"In my opinion seniors just walking on treadmills is a plus. If an individual has ankle knee or hip pain, running can be very painful and ones fitness journey cannot include enduring the pain.
If a senior can simply dedicate one hour a day to walking and getting their max heart rate at 80%, then they are burning lots of calories and doing a lot of good for their heart health and overall wellness.
There are also many things they can do like walking lunges, slow side shuffles, reverse walks, in order to hit different muscle groups on the treadmill."
Great advice, but what kind of treadmills are out there and what should you be looking at?
Treadmills "For" Seniors?
Well, we also reached out to Jennifer Bever, Fitness First Manager at Weber Leisure Center in Skokie, Illinois.
Since she runs an active seniors center, and has treadmills, we were interested in what she had available to seniors, and why.
Jennifer says, "The treadmills we have at Fitness First are for general use and not necessarily designed specifically for seniors.
That said, we have added texture to buttons on some of them for those who have vision issues.
Regarding manual versus electric treadmills I don't think that one is superior to the other for seniors. It mostly depends the on comfort level of the individual.
Most treadmills come with quick start controls so that several levels of screens don't need to be navigated prior to starting exercise.
We find here that individual preference and familiarity plays a much bigger role in use of any equipment my seniors."
As with most things, the name of the game is preference, and individuality.  That said, while most treadmills aren't made specifically "for" seniors, there are characteristics of treadmills that would be helpful for you to have as a senior.
Up next we will look at the difference between a manual and electric treadmill, and how these difference may benefit you.
---
Manual v Electric
The first dilemma comes almost immediately after saying the word "treadmill" – should it be manual or electric?
Although the ones we will be discussing are mainly electric, there's still plenty of reasons to recommend getting a manual treadmill, if that's what you prefer.
As well as, of course, some more than convincing cases to be made for an electric one.
Let's start with the manual treadmills first.
MANUAL TREADMILLS
A manual treadmill is more simple and straightforward than an electric one.
It probably won't be as complicated as an electric one to set up and of course, it weighs less.
However don't be tempted to start flinging it about like it was a piece of lettuce. It's not!
One of the main reasons that as an older adult looking for a treadmill you may consider buying a manual, is that you can probably get something decent for under $400. Or maybe even under $200!
Because there are no electrical or moving parts, there ought to be in theory less that can go wrong with a manual treadmill.
One thing people think makes a manual best for the elderly is that there is less to trip over, and this is certainly true. The feeling you get tripping over a cord, only to end up on the floor is NOT a happy one to say the least.
Another good thing about manual treadmills is the control you have over the speed. The minute your feet cease moving, the belt comes to a standstill as well. There's no need for an emergency stop button for this reason.
We can't always say this about an electric treadmill, which can take a minute to slow down if you're going fast, and if your reflexes aren't the greatest, this could result in you being launched from the treadmill.
Oy vey!
However, on the downside of manual models, you are always running uphill with a manual treadmill. Or walking uphill. This is because a manual treadmill must an incline to keep going.
Now perhaps this is not an issue – it needn't be for everyone. But for a few, well, you might just tire a little of running up that damn hill continually.
However, the final con of a manual treadmill may be especially pertinent for the elderly, no matter how trim you are – and that is that they can be pretty rough on your system – namely your joints.  That is, if the treadmill is poorly designed.
Although we shrink from using the phrase whisper it boneshaker, there is no denying that a manual treadmill lacks the smoothness and ease of use a high quality electric one has.
Electric treadmills, while they are more expensive, are more versatile, and as long as you know what you're doing, you can even have more fun on them, creating custom workouts with hills, valleys, customized cardio adventures, and more.
They also have readings that monitor your heart, and that's clearly a plus if you aren't sure how hard to push yourself.  Simply put your hands on the handles and your electric treadmill reads your pulse.
Overall, electric models are "smarter", because the computer that powers them is there to make your workout according to what you want.  So, rather than be like a manual and be super basic, the good electric ones are generally giving you lots more options and a better workout.  Plus, they're smoother.
They're also heavier, but all the good models we're going to mention are fairly easy to roll somewhere without a lot of effort.
Now, to recap all that:
MANUAL TREADMILLS
The Pros
Less expensive
There's less that can go wrong
They are simpler and more straightforward
There's less trip hazard
They are lighter and more portable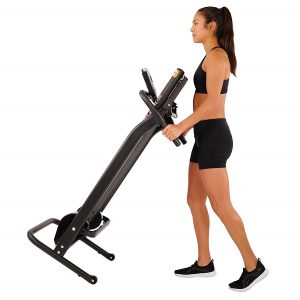 The Cons
Not as good for going fast
They can be harder on joints
It's a bit of an uphill struggle
ELECTRIC TREADMILLS
The Pros
You can run hands free!
You can go faster
You can run at a flat pace
It's softer on the joints
Your workout may be more productive
With more speeds, features and settings you will get less bored  
The Cons
These cost a bit more
The cheaper ones may not be as good
Care must be taken when using them
They may cost to maintain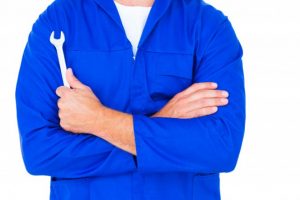 …And…
For either a manual or an electric treadmill, we urge you to take care.
This is both when you are on, or off it, or even just moving it out of the way as you pass.
Just because it's a bit lighter, don't for heaven's sakes think you can go picking up your manual treadmill, willy nilly.
Flipping it around, single handed whilst you juggle an enormous pile of stuff in the other hand, is not the way to go about getting fit!
Take care with all aspects of storing, moving and using your walking treadmill.
Walking Treadmills for Seniors
Now let's review the top treadmills specifically designed for older people that are available currently. As we said, if they're small enough, you can even store them out of the way when you don't want them out.
Because, like we said, you have probably accumulated enough stuff clogging up the house over a lifetime and just want a mini treadmill, but one definitely for people and not children or, say, dogs.
Woof.
And in choosing a treadmill specifically designed for you, you won't end up going too fast or with a load of twiddly stuff on it that might be better left for the gym.
So, if you're deterred from going out but have also been traditionally wary of treadmills – perhaps because they went too fast or didn't suit a larger frame or weren't right for your mobility needs, then help is here.
These particular models have additional features like a longer or wider walking belt, bigger handles for steadying yourself and heart rate monitors.
So if you were planning a little Christmas present for yourself or have made walking more your resolution for the New Year, you really can't afford not to check out these treadmills for 2019.
---
PROGEAR HCXL 4000
SUPPLIER: PARADIGM H & W
UNFOLDED DIMENSIONS:  51.2" L X 32" W X 63" H
FOLDED DIMENSIONS: 22" L x 32" W x 54" H
MODEL: HCXL 4000
ADDITIONALLY: HEART PULSE SYSTEM AND EXTRA LONG HANDLES
BELT SIZE: 40"L X 20" W
 MOTOR: 1.5 HORSE POWER HIGH TORQUE MOTOR
SPEED:  0-4 MPH
INCLINE: 2 POSITIONS MANUAL INCLINE
MAX USER WEIGHT: 400 POUNDS
ITEM WEIGHT:  120 POUNDS
SHIPPING WEIGHT: 149 POUNDS
OUR REVIEW: 4,3 STARS OUT OF FIVE
PRICE GUIDE: $386.99+ APPROX
WARRANTY: 5 YEARS MOTOR
The thing we like about this treadmill is its extra wide belt.  At 20 inches, this is similar to the sort of size you would see in gyms and health clubs.  Also, it has extra-long handles to make staying safe on this treadmill easier.
With two manual inclines, this provides a nice simple user experience that won't blind you with science, or make you feel like you should be in training for a triathlon.
This is primarily for walking on although, with a top speed of 4mph, should you wish to jog, then you can do so comfortably.
Other notable features are the greatly increased weight capacity – right up to 400 pounds.  This is a sturdy machine that can take the load, literally.
Users of the ProGear seem disproportionately happy with their purchase, with over 70% leaving a five star feedback.
If you're worried about overdoing it, or simply want to monitor your performance, there is a heart sensor to show you your heart rates whilst you exercise.
All this, and it is nice and quiet to use, and fairly painless to set up out of the box.  One word of warning though, it's pretty heavy at 120 pounds.
When you're done with it, it folds down to minimize its footprint in your home.
Watch this helpful video review of the Progear HCXL 4000 Treadmill.
---
EXERPEUTIC TF1000
SUPPLIER:  PARADIGM H & W
UNFOLDED DIMENSIONS:  51.2"L X 32"W X 63"H
FOLDED DIMENSIONS:  41.3"L X 32"W X 54"H
MODEL: TF1000
ADDITIONALLY:  18 " SAFETY HANDLES. PULSE MONITOR
BELT SIZE:  40"L X 20"W
MOTOR:  1.5 HORSE POWER HIGH TORQUE MOTOR
CONSOLE:  LCD DISPLAY, CALORIES, DISTANCE ETC
SPEED:  0-4 MPH
INCLINE:  2 POSITION MANUAL INCLINE
MAX USER WEIGHT:  400 POUNDS
ITEM WEIGHT:  120 POUNDS
SHIPPING WEIGHT:  149 POUNDS
OUR RATING:  4.1 STARS OUT OF FIVE
PRICE GUIDE:  $400+ APPROX
 WARRANTY:  5 YEARS MOTOR AND FRAME. 90 DAYS PARTS AND LABOR
Also extra wide and extra sturdy, and capable of taking weights up to 400 pounds, is the Exerpeutic.
Decidedly for those who want to walk, not run, this is a nice and easy user experience, as well as comfortable under foot.
No, there's no flash speakers, or cooling fan, but it can support weights of up to 400 pounds without a murmur.
And without a murmur is right, or at least mostly correct.  This is a quiet and smooth running treadmill, that makes the least noise on the slower settings.
Oh! And it also has the extra-long 18 inch handles, similar to the ProGear, so hanging on shouldn't be a problem either.
Take a look at this video giving more information on the Exerpeutic TF1000 Electric Treadmill.
---
WESLO CADENCE R 5.2 TREADMILL
MANUFACTURER: WESLO
UNFOLDED DIMENSIONS: 64.5″-L X 29″-W X 55.5″-H
MODEL: CADENCE R 5.2
ADDITIONALLY: 6 PERSONAL TRAINER PROGRAMS
BELT SIZE: 16" X 50"
MOTOR: 2.25 HP IMPULSE MOTOR
SPEED: 0-10 MPH
INCLINE: 2 MANUAL INCLINES
MAX USER WEIGHT: 250 POUNDS
ITEM WEIGHT: 119 POUNDS APPROX
OUR REVIEW: 4 STARS OUT OF FIVE
PRICE GUIDE: $290+ APPROX
WARRANTY: 1 YEARS MOTOR. 90 DAYS PARTS AND LABOR
Looking to spend a little less than $300?  Maybe you don't need something that's quite as heavy duty as the ProGear, but would possibly like to sprint on it now and then?
Look no further than the Weslo Cadence.  This is an incredibly popular model with users of all ages.  It also has two inclines and comes with six training programs to boot.
Yes, you can hit the heady heights of 10 mph on this baby, but rest assured that you don't have to, if you don't want to, and plenty of users are perfectly satisfied with it just as a walking machine.
Nice and quiet to use, this is also easy to figure out the assembly, but like all the models in our pick, it is far from light, and you will need assistance.
Watch this video to get a closer look at the Weslo Cadence 5.2 Treadmill.
---
LIFESPAN TR1200I FOLDING TREADMILL
SUPPLIER: LIFESPAN FITNESS
UNFOLDED DIMENSIONS:  25" L X 55" HX 33" W
FOLDED DIMENSIONS: 39"L X 63" H X 33" W
MODEL: TR1200I
ADDITIONALLY: EZFOLD SYSTEM/ 6 COMPRESSION SHOCKS/ 21 TRAINER PROGRAMS/ QUIET AND LIGHTWEIGHT MANUAL FOLD
BELT SIZE: 56" L X 20" W
MOTOR: 2.5 HP CONTINUOUS DUTY DC
SPEED: 5-11 MPH
INCLINE: 15 LEVELS
MAX USER WEIGHT: 300 POUNDS
ITEM WEIGHT: 204 POUNDS
SHIPPING WEIGHT: 220 POUNDS
OUR REVIEW:  4 STARS OUT OF FIVE
PRICE GUIDE: $797 APPROX
WARRANTY: LIFETIME ON FRAME AND MOTOR
For anyone with upwards of $700 to spend, who is looking for more of an indoor gym experience, we have the Lifespan TR1200i.
This comes with an impressive 15 levels of incline and can accommodate a user weight up to 300 pounds.
Although it is not the biggest capacity possible, we think it will be adequate for most people's needs.
This is a sturdy, impressively built looking machine which offers a top speed of 11mph.
Despite its' stature and frame, it can be easily folded, and it comes with a lifetime frame and motor warranty.
What makes this model in particular a contender for the title of top rated treadmills of 2018 is the smoothness of the ride.
There's no denying that you get what you pay for, in terms of cushioning and the gentleness that users experience when running – or walking – on this has much to contend it.
When we are ticking off a criteria of things that make for a good treadmill for older people, specifically, then a smooth, comfortable ride is definitely top of the list.
In short, you are already going to be feeling the after-burn of a productive exercise routine. But you shouldn't wind up feeling as if you've been inside a combine harvester.
If you want your exercise session to revitalize, not hospitalize, then its seriously worth spending those few extra dollars.
Other plus points include a quiet motor – always good news, especially for anyone with neighbors or perhaps even family sleeping nearby.
As you would expect, of a treadmill of this caliber, it comes with safety features, an almost limitless workout program and the ability to keep your training sessions fresh and fun.
Download and chart your fitness program electronically, after your stroll is over.
Whether its weight loss, fitness or just some gentle exercise you're after, this is easily one of the better treadmills to do it on!
---
WESLO CADENCE G 5.9I CADENCE TREADMILL
SUPPLIER: WESLO
UNFOLDED DIMENSIONS:  55.7 X 26 X 10.4 INCHES
FOLDED DIMENSIONS: 29" X 60"
MODEL: WLTL29615
ADDITIONALLY: FOLDING SPACE SAVING DESIGN/ 6 ON BOARD WORKOUTS/ BLUETOOTH ENABLED
BELT SIZE: 16" X 50"
MOTOR:    2.25 HP DRIVE MOTOR
SPEED: 0-10 MPH
INCLINE: 2 POSITION MANUAL INCLINE
MAX USER WEIGHT: 275 POUNDS
ITEM WEIGHT: 118 POUNDS
SHIPPING WEIGHT:  118 POUNDS
OUR REVIEW: 4 STARS OUT OF FIVE
PRICE GUIDE: $337 APPROX
WARRANTY: ONE YEAR MOTOR WARRANTY/90 DAYS PARTS AND LABOR
For an updated version of the Cadence 5.2, is the Weslo Cadence 5.91.
In many ways, this is pretty much the same model, but there are a few differences that we can see.
The main one is that it can accommodate a slightly more generous weight on it – 275 pounds versus a mere 250. So if you have overdone the pudding recently then this is the machine to help you shed those excess pounds.
Once it is out of the box and assembled (we can't lie, this is a two person, definitely two brained affair) and you have followed all the instructions about the set up carefully, then it is a pretty straightforward affair.
This is not the most sophisticated of machines, comparably. All the same, some users were pleased to discover that it came with Bluetooth integration – not something you may be necessarily expecting in this price range!
With a top speed of ten miles an hour, you can walk and run on this and we think that ten miles an hour should be plenty fast for most of you out there.
Similar to the older model, there are two manual inclines, which is good enough for us and it folds away pretty swiftly.
One thing we must say is this is definitely not the biggest treadmill out there, on the other hand, it folds away fairly neatly.
Perhaps this is not the flashiest model out there, but it could be the best budget treadmill for walking you will find for the price.
And as far as things go, we think you can do far worse!
MANUAL TREADMILLS
If it is a manual treadmill you have set your heart on, then these are some of the better manual treadmills we can find…
CONFIDENCE FITNESS MAGNETIC MANUAL TREADMILL
SUPPLIER: CONFIDENCE
UNFOLDED DIMENSIONS: 2" x 19.1" x 48"
FOLDED DIMENSIONS: 48 H" X 7.9 D"/ BOXED 1″ x 24.4″ x 9.3″
FOOTPRINT: 19.1" X 47.2"
MODEL: MAGNETIC MANUAL
ADDITIONALLY: 8 ADJUSTABLE LEVELS OF WORKOUT/ COMPUTER TO TRACK CALORIES, SPEED AND DISTANCE
RUNWAY SIZE: 15″ x 40.2″
INCLINE: FIXED GENTLE INCLINE (7 DEGREES APPROX)
MAX USER WEIGHT: 220 POUNDS
ITEM WEIGHT:  46.9 POUNDS
SHIPPING WEIGHT: 62 POUNDS
OUR REVIEW: 4 STARS OUT OF FIVE
PRICE GUIDE: $159+ APPROX
WARRANTY: 12 MONTHS

What we like about the Confidence Fitness Magnetic Manual Treadmill is that it is nice and simple to use, out of the box.
If you have decided on a manual treadmill over an electric model it is most likely for one of two reasons – because you don't want the fuss and bother of all the extra settings which go with a more high maintenance version, or that you simply want to spend less than $400.
With this model you get both of these advantages, plus the fact that it is one of the best small treadmills for the elderly we can find in this price rang.
It folds up nice and easily and doesn't take up a lot of space.
People with small apartments take note, this can be quickly and easily moved out of the way when needed and it is also portable enough to be transported around from room to room, if need be.
Out of all our reviewed models, this is the lightest treadmill we can find, and so might be a winner for anyone who is looking to move it frequently.
Despite it being a lightweight model, this gives the impression of being sturdy and well built and not something that is going to fall, sway or buckle easily. Which is always reassuring!
Ideal for short walks, this treadmill has a fixed, gentle incline. This can't be altered, which is worth noting and unless you're completely sold on the idea of always walking up a (slight) hill, then it might not be the correct choice for you.
In actual fact, all manual treadmills are on an incline, so should this be an issue, then you are probably better off looking for an automatic.
Despite it being a manual and having a more limited program of options available, this still comes complete with eight different levels of magnetic resistance. This will allow you to vary your workout regime and keep it from becoming too stale.
Are there any issues with this model?
The only murmurings we heard about it was that in some (minority) of cases the belt can slip a little. However, we also think that this is likely a fixable issue, which may be resolved with a spot of fine tuning.
All in all, there is much to recommend the Confidence Fitness Magnetic Manual Treadmill – and at well under $200, this is our most cost effect walking treadmill for seniors.
---
SUNNY HEALTH & FITNESS SF-T7723
SUPPLIER: SUNNY HEALTH AND FITNESS
UNFOLDED DIMENSIONS: 59L" X 27W" X 55H"
FOLDED DIMENSIONS: 31L" X 27" W X 58"H
MODEL: SF T7723
ADDITIONALLY: 16 RESISTANCE LEVELS/ DUAL STRUCTURE FLYWHEELS/ SWEAT RESISTANT RAILS
RUNWAY SIZE: 53" L X 16" W/ BELT 50" X17"
INCLINE:   13.5% FIXED
MAX USER WEIGHT: 300 POUNDS
ITEM WEIGHT: 110 POUNDS
SHIPPING WEIGHT:  127.6 POUNDS
OUR REVIEW:  4.9 STARS OUT OF FIVE
PRICE GUIDE: $418 APPROX
WARRANTY: 3 YEARS FRAME/ 180 DAYS PARTS AND COMPONENTS

Weighing in at a hundred and ten pounds, the Sunny Health and Fitness Treadmill is bigger and weightier than the other two manual treadmills in this review.
It is also the most expensive model we have reviewed of its type.
The good news is that it can also accommodate a heavier user frame – the Sunny Health and Fitness can safely take passengers of up to three hundred pounds on it.
So, if weight is a consideration then this will be the clear winner.
There is also a greater choice of user programs on offer – this treadmill comes complete with sixteen different manual resistance settings.
Also, it is the only one of our three manuals to have a hand rail. These handrails are also sweat resistant, meaning you won't slip or lose your grip as you walk or run on it.
The presence of handrails on the treadmill may be the deciding factor for many exercising seniors.
With transportation wheels and a 'soft drop' opening mechanism, this is clearly a treadmill which has been designed for folding and moving about the place – which is good news.
The manufacturers know that their customers are not millionaires and don't have their own personal gym space.
Therefore, this walking treadmill has been carefully designed to be wheeled in and out and set up with a minimum of fuss.
We had a chance to speak to the folks over at Sunny Health Fitness, makers of this treadmill, to get some extra pointers on this treadmill, and this is what they had to say:
"Manual Treadmills like the SF-T7723 provide a challenging and versatile cardiovascular training experience. User generated force paired with smooth dual flywheel resistance creates a unique workout to help individuals take their performance to the next level."
At a hundred and ten pounds, we can't pretend this treadmill is exactly feather light, but then this is what the wheels are for and we think it should be manageable by most people, seniors included.
For anyone looking for a model which is truly heavy duty, we would recommend this treadmill most heartily.
Sunny Health Fitness recommended reading: Walk Your Way To Better Health
---
EFITMENT ADJUSTABLE INCLINE MAGNETIC MANUAL TREADMILL W/PULSE MONITOR – T016
SUPPLIER: EFITMENT
UNFOLDED DIMENSIONS:   54" L X 27" W X 49.5" W
MODEL: T016
ADDITIONALLY: LCD CONSOLE/ SCAN FUNCTION/ PORTABLE WHEELS/ PULSE GRIP/ EASILY FOLDED
BELT SIZE: 42" L  X 13.5 W"
INCLINE: 3 LEVELS; 7, 8 AND 9 DEGREES
MAX USER WEIGHT: 220  POUNDS
ITEM WEIGHT:  67.5 POUNDS
SHIPPING WEIGHT:   74.5 POUNDS
OUR REVIEW:  4 STARS OUT OF FIVE
PRICE GUIDE: $207.77 APPROX
WARRANTY: 3 YEARS FRAME/ 180 DAYS PARTS AND COMPONENTS

Situated somewhere between our first model and our second, is the Efitment Adjustable Magnetic Manual Treadmill T016.
This is medium priced, medium weighted and reasonably accommodating for most frames.
Hovering around the $200 price mark, it is cheap enough to appeal to anyone on a budget (which could be most seniors, to be fair) but it is no basic model.
Unlike the other two options, the Efitment Adjustable has, well, an adjustable incline level. This can be changed between a 7, 8 and 9 degree incline.
It is also easily folded and designed to be moved about the place at ease.
Walk or jog on this treadmill, the choice is yours. We like the fact the display on the unit is nice and easy to view and doesn't require a magnifying glass, like some models.
Representing both good value for money, as well as a good all round performance, the Efitment Adjustable Manual Treadmill could just fit the bill for your compact walking treadmill needs!