The Go Walk 3 Performance by Skechers offer 3 layers of all-weather protection, as well as numerous other features which we will get into shortly. 
In short, these synthetic high-quality shoes are meant for active individuals who walk on a regular basis, but perhaps haven't been satisfied with the comfort level of previous footwear.
One great thing that we love about this particular model is the selection of colors, which ranges from casual and unassuming, to bright and exciting. 
Here is a quick list of all the colors currently available – Black, Stone, Navy/White, Hot Pink, Black/White, Charcoal, Turquoise, Navy/Blue, Purple, Lime…
Skechers Performance Women's Go Walk 3 Slip-On Walking Shoe, Black, 9 M Us
Skechers Performance Women's Go Walk 3 Reboot Walking Slip-On Shoe,Heathered Gray,85 M Us
Skechers Performance Women's Go Walk Aspire Slip-On Walking Shoe,Black,75 M Us
Skechers Performance Women's Go Walk Extend Slip-On Walking Shoe,Blue,85 M Us
Cushioned, Super Comfortable Feel
If you are at all familiar with the Go Walk 3 line of shoes from Skechers, then you will be aware of the effort put into these shoes to make them ultra comfortable.
The reason for this is that Skechers has added their special GOGA mat technology to these shoes, such as with their GOGA mat return energy insole.
What in the world is that, you ask?  Well, if you don't know, Skechers has actually used the same material that is used for yoga mats, and built that right into these shoes.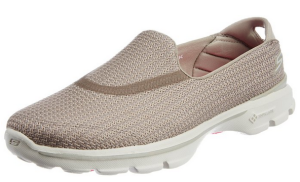 This may sound a weird at first, until you feel for yourself how absolutely cushy and comfortable these shoes are when worn. 
This, in combination with the resalyte (a proprietary material) and memory foam, serve to make these shoes some of the most comfortable you'll ever try on.
One reviewer, JB, said the following:  "The fit was amazing—the shoes are so light and cushy, I didn't feel like I was wearing shoes.  No tightness (length/width/top of the foot) and no slippage, either…absolutely perfect!"
We must say that the point of these shoes isn't simply to lounge around in them, no matter how relaxing they are – the point is to get out and get going! 
Hence, not only do you get some serious comfort out of these shoes, but with the help from their GOGA pillars, you will feel an extra spring in your step designed to get you up and moving about in no time.
Sizes Available
5 B(M) US – 12 B (M) US
We have included a short bullet point summary of some of the finer points of the Go Walk 3 Performance, as well as some reviews by actual buyers and users of the product.
Comes in Extra-wide for larger feet

Fine stitching details that add to the style of the shoe

Stretchable top fabric that conforms to the shape of your foot

Antimicrobial liner to prevent foot odor

Enhanced sensory feedback via flexible out sole and "GOimpulse" sensors
One reviewer, Judy, had some nice things to say about the shoe:
"I didn't think they could improve on the Go Walk 2 but I was pleasantly surprised.  With high arches, plantar fasciitis and Morton's neuroma, I have a heck of a time finding comfort as well as fit. Nothing hurts when I wear these.  Hope they keep this line going for a long time to come."
Video Review of the Performance Go Walk 3
Below you can watch this short video, which gives a good all round explanation and description of this shoe from Skechers.
Another reviewer, B. Parry, said this:
"Ready to jump and cheer!! Finally a shoe that fits and feels wonderful!  I have a wide foot (metatarsals ache in regular shoes).  I used the Sizing Chart and what others said to order "
We noticed quite a few buyers stating that these were a wide fitting shoe so that is worth taking note of.
Summary & Verdict