The New Balance MW928 walking shoe for men is quite simply New Balance's best offering in the walking shoe arena, with a great deal of engineering to make these an excellent choice for any walking enthusiasts out there.
Having owned several pairs of walking shoes by different manufacturers, and having walked many miles in each, I can safely say that the MW928s will not disappoint when it comes to performance. 
When I say performance, not only do I mean that you can easily walk anywhere with them, but they are nice and comfy as well, not to mention stylish! 
Keep reading, and I'll go into more detail on why these shoes are the total package.
New Balance Men's Mw577 Black Walking Shoe – 105 4E Us
New Balance Men's Mw877 Walking Shoe, Grey, 11 D Us
New Balance Men's Mw577 White Walking Shoe – 13 4E Us
New Balance Men's 13501 Fresh Foam Walking Shoe, Grey, 105 2E Us
New Balance – Over 100 Years Of Quality Service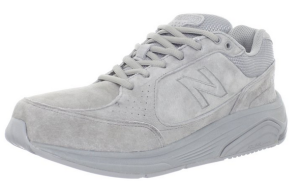 I'm not trying to sound like an ad for New Balance here, but I just find it interesting that this company has been around for over a century, specializing exclusively in shoes. 
That's a long time, my friends!  When a company has been around that long, you can bet they know a thing or two about how to make a shoe, or else they'd be long gone by now.
New Balance started out specializing in arch supports as far back as 1906, and I really enjoy the story about the name of the company originating with the founder, William J. Riley admiring the perfect balance of a chicken's clawed foot! 
At any rate, I'm a bit of a sucker for shoe company history, which might seem weird, but then again, it explains why New Balance makes such a great shoe even to this day.
New Balance vs. Skechers
We talk a lot about one of our favorite brands of walking shoes – namely Skechers, on this website.  I think it's for good reason, too. 
Skechers makes a hell of a walking shoe, but of course there are many differences  between Skechers walking shoes, and the New Balance MW928, for instance.
As for how they're similar, both companies have put a ton of effort (probably millions of dollars) into designing their walking shoes.  So they both strive to have the edge, engineering-wise.
With Skechers, its the Goga mat material, and the resalyte, while with the New Balance MW928 they mention their E-NERGY system, plus an awesome new Rollbar for added stability. 
New Balance also has the "Strike Path" outsole, ABZORB midfoot cushioning, and Phantom Liner odor control. 
We can break all of this down shortly, but basically this is simply the proprietary features that are similar to Skechers technology, but with different crazy names.
What's different offhand about the New Balance MW928's?  Well, in my experience, I find that New Balance is more of an athletic shoe with an emphasis on running. 
Running shoes are what New Balance has always been about, which isn't to say they don't do walking shoes well, because they do.  
I'd say that just in terms of looks, if not feel, you're getting a more "serious" walking shoe than say, one of the Skechers shoes.
To prove that these shoes are good for walking, you don't have to take my word for it, you can look at any of the hundreds upon hundreds of reviews to see that almost 70% of customers gave these shoes a perfect score. 
Clearly, the MW928 is a great walking shoe…. no doubt about that.  I just think they look a little bit more like a runner, than some of the Skechers walking shoes, which almost look like slippers.
I guess it's just a matter of preference, but I do own a couple pairs of these shoes in different colors for when I want to look like a "serious" athlete.
When compared to say a New Balance running shoe, you can definitely feel a difference in terms of the walkers being much more comfortable. 
That's where the ABZORB cushioning comes in.  I've found that no matter what the terrain, my foot feels very well cushioned in the MW928s, from paved roads to walking in the forest, or the beach, to just about anywhere. 
I've even tried running in them, which I know they aren't made for, but that seems to work fine, although I wouldn't recommend it.  The New Balance runners are obviously better for running.
Overall, I'd say that if you want a slightly more sporty shoe, the New Balance MW928 walking shoe is a safe bet.  You get quality, style, and comfort in a shoe that will last you a long time if you take care of them.  What more can you ask for?