MANUFACTURER:  ALEADER
MODEL NAME:   MEN'S QUICK DRYING WATER SHOES
STYLE: WATER SHOES
SIZES:   7-14 MENS AND WOMEN'S
HALF SIZES: YES
COLORS: GRAY, DARK GRAY, BLACK, BLACK (STYLISH),  GRAY (STYLISH), GREEN, GREEN (STYLISH), BLUE, BLUE (STYLISH), GRAY/BLACK, RED,
OUTER MATERIAL:  FABRIC
SOLE: RUBBER
ALSO:   COMFORT DRY SOCKLINER, SOLYTE MIDSOLE, WATER GRIP, MACHINE WASHABLE
FIT AS EXPECTED: 79%
PRICE GUIDE:   $19.99-$29.99
OUR RATING:   4.2 OUT OF FIVE STARS
Aleader Men's Quick Drying Aqua Water Shoes Blue 10 D(M) Us
Cior Multifunctional Barefoot Shoes Men Women And Kids Quick Dry Water
Mohem Mens Womens Casual Mesh Water Shoes(Ws3166Lbrown46)
Zhuanglin Men's Quick Drying Aqua Water Shoes,Darkgrey%,105 D(M) Us
THE FIRST GLANCE
These definitely look like what they are – and that is a water shoe.
But within the various styles available, there is quite some variation.
One of the things that made us chuckle at Best Walking Shoe Review is the careful distinction made in this style between for example the Green and the Green stylish.
If we didn't know better, we would think that this was some sort of tacit admission on the part of the manufacturer, Aleader, that there was something slightly unstylish about the 'plain' sounding shoes.
Whilst we salute their honesty and especially find shoe manufacturers who call a spade a spade, a rare breath of air – we don't think that there is anything 'wrong' with the plainer versions of these water shoes.
It is worth paying close attention to the exact model that you are planning on purchasing, because they really are quite different to look at.
The 'plainer' version of this water shoe has visibly large mesh holes in the upper, whereas the fancy – sorry- the stylish version has a more closely weaved look.
Nevertheless, you probably won't be setting Paris Fashion Week alight wearing them, but who cares.
In all honesty, both pairs are very clearly water shoes and look like them too. There is absolutely nothing wrong with this in our opinion.
So, once you have faced the thorny dilemma between the plain and ordinary shoe or the height of fashion stylish your next teaser is the color.
At Best Walking Shoe Reviews, we think the gray or dark gray in either plain or funky stylish look the best, but this is a personal choice.
Some of the options are pretty bold, it is true, particularly the red which is actually blue with red edging. Likewise, the 'green' is actually white, with green edging and bright yellow sole.
It is true that these water shoes are super light, although we cannot verify an exact weight, they should be nice and easy to slip into a bag and be carried, to be slipped into whenever should water arise.
THE SPECIFICATIONS
One of the prime selling points of these water shoes is their lightness but also their airiness.
Even compared to other water shoes, these have larger than average drainage – with bigger than usual mesh holes in both the upper and also the sole.
If you have a look at the sole, they do have big drainage holes, which should help water pour in and out with ease, thus not weighing you down.
These are the hydroponic engineered mesh and basically act like having a colander or sieve on your foot – but rather more comfortable!
The traction is guaranteed by water grip soles and the soles are adequately cushioned. The rubber pods on the sole should ensure your foot stays put and the manufacturers claim that these make great water aerobics shoes.
THE TERRAIN
Manufacturers Aleader state that these are an amphibious shoe which is highly versatile.
Customers wear them for a variety of watery activities. Poolside and swimming pool usage seem like good uses.
Also, plenty of people have said that these make great deck shoes.
But when it comes to beach wear, the jury is out – well – slightly anyway.
There are a small minority of people who think that these are better suited to clean usage (i.e. concrete, tiling, solid flooring) than beach walking.
This is all a matter of personal preference and really down to how much sand you expect to get in them.
Having larger than average holes in them, these will take on sand if you wear them to the beach. But, then the advantage is, they should also easily clear of it, with a good shake.
The one thing you might want to be careful of is walking over sharp stones or anything that is likely to get stuck in them and cause you a problem.
And in terms of walking on dry land? Well, you can certainly wear them for casual use, but don't expect to go running long distance in them.
They aren't really designed to give your feet that kind of support or protection.
THE FIT
79% of people who have bought these, say that they fit great. This is good enough for us, so ordering your usual size should be just fine.
Available in a half size, you shouldn't have to scale up or down, either.
THE COMFORT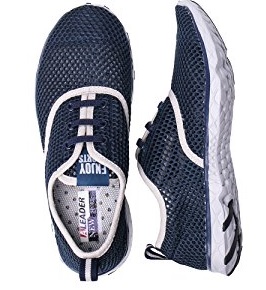 With a high approval rating, we believe these shoes are very light and largely, extremely comfortable to have on.
There has been the odd exception to the rule, with some customers experiencing problems with the stitching on the tongue, or finding the mesh construction a little abrasive.
But on the whole, most people are satisfied that they do a good job.
Finally, even if you never go near a drop of water, these still might make a good pair of shoes for taking it easy in, during the hot weather. Especially if you suffer from sweaty feet!
BOTTOM LINE – SHOULD I PURCHASE THESE WATER SHOES?
We think these water shoes are best suited to anyone looking for something that won't weight them down and can be relied on not to slip at the pool or maybe aboard a boat.
If you are planning on a beach holiday, where there are lots of sharp stones and shells, then these might let them in.