Manufacturer: Nike
Model Name: Comfort Thong
Style: Flip Flop
Sizes Available: 5 through 12
Half Sizes: Not Available
Colors: Black/vivid pink/white, black/white, white/polarized blue, white/black, obsidian/clearwater, white/white/trqs blue/pink flsh, white, khaki/pale blue/tar, bright crimson/white, gray/hot punch, metallic silver/white, white/fireberry, wolf gray/hot punch, white/blue/pink, metallic silver/white
Outer Material: Leather and mesh
Sole: Rubber
Additional Features and Details: There's 8 mm of memory foam in this sandal.
Fit as Expected: 76 %
Price Range Guide: $19 – $77.58
Our Rating: 4.5 out of 5 stars
---
Aerothotic Original Orthotic Comfort Thong Sandal And Flip Flops With Arch Support For Comfortable Walk (Us Women 10, Mellow Blue)
Clarks Women's Breeze Sea Flip Flop, New Black Synthetic, 8 B(M) Us
Teva Women's Olowahu Flip-Flop – 7 B(M) Us
Old Navy Flip Flop Sandals For Woman, Great
The First Peek
If you love to walk, but the summer heat has you dreading socks and sneakers, this pair of flip flops are a cushioned dream. When you think about flip flops, those thin thong sandals with a half inch of sole are what come to mind.
These flips flops are the closest you can come to enclosed walking shoes and still have the summer breeze on your feet.
While they're flip flops, we're more likely to call them athletic sandals. They're made by a company that understands athletic footwear, too.
The Nike brand is all about athletic endeavours, so it's no wonder they're tackling footwear like sandals that are perfect for walking.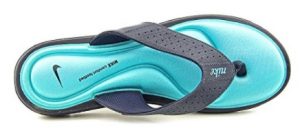 ---
The Materials
The memory foam and covering on the footbed is made of synthetic materials that feel like you're walking on two pillows. There's a plush cushiness to the footbed with these materials.
The sole is made with rubber for traction and stability. There are patterns on the soles that help to keep the user from slipping on wet surfaces.
The straps are made from mesh and leather, which is durable and long-lasting.
---
The Brand
The Nike brand is synonymous with athletic pursuits. They're current mission statement is to bring inspiration to every athlete. They believe if you have a body, you're an athlete.
Their motto for years was "Just Do It." They've been worn and endorsed by plenty of athletes from various sports like baseball and basketball.
The company has its own sport research team, which pursues innovation after focusing on areas like physiology, biomechanics and sensory/perception.
All of these fields help them when it comes to developing new footwear geared towards the athlete in all of us.
---
The Fit
This pair of flip flops run a little narrow, so it's important that you understand how the sizes run when ordering. The number on the shoe is the length, but the letter indicates the width of the sandal.
The letter M or B stands for medium width. AA indicates a narrow size while D is for wide widths. Keep this in mind when ordering your sandals.
Some customers recommend buying a size larger than your normal one. If you have wide feet, you'll only need to check the width to order the correct size for your feet.
In some cases, the seller might not offer wide widths. In that case, it makes sense to order a size larger to ensure the sandals are wide enough.
---
Comfort Level
This is where the sandal truly shines. It's like walking on tiny clouds under your feet. The 8 mm of memory foam and .50 inches of rubber sole ensure that you'll never feel as if you're walking directly on the pavement.
The mesh and leather straps are wide where they meet the bottom of the sandal, so they'll never rub against the side of your foot. Even the thong between the toes won't be irritating to the skin.
---
The Terrain
With these flip flops, you can walk just about anywhere. While you shouldn't hike into the woods or forest with these shoes, you can wear them in any situation.
From wearing them around the house to shopping for the day, these sandals have a rubber sole for confidence walking in any environment.
You can even wear these in the rain, which can't be said for many flip flop sandals.
While you might not want to walk for hours in the rain, you don't have to worry about your feet slipping and sliding in the sandal or on the ground. The grip of the memory foam as well as the rubber soles will keep your feet secure.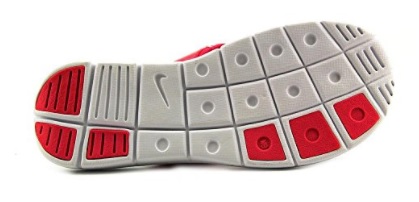 ---
Bottom Line
We gave these sandals a high rating because they can hold up to many situations. They can be worn in the house, shopping, or to the beach.
They come in so many colors that you can wear them all summer long with every outfit from shorts to bathing suits to maxi dresses.
---
Should I Buy These Athletic Sandals?
If you're looking for a pair of thong flip flops that are more substantial and more comfortable than traditional flip flops, you should definitely purchase these.
They're perfect for taking on vacation when you plan on walking from the beach to the hotel to shopping. You don't have to worry about taking a few pairs of shoes in your suitcase.
These can replace regular sandals as well as walking shoes.