Hey, Jerry here again with another walking shoe review; and this time it's the ever-popular New Balance MW577.
The New Balance MW577 is up there with the best walking shoes on the market, and it's easy to see why, when you lace these babies up. 
They're very comfortable, but you can tell they were made with physical activity in mind, because once you put them on, you literally want to move. 
Also, the MW577 is probably the best-fitting, comfortable shoe I've ever purchased.
For those who don't know, New Balance has been making footwear for over a century, and it's clear, that when you're walking in these shoes, you know, that some very smart shoe specialists must have put a lot of thought into them.  They are the total package.
New Balance Men's Mw577 Black Walking Shoe – 105 4E Us
New Balance Men's Mw877 Walking Shoe, Grey, 11 D Us
New Balance Men's Mw577 White Walking Shoe – 13 4E Us
New Balance Men's 13501 Fresh Foam Walking Shoe, Grey, 105 2E Us
I'm not what you would call a shoe guru – I don't know all the technical terms for everything, and exactly how they work. 
New Balance has their ABZORB midsole cushioning, and their Strike Path outsole, but to me, this is all just fancy ways of saying it's a well made shoe, with some better than average traction when running or walking. 
They also added a padded collar and tongue to the shoe to give it even more cushioning, as well as a "walk specific comfort footbed". 
I'm not questioning whether New Balance did add all of these features, because my shoes are very comfortable, but do they have to use all this lingo?
I have worn my fair share of walking shoes in my day, and I decided to pick up this particular model of shoe when my other walking shoes were giving me some foot pain when I used them too much. 
I thought this was ludicrous, since I paid almost $100 for this other pair of shoes.  The reason this happened was because the toe area was a bit too narrow, and they definitely had less padding overall. 
I'm glad I went with these New Balance MW577's, because there's padding aplenty, and I've been getting a lot of good miles out of them.
My routine is that I walk every day for at least 30 minutes, and I was getting tired of walking shoes that either weren't comfortable enough, or simply not athletic enough. 
I needed something that did it all, and it took a while to find these, but they are definitely the shoe for me!
In terms of looks, these shoes are quite stylish, but also not too over the top.  
As far as I know, they only come in two colors, which could be a complaint I suppose, but I was pleased that they fit perfectly on my big size 13 feet… no problem. 
I just needed a shoe that would perform well on a regular basis, and these shoes fit the bill.  I didn't want to have to limit my walking because my old shoes just weren't good enough.
I also can appreciate that the MW577 are American-made, being manufactured in Boston, which isn't far from where I'm from. 
I always try to purchase products that are made here in the U.S.A., whenever possible, so that's another plus about these shoes.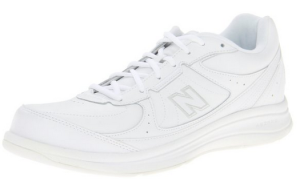 As for the cost, there are more expensive walking shoes than these that I've tried, and they aren't nearly as good as my New Balance 577's. 
They cost me around $75 a pair, and I picked up two pair on Amazon last year, and I'm still using my first pair. 
I think if a pair of shoes can last you one year and they cost under $100, that's a fair deal in my books.
My Rating
Comfort – 5 stars
Price – 4 stars
Looks – 3.5 stars
Durability – 4.5 stars