---
Quick Stats
SHOE TYPE: HIKING BOOT
GENDER: MENS
SIZES: 7-14
HALF SIZES: YES
MATERIAL: TEXTILE/ NUBUCK LEATHER
SOLE: CONTAGRIP OUTSOLE
BOOT SHAFT HEIGHT: 6.75 INCHES FROM ARCH
WATERPROOF: YES
COLORS: DETROIT/BLACK/NAVAJO, FOSSIL/RAIN/DRUM/HUMUS, IGUANA GREEN/ASPHALT/DARK TITANIUM, MAIZE/BURRO/LIGHT GREEN
ALSO: THICK DURABLE SOLES WITH A DEEP TREAD, HEEL STRAP, MUD GUARD, LACE BLOCKER, PROTECTIVE TONGUE, PROTECTIVE HEEL CAP
MANUFACTURER: SALOMON
FIT AS EXPECTED: 88%
OUR RATING:  4.6 STARS OUT OF FIVE
PRICE GUIDE: $126.47-$301.94+
Why You Need A Good Pair of Hiking Boots
Here at Best Walking Shoe Reviews, we never sleep – and even when we do, we still have our feet firmly on the ground!
Or something.
What we're trying to say, if you didn't already know, is that shoes matter.
Salomon Men's Quest 4D 2 Gtx Lightweight & Durable Leather / Canvas Hiking Boots
Salomon Men's Quest Prime Gtx Backpacking Boot
Salomon Men's X Ultra 3 Wide Mid Gtx Hiking Boots
And nothing matters quite as much as having absolutely the right pair of hiking boots for your winter walk or hike.
It's hard because, as you know, when it comes to winter hiking, you really need it all in order to ensure safety first, but comfort and style a close second.
That is superior traction, support, breathability, waterproofing, insulation, cushioned padding, a short break in time and above all, comfort.
Then, it must perform equally well in deep snow, as it does in mud and puddles.
And you'd like quite not to look like Herman Munster when you head out for a winter's day stroll.
Tall order?
It might be for a lesser shoe, but we believe that the Salomon Quest GTX boots can handle all that, and some more besides.
Don't believe us? Come and see what our resident winter hiking boots reviews experts made of the men's Salomon boots when they put them through their paces!
---
Choosing The Best Hiking and Walking Shoes For Men – Our Guide
As well as our review which follows, we have also put together some of our top tips for buying men's hiking boots.
The Terrain
First things first. The terrain you plan to wear your hiking boots in is paramount to your choice of footwear.
Trails and hikes come in all shapes and sizes, not to mention weather conditions.
So first, you need to ask yourself if you will mainly be off-roading in these boots, or plan to wear them on the smoother surroundings of asphalt.
Are you going to be clambering over rocky terrain? Climbing mountains? Wearing them in deep snow?
Or are you more likely to be somewhere dry and dusty, than getting them wet?
Different materials lend themselves better to different terrain.
For a muddy, stony hike, you want a hiking shoe or boot with minimal seams. This is because the terrain will pull and tear at them.
On the other hand, if you are pounding the asphalt jungle, then you need to consider how quickly the soles will wear out – and might wish to consider a shoe for trail running in.
If it is waterproofing which concerns you the most, then the fabric matters immensely; a nubuck leather will outperform other materials.
You also want to consider the liner to the shoe. Goretex will keep your feet nice and dry.
Additionally, other things like whether or not the tongue is gusseted come into play when keeping moisture out.
The Weather
The type of shoe you choose for wearing in snow may not perform as well as the one you want for allowing your feet to breathe in – although there are some models which will fare well in both situations (see our Salomon hiking boot review!).
A mesh shoe is not going to be waterproof, but then again, it may be quick drying.
The warmth of the shoe is another consideration and for wintery conditions, you need to pay special heed to the insulation and temperatures they are designed for.
How Long Will You Wear Them?
Not everyone is going to be trekking the Great Wall Of China. 
But if you are, then you need a different type of hiking boot to the casual weekend hiker.
For an incredibly crude rule of thumb, the longer the hike, the heavier the construction of the boot should be.
You are more likely to choose boots over shoes, as you will require a greater level of support.
Remember, the more arduous hike will entail carrying a heavier load, and this means your feet need to be supported better.
This is not to say that a lighter boot doesn't have its place, either.
Should you prefer the lighter touch, look for a shoe or boot made from synthetic textiles. These are lighter in weight and cooler.
They may also cost less, but don't expect them to stay the distance in the same way as their weightier counterparts do!
Best Salomon Hiking Boots
Here are some of the best Salomon Hiking Boots according to our editors!
Your Specific Needs
 Buying shoes is a personal thing and there is nothing more personal than your feet!
So, if you have fallen arches, plantar fasciitis or bunions, then look for something which specifically supports these needs.
We would always advise trying on the model you are planning on buying and walking in them as much as possible, prior to purchase.
Don't buy them if they are uncomfortable from the outset. They should ideally fit as well as possible, right away.
More Pro Tips
Don't forget to pack your favourite pair of hiking socks to try your prospective walking boots in, they make all the difference!
Another word of wisdom is to go boot shopping as late in the day as possible. This is because your feet expand throughout the day.
Remember, you will be walking for miles in these boots and your feet are definitely going to swell – so give them chance do so before you hit the shops!
Now get cozy and read our Salomon Quest 4d GTX review!
---
Salomon Quest 4D GTX Hiking Boots – Review
These bad boys look as though they are ice boots, you know those things with spikes on the bottom of the sole that dig into the ice and keep your footing solid.
Not that I was looking for that type of boot, but I needed something so good that if I wanted to explore Antarctica, I could, so I was quite pleased when I found my Salomon Men's Quest 4D 2 GTX Hiking Boots.
Gotta admit – I'd never purchased this particular model of Salomon's, so I was hoping they could "walk the walk", not just look good!
Salomon, the company who makes these, is a very well known brand in the shoe/boot industry, and have been around for decades.  
In fact, they have been around since 1947, located in the heart of the French Alps.
IMPORTANT FEATURES
These boots are made from leather, and have a waterproof textile upper

These boots have a synthetic sole for better gripping

They have the famous award winning GORE-TEX waterproof connection

They are available in sizes 7 through to 14, and only come in four colors at the time of writing.

They are moderately light, weighing between 19.8 ounces for a size seven, up to 22.6 ounces for a size nine.
Salomon – Usually My First Choice For Winter Hiking Boots
Salomon has always been my first choice, whenever I was buying winter shoes, especially hiking boots.  
For years, I've been working as a ski instructor at the local resort, and I know the importance of wearing boots that protect your ankles, and your arches, as well as keep your feet warm.
I'm sure that most men don't spend much time thinking about what type of boots to buy for next season, but investing in quality hiking boots is not a matter of gender.
It is a matter of staying healthy, and fracture free.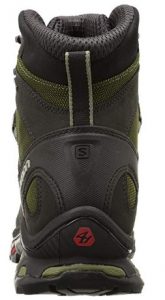 The design is so cool – they even look powerful, and when you put them on, you feel that your feet are entering a safe zone.  I'm not overreacting; Salomon has always paid attention to details.
The entire upper has a seam-sealed Gore-Tex membrane, which provides excellent protection from water.
I do know that some people prefer to watch a quick video, rather than do a lot of reading.
To help with that, I have included a good video on Salomon men's hiking boots.
Waterproof / Weatherproof Footwear
The membrane is not only waterproof, but it also allows the vapor to escape, so the feet stay dry and cool.
The combination of long-lasting split suede leather and nylon mesh that was used for the uppers makes the Salomon Men's Quest 4D 2 GTX Hiking Boot flexible, light for wearing, and extremely comfortable.  
These materials are breathable, so no matter how many pairs of socks I wear, I feel my feet "breathe".
Which is definitely a plus point. I have lost count of the numbers of soggy socks I have amassed over the years, from perspiration and it is not a pretty sight! They don't smell so great either.
The shaft measures approximately 6.75″ from arch; this is an ideal height to protect and keep the ankles warm. 
As we go deeper inside the boots, the design gets more complicated.  
Salomon's padded tongue usually has a contoured instep fit, and of course, these Salomon Men's Quest 4D 2 GTX Hiking Boots have tongue folds that are positioned flat and smooth against the foot, so lace pressure is hard to feel.  
The tongue practically wraps the foot and keeps it clear of debris.  Moisture definitely can't "sneak" inside.
We're not saying go deep sea diving in it, but a few splashes through puddles are a warm and dry experience.
You might even get away with crossing the odd (shallow) stream in them – some customers did. Admittedly, you can't expect miracles from them and they aren't actually waders, but they do remain surprisingly dry for a long time.
Toe Bumper Crucial For Hiking
No hiking boots should go without a toe bumper, so Salomon sticks to that rule.
The rubber toe caps and the heel slings protect the toes and uppers from bumps and abrasion.
If you are going to wear these for hiking in the woods, or maybe trudging in deep snow, you are in 'good hands' with your feet.
The laces are created from sheath materials, and raw enough to pull tight all the way to the ankle. 
Rarely do they come untied!  Snow can't penetrate the insides of the boots, because of the powerful lace closure.
These hiking boots come with removable OrthoLite foot beds that absorb both foot odor, and the shock of high impact movement such as running and jumping.  
The boots won't pressure your heels when you walk, and we all know how walking in deep snow can be a challenge.  
Dual-Density EVA Midsoles
These have dual-density EVA midsoles for even longer lasting comfort and support.
Enriched with thermoplastic urethane midsoles that support and help control flex, my Salomon's reduce ankle strain, and keep me stable on rough terrain.  
It is all too easy to slip and go over on your ankle when out walking and never is this more of a risk than in the winter months.
Especially when you are clambering over snow and ice, as well as dealing with every winter weather condition the Gods see fit to unleash on you.
More than likely, you are going to take these on some epic outing into the wilderness and when you do, you need to be assured that you are in good hands.
You are.
Those rubber outsoles you see are super durable and have a tight grip on dirt, rocks, and snow.
Important when you are clambering about on a steep and slippery mountaintop in the ice and snow!
The Fit

Not only do these not need any significant breaking in period – many customers have been happy to wear these straight out of the box, but they also fit pretty good too.
Well over 85% of Salomon's customers gave their boots review the thumbs up. This is an impressive statistic, especially when we are talking about something as important as a hiking boot, which is to be worn over a very long distance.
Breaking It Down
 I will break down what I think are positive qualities of these hiking boots.
Great for people who have feet that are difficult to fit

They have a really short break in period

Ideal for day hiking

Very easy to lace up with a number of different options

A new and improved fit since the Quest 1

Super comfortable

Are used by some forces throughout the world

Very well made

 They have highly effective waterproofing

80% of all buyers gave these a full 5 star rating
Ready For Work And Play
You may also choose to wear the Salomon 4D for work, if you have an active job which requires a lot of walking about, especially in the snow and mud.
We know that sometimes a winter hiking boot isn't always the automatic first choice for keeping your feet in all day, every day, but can make an exception for the Salomon Quest GTX boots.
And you can really clock up the miles in a pair of these! When Salomon calls something a hiking boot, they really mean it!
Support Second To None
These last the distance, in terms of comfort and support for my feet and judging by what their other customer reviews say, I was not alone in my verdict!
People have walked literally hundreds of miles in these and not been disappointed in the quality of care and comfort they offer.
Sufferers of plantar fasciitis and other podiatry conditions have been more than satisfied with the support these provide for their arches.
Always supportive and never 'clumpy', this hiking boot uses a deceptively lightweight frame for your feet to remain secure within.
Non-Slip And Advanced Grip
Also, the all-important traction never lets up.
Think of the Contagrip outsole a bit like a tire for your foot. Only this is the deluxe, extra heavy-duty sort of tire probably found on a 4 X 4.
But it won't weigh your feet down, like a lot of serious hiking boots soles will do.
When you have these on the soles of your feet, it is not only taking the pressure off you, but it is providing a superior grip too.
Compared to other boots in its class, it performs highly. Even against other quality brand names, I found that I was slipping less frequently wearing the Salomon Quest 4D 2 GTX winter boot.
As you can see from the information above, these boots are high quality, tough and durable, and that is why they are #1 on this site's list of Top Ten Hiking Shoes.
What Buyers Didn't Like
With a rating of 4.6 out of 5 stars, you will understand that there are not many things to dislike about these boots.
We did find a couple of minor complaints, so we thought it was important to include those as well.
A few people with high arches said these would not fit properly

Some people did complain about the eyelets, as they are made of plastic and break

They may get loose from time to time and need re-lacing
These are what I wear now, and I've owned just about every other pair of Salomons that came out over the past 10 years. They were great boots too, but Salomon has designed this boot with a higher cut.  
Maybe these Salomon hiking boots are not the cheapest shoes on the block, but for that price you will get everything from comfort and stability, to design and ultimate foot protection.
I say the Salomon Men's Quest 4D 2 GTX Hiking Boots are worth it. They are, and probably always will be my own personal favourites.