MANUFACTURER: RYKA
SIZES:  5-11 (B/M) (C/D)
HALF SIZES: YES
SHIPPING WEIGHT:  ONE POUND
MODEL: INFLUENCE-W
COLORS:  BLACK/ATOMIC PINK/ROYAL BLUE/FORGE GREY, STEEL GREY/CHROME SILVER/DIVER BLUE/ZUMA PINK, BLACK/SHARP GREEN/FORGE GREY/METALLIC, BLACK/SUGAR PLUM/VIVID AQUA, INFLUENCE/WHITE/AQUA/PINK
OUTER MATERIAL:  SYNTHETIC AND MESH
SOLE:  RUBBER TRACTION SOLE WITH PIVOT POINTS
ALSO:  PADDED TONGUE AND COLLAR, PRECISE RETURN BOUNCY INSOLE, FLEX FOIL AND DIRECT FUSE LAYERS, NARROWER HEEL
FIT AS EXPECTED: 73%
PRICE GUIDE:  $38.30-$124.05
OUR RATING:  4.1 OUT OF FIVE STARS
THE MANUFACTURER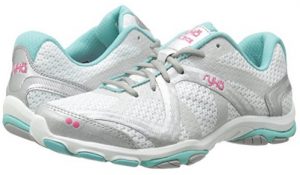 Unlike most other sports shoes, Ryka Women's Influence Cross Training Shoes are actually designed to be worn by women.
By this we mean that all the shoes that Ryka make are exclusively for women. So instead of being an afterthought to the "main" design for men, made slightly smaller, Ryka have put all their design efforts into researching what women's specific needs are.
Taking into account the difference in women's bodies and specifically legs, all their shoes – which are designed for sports – cater especially for a woman's specific curves.
The distance and shape of their hips and knees are significantly different, which means that a woman is more prone to over-pronation.
This is worked into the Ryka design and all their training shoes and sneakers have a more narrow heel and then wider forefoot and sturdy foot bed.
The manufacturers promise this means their shoes will fit a woman better and specifically are the shoe of choice for women who are serious about exercise.
And after all, who wants to feel that they are wearing a pair of man's second choice sneakers? According to Ryka, these should be the exercising woman's go to pair of training shoes.
Some bold claims, so what do we think?
THE DESIGN VIEW
"They look cute" is a description that we keep hearing, time and again when it comes to these Ryka Women's Influence Cross Training Shoes.
Available in five striking color combinations, there is; Black/Atomic Pink/Royal Blue/Forge Grey, which are predominantly a black with bright pink edging and some detail in blue; Steel Grey/Chrome Silver/Diver Blue/Zuma Pink, which is mainly gray and blue; Black/Sharp Green/Forge Grey/Metallic, which is black and gray with a lime green colored insole; Black/Sugar Plum/Vivid Aqua, which is black overlaid with gray and a purple colored interior and finally Influence/White/Aqua/Pink which is mainly a white overlaid with a light gray color.
These training shoes have a traditional lace up design to them and have a rubber sole and a synthetic and mesh outsole.
There is a padded collar and tongue and if you flip them over and look at the rear, the sole has pivot points, which are designed to help you move and swivel about on them. The sole is a traction sole and has a footprint design on it.
With support and padding, these look as if they should be mighty comfortable, so all that remains is to try them on!
Ryka Women's Vida Rzx Cross-Training Shoe, Black/Ryka Pink/Lime Blaze, 85 M Us
Ryka Women's Dream Training Shoe,Frost Grey/Summer Grey/Calypso Coral,Us 85 M
Ryka Women's Deliberate Cross-Trainer Shoe
Ryka Women's Grafik 2 Cross-Trainer Shoe Black/Grey/Pink 75 M Us
THE FIT
As previously mentioned, these have been designed specifically with a woman's foot and a woman's needs in mind.
This means that they have a narrower heel and a more reliable and sturdy foot bed. They are also designed to deal with a heavier instep and wider forefoot than a man's shoe is.
In terms of sizing, these are available in a fairly standard 5-11 with half sizes in between. They also come in different widths, (B/M) and (C/D) which should take care of most feet widths.
We think you should be able to go ahead and order your regular size, with a 73% fit as expected satisfaction rating, this is a pretty good fit by and large.
If you are one of the unlucky few for whom these don't fit first time, then it is just possible that they may be a little on the small size and perhaps you might need to size up.
Just remember about that slightly narrower than usual heel, if you have plump heels you might be one of the few who need to go a half size larger.
THE COMFORT
Promising a cushion precise insole and dual impact midsole cushioning and a whole load of other fancy things besides, we are hopeful that these are going to not only be incredible comfy to have on our feet, but will provide oodles of support to them to.
There should be a reasonable amount of arch support, by offering cushioning and protection to your feet and there is a nice bounce to the sole, as you jump about in your exercise class.
The padding on the tongue and collar help keep your foot grounded and hopefully not slipping around inside the shoe when you are sliding around in Zumba or Jazzercise or whatever the hell it was you bought them for.
THE TERRAIN
And the terrain? Well these have been firmly designed and marketed with the exercise class in mind.
So, they have not been principally designed to withstand the open road and lots of weather conditions.
Having said all this, by all accounts these make pretty decent walking and running shoes, they just haven't been primarily designed with being out in the elements in mind.
The traction outsole shouldn't slide too much around on those wooden dance class floors and hopefully, should offer some support in other situations as well.
Because they have been made to be worn inside, it is unlikely that they will withstand the mud and rain and any other type of weather conditions.
ARE THERE ANY PROBLEMS WITH THIS SHOE?
With a positive feedback rating of over eighty percent, we think that any problems with this shoe, only affect a small number of people who have bought them.
All the same, we think that if you have a particularly wide foot, especially if you are wide in the heel, then you might be well advised to size up by a half size.
In terms of quality, it seems most customers are very happy with these and whilst they certainly do not last forever, we think that you won't be disappointed.
A few report problems doing Zumba in these shoes in terms of their feet slipping inside the shoe, but this is probably more a question of getting the sizing right than anything else.
SHOULD I BUY THESE SHOES?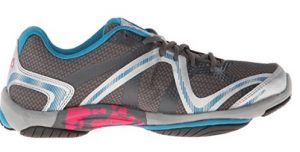 With an overwhelming endorsement from the majority of customers and most people buying these for Zumba and other similar workout classes, we think that these are one of the best training shoes for dance and exercise that we have come across to date.