MANUFACTURER:  ECCO
MODEL NO:  DAMARA ANKLE SANDAL
SIZES:   4-11 (US)
SHIPPING WEIGHT:  7 OUNCES
COLORS:  BLACK, WARM GREY, CHILLI RED/POWDER, OMBRE/POWDER
OUTER MATERIAL: LEATHER AND TEXTILE
SOLE: SYNTHETIC AND PU INJECTED
ALSO: DIRECT INJECTED PU OUTSOLE, MICROFIBER COVERED ETHYLENE VINYL ACETATE FOOTBED
PLATFORM:   0.75 INCHES
HEEL:    1.25 INCHES
FIT AS EXPECTED:  64%
PRICE GUIDE:  $65.99-$120.00
OUR RATING:   4.3 STARS OUT OF FIVE
Ecco Women's Cheja Shoe,Shadow White/Baja Blue,42 Eu/11-115 M Us
Ecco Women's Damara Ankle Gladiator Sandal, Ombre/Powder, 40 Eu / 9-95 Us
Ecco Women's Offroad Lite Sandal,Dark Shadow,41 Eu/10-105 M Us
Ecco Women's Babett 3 Strap Dress Sandal,Black,37 Eu/6-65 M Us
FIRST IMPRESSIONS
If we were to pick one word to describe the Ecco Women's Damara Ankle Sandal, it would be clean.
From its light colored and PU injected outsole, this looks like a clean and tidy sandal to have on your feet.
There's a simplicity to these sandals and a classic, timeless look, which evidently leads to the description of "gladiator" appearing in the listings.
Unlike some of the other in the Ecco footwear range that we have reviewed, these Women's Damara Ankle Sandals don't have any adjustable straps. You just slip your feet in and away you go.
The straps are a combination of beautifully soft leather and textile. They look as if they should be incredibly comfortable to have on and by all accounts, they generally are.
With a microfiber covered ethylene vinyl acetate foot bed, there is a nice soft and cool place for your feet to rest, with lots of support.
The outsole is synthetic and PU injected. It feels light and flexible and as if we could run or jump wearing these sandals, and they wouldn't weight us down.
There is a modest platform of three quarters of an inch, and a small one and a quarter inch heel, so these don't feel completely like flip flops, but they do still qualify as "flatties" by most people's standards.
THE STYLE
The underside of these sandals, no matter which shade you pick, is light colored and therefore the height of fashion at the moment.
And in terms of the colors on offer in this range, well let's just call them simple. You are certainly not going to be up all night deciding between them.
In total, there are four colors; Black, which is a black leather strap and kind of oatmeal on the textile strap, which goes around the front.
The next is Warm Grey, which is a kind of taupe tinged with brown and the textile strap is a similar oat color to the Black.
Another subtle shading is the Ombre/Powder pairing; which is a sort of subdued blue, although it looks grey in some photographs. This is coupled with the same oat colored "powder" of the other shoes.
Finally we have the brightest of the four, the Chilli Red/Powder. These are bright red on the leather straps and an oatmeal colored textile strap. If you are looking for something to make a statement with in this style, these are the ones to go for.
These are a simple, yet classic, flat style of sandal, which should be equally at home on the beach as they are on tarmac. We don't see them as being anything too high powered, but they look and feel comfortable for casual use.
Would you wear them anywhere formal? Well, they might just pass smart casual, but definitely don't make it onto our 'smart smart' list.
You may or may not decide to wear them into the office, depending on your workplace's dress code, but they certainly aren't scruffy or overly fashionable, by anyone's standards.
THE FIT
Like most Ecco sandals, these do not come in a half size and seem only to have one width setting on this style – which is standard.
Should you be able to order your usual size with impunity? Hm. Probably. 64% of respondents think that these fit just fine; however, there is still a minority for whom they didn't.
For those unlucky few, the complaint was that the sizing was too large, so just bear that in mind, particularly if you are a half size, that you might want to go down a size rather than up, if that is you.
One or two people also think that they are not extremely accommodating for wider feet, but with the slightly larger sizing, this shouldn't be a problem for most folk.
THE COMFORT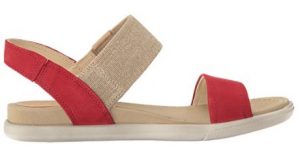 The main reason people choose Ecco footwear is for the comfort.
In fact, Ecco shoes are designed on the premise that they should never need breaking in.
The good news is that just about everyone loves the comfort level and the support that these Damara Ankle Sandals provide. The fact that the straps can't be altered does not seem to be an issue and they won't stretch out of shape on you, either. Phew!
THE TERRAIN
As we have mentioned, these are a casual, everyday sort of wearing sandal. You could take them to the beach, but we do not advise paddling in them!
With their soft leather and textile upper and cushioning EVA foot bed, these are unlikely to recover that quickly from a drenching!
Whereas it is not advised to get them soaking, if they do get wet and dirty (and that light colored sole will need to be kept in tip top condition to look its best) Ecco sell a wide range of cleaning products with which to clean them.
Whatever you do, don't throw them in the washing machine and God forbid, then the dryer. The manufacturers also warn against placing them on direct heat to dry off – so no putting them on top of radiators then.
Having said all that, if you follow the manufacturer's recommendations, then there's no reason why these should not clean up just fine.
VERDICT: SHOULD I BUY THESE SANDALS?
We like these no fuss, simple yet stylish, Damara Ankle Sandals by quality manufacturer Ecco.
They are comfy enough to have on all day and versatile enough to cope with most summertime activities – as long as they don't get muddy or wet too often.