Quick Overview
Like many other Skechers slip-on walking shoes, these mesh fabric shoes are renowned as possibly the most comfortable shoe on the market, due in part to their popular GOga mat technology, which makes them one of the most easy-wearing athletic walking shoes you'll ever come across.
In short, these shoes are a vacation for your foot.  In this review, we're going to break down all of the factors that make these shoes so perfect for long walks, and why Skechers is converting new fans every single day as people discover what a great shoe this really is.  
We give these shoes an overall 4 STAR rating, but that doesn't mean they'll be right for your feet.  Read on to find out more…
Let us start with the brand itself.  For those that don't know, Skechers is a trend-setting footwear company which has won many awards for their overall excellence in shoe performance and design, and the Go Walk 3 Mesh Slip-on Walking Shoe is no exception to Skechers' typical high standards of shoe-making. 
Skechers Performance Men's Go Walk 3 Attain Slip-On Walking Shoe,Black,12 M Us
Skechers Performance Men's Go Walk 2 Black Sneaker 11 D – Medium
Skechers Performance Men's Go Walk 3 Slip-On Walking Shoe, Black, 12 Ew Us
Skechers Performance Men's Go Walk 4 Incredible Walking Shoe, Black, 105 M Us
Go Walk 3 Footwear Technology
This particular model of shoe employs GoImpulse and GOga Pillar technology, along with a 1.5″ cushioned memory foam heel to provide walkers with all the support they need to go for long walks that are a pleasure, not a pain.
As you'll see around this website, we mention the name Skechers quite a bit, and it is due to their overall great walking shoes, especially now in 2016 – they seem to have a leg up, so to speak.

As you can tell by the name of the shoe, "Go Walk 3 Mesh Slip-on Walking Shoe", the descriptors "mesh" and "slip-on" are there for a reason. 
These shoes are all about comfort, and so when you go walking in them, your feet will be in for a treat. 
Take, for example, this short review by a customer named Patrick, who loved the shoe!
Aches And Pains? This Shoe Can Help!
These shoes have been designed specifically for those of us who have problems like foot and knee discomfort, achy joints, and other types of neuropathic pain. 
How do they do it?  That's where the GOga mat technology comes into play.
Think what you want about the Skecher's in-house term "GOga mat", but the fact is that these shoes are basically made out of yoga mat material in order to achieve the cushioned support needed to really handle the impact, that is the source of most of the damage your feet incur while walking.
Similar to many of the other Skechers walking shoes that we review on this website, these Skechers Men's Mesh Slip-Ons are among the best walking shoes we have found anywhere. 
We think these are definitely a shoe you'll want to buy if you're on the lookout for the perfect pair of walking shoes.  Let's take a look at a few more great features of this men's walking shoe.
Super Light Weight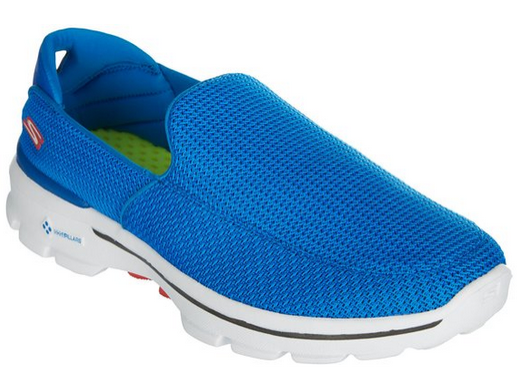 For starters, when you lift them out of the box, you won't believe how light they are – they are just 1.9 pounds! 
Because they are made with extremely lightweight materials, such as resalyte and memory foam, not only are you getting an extra light shoe that you can barely feel when it's on your foot, you're getting a shoe with incredible bounce that most other shoes don't offer.
More Airflow
We feel that the key to customer satisfaction here with these particular Skechers walking shoes is directly related to their mesh design, which allows for much more airflow than some of the other makes and models of walking shoe. 
Because of the mesh design, many customers can't get over how light and airy these shoes actually are when worn, and this also allows for your feet to stay comfortable for longer periods of time whether standing or walking.
Another customer had this to say on this topic:
Treadmill Friendly
Not every day has the perfect conditions for going out walking or running, which is when treadmills come in handy. 
Luckily, Skechers Men's Go Walk 3 shoes are just about perfect for using on treadmills.  They are light, airy, and best of all, they are not socks! 
Joking aside, you want a shoe that can keep you feeling limber when you hop on the treadmill for a walk indoors on a rainy day, and the soles of these Go Walk 3's are very agreeable to the treadmill's belt.  Definitely a great option to have if you have both a treadmill and a pair of Go Walk 3's.  
Upgraded Technology
Folks will also want to take note that these mesh slip-ons are exclusively part of the Go Walk 3 series of slip-on walking shoe, which is the newest line from Skechers comfort-focused walking shoe. 
With several upgrades made by Skechers based on demands made on the previous line of shoes, the Go Walk 2 series, these new Go-Walk 3 Mesh Slip-Ons achieve their level of comfort based on a number of small but important tweaks since the Go-Walk 2's came out.
Water Shoe?
Because they are in fact mesh, many customers have wondered if these shoes are made to get wet.  While these shoes are quite durable, and do dry out faster than a lot of other shoes, they aren't exactly made to be slogging around in a puddle or lake.  That said, you can definitely get them wet and not have to worry about it.
Users Generally Love Them
Our research shows that the vast majority of people who bought the shoe, said that these shoes fit perfectly, just exactly as advertised. 
This is actually a very high percentage of satisfied people, as shoes usually have a number of people who think they fit less than perfectly, but still fit well. 
A small minority of people said that the shoe was either slightly too large or too small, and weren't happy. 
These customers were forced to return the shoe and order a different size until they got the ones that fit. 
Ending up with the wrong size shoe and having to send them back is a real nuisance. 
That's why we recommend taking an extra few minutes to make sure your foot matches the shoe sizes for these shoes. 
How does one accurately measure their foot in order to ensure that you do get the right size shoe for your foot according to specific sizing charts?
Colors
The Skechers Men's Go Walk 3 Mesh Slip-On shoes come in a variety of colors, including: black, navy/gray, charcoal, stone, charcoal/orange, olive, and blue/red.
Along with each color, there are very subtle changes in the look and style of the shoe, so make sure you take a close look when you are choosing which shoe to buy.
There is a huge size range selection for these shoes; from 6.5 to 16 in U.S. sizes.
The Verdict
Barring any sizing issues you might encounter if you're not sure what size you are, or in the unlikely event that your estimation of your foot size doesn't match Skechers measurements for foot size, we think this is just the perfect shoe for any walking enthusiast.