Last Updated on
By: Best Walking Shoes
First of all, I am not one to spend big money on shoes, but when comes to winter boots, they must be a top quality, mid-calf high, and they have got to protect my feet and lower legs from the cold, and keep them ultra warm all the time.
First Time Jitters
I didn't know about, nor had I heard about the Teva brand until last year, when my husband and I decided to spend part of the winter at a ski resort in northern Italy.
I panicked knowing that I needed winter boots for deep snow….a boot that that would be comfortable to walk in, and keep my feet toasty warm.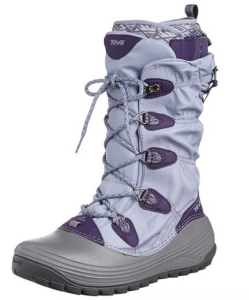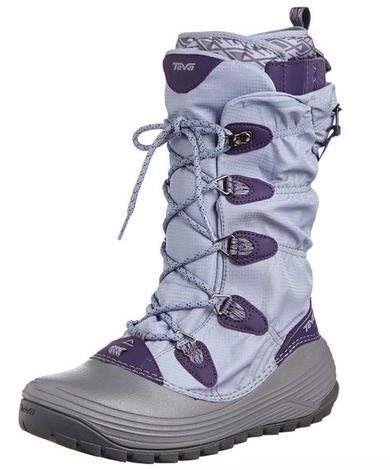 For two weeks I seriously devoted some time to find the right pair….and then I found Teva Women's Jordanelle 3 Winter Boots. I liked them immediately!
They were high enough, and looked like they could keep my feet warm.  Bingo…just what I was  looking for!
Worth It? 
I decided to buy them after I did some research, and am I ever happy that I did!  These boots are the most comfortable pair I have ever worn.
As a city girl who never needed to wear boots such as these, I can say that it was certainly a change for my feet.
It felt awesome to wear something so comfortable, without worrying that my feet would get cold and wet…totally uncomfortable.
Well…you just need to look at them – have you ever seen a more comfy looking boot?  
Teva did their best to create a pair of boots ideally made for deep snow, whether on vacation in Italy, or walking through deep snow at home.
Mid-Calf Warm Protection
This mid-calf boot features laces connected to three rows of ribbing to keep the boot shaft nicely wrapped around the ankle.  
They are wide enough at the opening so you can easily put your ski pants or jeans inside.
The boots feature an inner, removable liner and is excellent as a double barrier to keep your legs warm in very deep snow. 
The laces, plus the removable part of the boots keep the snow away. I have no problems slipping my feet inside because the shaft is wide enough, and has a pull-on loop at the rear. 
The rubber outsoles have Spider Rubber for  better traction; when you walk on icy streets  the outsoles "bite" the ice firmly, keeping you a little more safe. It is also waterproof, with a shaft that is 10 inches from the arch.
The heel is 2.5 inches, keeping your feet at a decent height above ground. I love the fact that I can get an extra inch in height this way, but what is more important, my feet are not too low to feel the cold ground.
Comes With A Nice Travel Bag
A nice added bonus when you purchase the Teva Women's Jordanelle 3 Winter Boots is the Teva Bagg that they packed the boots in. 
It is so practical for traveling, I don't have to put them in boxes or plastic bags.
This way I can store them in the closet during the summer, or take them anywhere and keep the suitcase clean.
I love little details like this, because it shows me that the designers thought of everything.
The Teva Women's Jordanelle 3 Winter Boots are an excellent deal; the price was reasonable for my pocket book and the quality was definitely beyond great.