SKECHERS WOMENS BOBS PLUSH SHOES…
OMG.
Where to start?
When you start looking at these delightful ballet pumps by quality footwear manufacturer Skechers, you don't quite know where it is going to stop.
It's a bit like looking into infinity. Or something. Our reviewer started trying to count them all, but simply gave up because it would be like trying to take God's photo. In short, it would be madness to even try.
But we are going to try!
TABLE OF CONTENTS
Alright, let's take a closer look at these doggone shoes!
---
THE KNOWLEDGE
MANUFACTURER: SKECHERS
STYLE: BALLET PUMPS
SHIPPING WEIGHT: 12 OUNCES
SIZES:  5 M-11 M
HALF SIZES: YES
COLORS: CAT MULTI, FUCHSIA, CAT TAUPE, CAT BLACK, HOT PINK PUG, ROYAL, TAUPE PUP, BLACK (DOG), BEST FRIENDS WHITE, GREY KITTY, BEST FRIENDS NAVY, BLACK PUP, HOT PINK KITTY, NAVY KITTY, NAVY PUP, BLACK KITTY, NAVY, PIT BULL, PIT BULL NATURAL, TAUPE WISH-KERS, CAT-I-TUDE, GRUMPY VACAY, WAG PARTY, WOOF PARTY, CATCHELLA, POSH CAT, SCHOOLS OUT, KITTY JAM, PRIMA PUP, PAW FECTION GUSSIE, KOOL KAT, PAW FECTION WINKY, PAW FECTION CALLIE, PAW FECTION ANGEL, PAW FECTION LUCKY, DOGGIE DAY CARE, WAG CREW, KITTY CONCERT, POSH PUP, STUDIOUS CAT, DAPPER CATS, CAT ATTACK, GO FETCH, HEATHER JERSEY CAT, WAG TOWN, PUPPY LOVE, GRUMPY CAT, CRITTERS BALLET, PLAYA PUPS, WAG CREW, PUP PATROL + MANY MANY MORE!!!
OUTER MATERIAL:  TEXTILE FABRIC UPPER
WATERPROOF: NO
SOLE: RUBBER
HEEL:  0.25 INCHES
ADDITIONALLY: MEMORY FOAM CUSHIONING, SOFT LINING IN SHOE, TUCKED TOE PLEAT FRONT, BOBS FOR DOGS METAL LOGO ON HEEL, ELASTIC PANEL FOR EASY ON-OFF,
FIT AS EXPECTED: 78% APPROX
PRICE GUIDE: $22+
OUR RATING:  4.7 STARS OUT OF FIVE
Time for a more personalized overview of these puppies…
---
OVERVIEW
If you love dogs and cats then what better place to start than with a pair of these super cute looking BOBS Plush Dream Doodle Ballet Pumps?
Sold with the promise of a donation to a cat and dog charity made for each purchase, these don't just look good, but also do some good in the process.
Over the years Skechers have donated $3 million to help needy animals in shelters!
But how do they work out for your feet?
Let's take a closer look at the design.
---
THE SHOE
This is a ballet pump design, nestling on a half inch heel. It features a tucked toe front pleat and a solid heel, with an overlay of colored material.
Naturally, there is a memory foam insole and the outsole is made of flexible rubber, with a traction tread.
The shoes themselves are a totally manmade production and completely safe for vegans and other friends of animals.
These are a slip on shoe with an elasticated panel to help them fit better.
Clearly, these are well designed, but judging by the material and the construction type, they are not intended for trekking across the Sahara desert, nor joining the army in!
Now, about how they fit!
---
THE FIT
So now we have established that these are a simple slip on shoe, what is the fit like exactly?
The signs are encouraging, with an over three quarters approval rating, it seems as if most of the respondents are more than satisfied with the fit.
Which leaves a small minority griping about them being too narrow, wide, small, large… you name it!
Three quarters plus is a healthy percentage of happy customers we feel.
And since the resulting portion can't seem to make their minds up about exactly what it is that's niggling them, we think that, on the whole, your regular size will most likely fit fine.
Probably.
---
Skechers Bobs Women's Bobs Plush-Peace & Love Flat Charcoal 6 W Us
THE COMFORT
Now if it is one thing that Skechers are renowned for, it is the comfort and easy wearing of their shoes.
We swear, that if they made six inch stilettoes you'd be able to run a marathon in them. So it is with trepidation that our testers got to work putting these cute kitties and adorable doggies through their paces.
The results, on the whole, were good. Nearly everyone is agreed that these are highly comfy shoes to actually have on your feet. In fact, for many, they are their first choice of house shoes.
Perhaps they are not quite slippers – they're too stylish for that and have clearly been made with tarmac in mind – but they are comfy enough to be worn indoors.
Only in a very small minority of cases did anyone have a problem with the fit or the wear-a-bility levels of these shoes.
---
THE TERRAIN
As you may have gathered, because these are an all textile affair, they are not going to be exactly waterproof. We wouldn't get too hopeful about them withstanding a lot of rain, either.
Although the rubber traction sole won't see you sliding about unnecessarily, be advised that these aren't going to hold up too well anywhere mega slippery either.
All in all, these are a soft, flexible shoe which are best suited to indoors or outdoor dry conditions. As long as you stay within these perimeters we feel you should be fine.
---
THE STYLE
Sometimes, when it comes to Skechers we just want to snuggle down into their soft foot hugging shoe bed and power on through the day without a second thought.
And with these BOBS Plush Ballet Pumps, you certainly can do this (as long as it's not a cross country trail)!
But, the one criticism of Skechers shoes has occasionally been that the comfort eclipses the style.
Well, not with these BOBS Plush Ballet Pumps.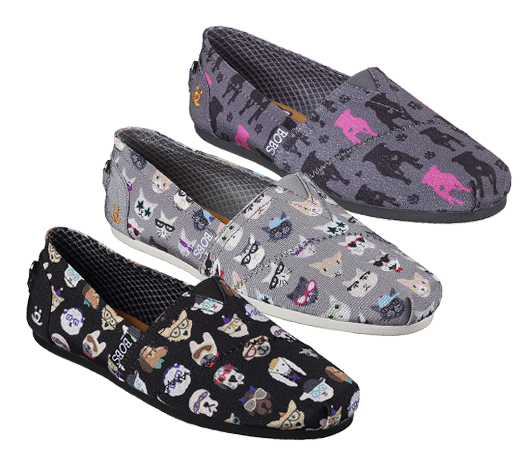 Absolutely no one could accuse these adorable pups of being utilitarian.
All of these designs (that's all twenty million and ten of the ones we have counted, so far) are ultra-cute.
Judge for yourself, if you don't believe it. These shoes are so sweet even your dog will want to wear them – and some do too!!
So should you buy these shoes?
---
SHOULD I BUY THESE SKECHERS BOBS PLUSH BALLET PUMPS?
Hell yes!
Even if you don't have a dog (or cat) we think that these lovable slip ons could easily become your latest pet!
These are some of the cutest designs we have ever seen on a shoe – your only problem is going to be picking just one pair to have on your feet!!!