I love nature and winter, and I love hiking, so mid cut boots were always a thing for me, therefore I have spent hundreds of dollars on quality boots.  
Not that I'm saying that I'm an expert, but over the years I have learned what I need, what design is best, or what sort of outsoles are the most durable ones.
However, buying hiking boots isn't something I do every winter, so manufacturers and designers are making huge progress!
This season I decided to give these mid hiking boots a try. The main reason was the design, but the outsoles literally took my breath away.
I have never seen such powerful lugs. You don't even have to guess how good these out soles are; it is enough to see them and realize it.
These out soles have amazing indentations such as circles, waves and thick comb-like lugs. This way there is not a chance to slip while wearing them.
The secret lies in the Vibram® Multi-Sport™ outsole powered up with Trek and Super Trek rubber that delivers reliable traction on both wet and dry surfaces.
I have worn them during light drizzles, on surfaces that were pretty dangerous for walking. This pair kept me walking as if it was dry and completely safe.
The rubber outsoles continue to wrap around the toes and back over the heel. The protective rubber toe bumpers ensure durability and abrasion-resistance.
The heel has a heel loop aid that helps me pull the boot on and off much easier.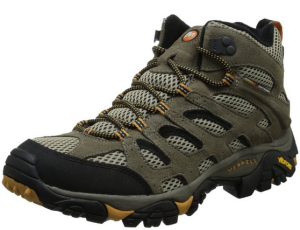 Now these shoes don't have "ventilator" in their name for nothing.
The combination of mid-height dura leather and nylon ventilator, that covers the uppers, gives these boots ample breathability, flexibility and support.
No wonder they were presented to me as boots that have long lasting performance.
Below the uppers there is a mesh padded tongue that protects my foot against lace pressure. But this doesn't mean that the tongue affects shoe breathability.
Its nylon mesh linings absorb and disperse excess moisture.
Feet remain dry in hot conditions, and at the same time if the weather is terrible (snow or rain) the nylon and the dura leather stay dry and keep water from soaking inside the shoes.
Inside the Merrell Men's Moab Ventilator Mid Hiking Boots there are removable footbeds (about 4.5 mm thick) that are anatomically shaped so the foot can feel rested and comfortable while walking.
There is additional cushioning for improved comfort.
Besides quality made outsoles and excellent uppers that keep water away, it is the midsole that actually flatters your feet the most.
Of course the combination of these three must be ideal for comfortable and stable shoes.
They also have full-length, compression-molded EVA midsoles. EVA midsoles are perfectly cushioned, giving the foot great support.
The only thing that would keep me from buying boots with EVA midsoles, is their short life. After a while the midsole tend to flatten.  
Thank goodness the midsoles are removable, so you can always buy replacements.
What makes these Merrell Mid Hiking Boots different is Air Cushion® heel pockets.
Usually, found only in running shoes, these boots have adopted the heel pockets too, to enhance shock-absorption under the heels and help stabilize footstrike.
It is an amazing feeling! Not only are these shoes flexible and comfortable, but they have air cushion as well.
So let's sum up some of the great qualities of  these boots…. 
Killer outsoles

Ventilator uppers

EVA midsoles

Waterproof and padded tongue
This combination makes for quality footwear. Add the perfect design of the boot, and you have a pair that you can't resist buying.