When the temperatures drop more each day, you may feel the need to change your footwear.
Pull your boots out of the bootbox from the back of the basement closet, and take a look at the pair you wore last year.  
It's time to dust them off, and check them out! I'm betting that 50% of you are ready for something new and exciting.
Want a suggestion? Look to your right! Nice looking boots, don't you think???
Here's the scoop on a pair of Keen Elsa WP winter Boots!
Overview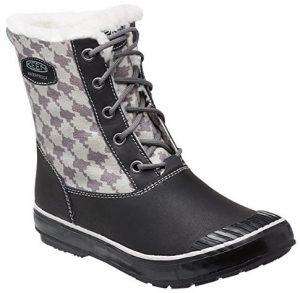 Let's take a close look at these beauties before we discuss the comfort, fitting, and durability.
The Keen Elsa is a nice looking pair of boots, perfect during the fall-to-winter transition days when the temperatures are fluctuating.
They display a round rubber toe box, and a patterned/solid colour material upper.
It's a short shaft fall/winter boot that has no faux fur cuff.
These light weight boots are easy to put on, and take off, with the help of a back pull tab, and strong laces (criss crossed through tiny eyelets) that require one good strong tug from the top to cinch the shaft.
This prevents snow and water from getting in.  
Their height from the ground is 8.5 inches, so they are not the best choice for deep snow or water, although they have good water resistance.
They perform best in approximately 2″ of snow.

The Feel
Of course, when we're buying new boots, we have to be sure that our feet will like them.
Having comfortable and warm boots can go a long way to make your winter more enjoyable…and indeed, the Keen Elsa has you covered on all fronts!
Durability
Many people are generally pleased with the quality and durability of these cute boots. 
Keep in mind that they are meant for cool wet weather to 'cold' weather, but not frigid temperatures. and they are not meant for long hikes in bitter cold and deep snow, as there is only 100 grams of KEEN WARM INSULATION in these boots.
The footbed also lacks a cozy liner, but the cushy sole and fleecy liner does provide some comfort and warmth.  
One area where these boots excel is traction which is excellent on icy pavement.
This definitely gives us a little more confidence when we approach slick surfaces or loose terrain.
The Fit
They are very easy to put on and take off. 
Also, one great advantage of these boots is small lace eyelets. 
The laces will rarely come off so you will never have to be annoyed about having to tie them up in the middle of the street many times during a busy day.
Laces are easy to knot and untie, never changing their shape. 
Watch this video and hear what BJ thinks about the Elsa …
Overall
They are affordable at $160, and maybe not quite as comfortable as what some competitors have to offer, but very cute and warm, for this time of the year.
The Elsa Boot is a really amazing product designed for spending the cooler to colder days, warm and comfortable.
If you're looking for a pair of boots that will help you survive the transition between the fall and winter, where having faux fur is a bit overrated, these boots are definitely a go.
Check price of these KEEN Elsa Winter Boots for the lowest price on Amazon