Loafers, loafing. Sounds like it should be nice and easy in theory. So why does choosing a pair end up feeling like rocket science?
It's not, of course, as we shall reveal below in our complete guide to buying the best men's loafers out there!
TABLE OF CONTENTS
Oft-asked questions
What types of loafers are there?
Choosing the right color
Choosing the right material
Loafer brands (who makes the best)
More burning questions about loafers you NEED to know
Detailed reviews of popular loafers
The last question
Alright, let's not "loaf" around any longer!
---
What Are Loafers?
Loafers.
Everyone seems to have slightly take on what they are.
For some, they are just any shoe which doesn't lace up, for others, there are more exacting definitions.
Because deciding what shoes look right with something, can be tough, we have compiled this complete guide to all things loafer – so that you can put your best foot forward with confidence!
---
What Is The Difference Between Loafers And Slip Ons?
So, what are loafers and how should you differentiate between them?
Are they more than just a slip on?
We think so. Although, by definition, a loafer is a shoe which slips on to the foot easily.
To understand better, we should look at the history of the loafer.
Loafers, as a style, originate from the Native American moccasin. These are a slip-on shoe, which fit loosely around the heel – making it easy to take on and off.

Moccasins are also defined by their low or no heel, and often have a lace on top. They generally do not have separate soles.
Moccasins became loafers via the (perhaps unlikely) intervention of Norwegian shoemakers, in the guise of the Aurland Moccasin.
In the 1930s, American shoemakers added a leather strip on the front of the moccasin and made the cut of the shoe into the more familiar diamond shape we know today as the penny loafer.
Since then, the loafer has undergone many a transformation and is now available in many different forms – which we shall look at in more detail!
---
How Do You Choose Loafers?
Because nowadays there are so many types of loafer to choose from, it can place the modern man with something of a dilemma.
Can you wear loafers with a suit? What pants go with loafers and the all-important question, is it okay to wear socks with loafers?
Don't worry, we will answer these crucial questions – plus a few more of our own – later on!
---
What Types Of Loafers Are There?
Firstly, let's look at the kinds of loafers there are out there…
Casual Loafers
With its moccasin origins, the humble loafer began life as a casual shoe. And in many instances, it still is.
In most cases, you will have to use your own judgement to tell if a loafer is more suited to the casual or high-class situation.
In our reviews, we look at loafers which combine both casual and dressier elements.
Vancilin Men'S Casual Leather Fashion Slip-On Loafers Shoes
Skechers Usa Men's Braver Rayland Slip-On Loafer,Dark Brown Leather,95 M Us
Crocs Men's Santa Cruz 2 Luxe M Slip-On Loafer, Khaki/Khaki, 9
Crocs Men's Santa Cruz Playa Lace M Sneaker, Khaki/Stucco, 12
One thing that loafers are good at is bridging the gap between casual and smart.
---
Dress Loafers
For the discerning gentleman, these are the four types of dress loafers to (have one's butler to) look out for!
---
Tassel Loafers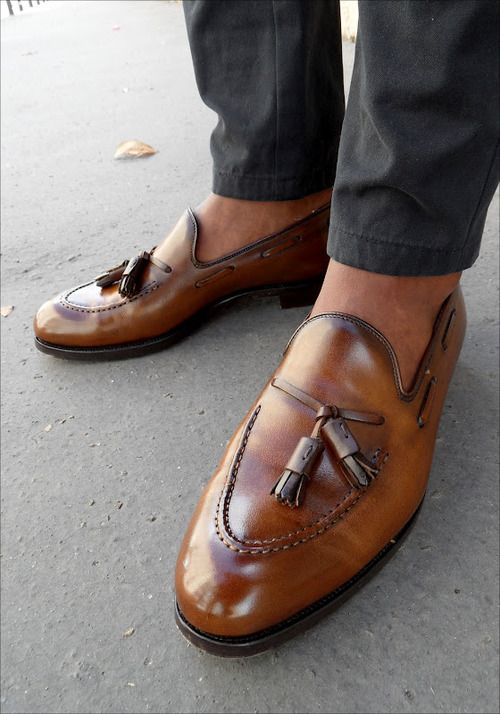 At the start of the scale, is the tassel loafer. These are moderately dressy and as the name implies, these are loafers which come with a tassel.
Dockers Men's Freestone Slip-On Loafer, Black/Antique Brown, 13 M Us
Cole Haan Men's Pinch Tassel Loafer, Black, 10 D Us
Dockers Men's Sinclair Kiltie Loafer,Antique Brown,10 M Us
Cole Haan Men's Pinch Grand Tassel Penny Loafer, Burgundy, 11 M Us
These shoes make a good smart casual option and are a great choice for days when you want to go straight from work to hot date, without stopping to change.
---
Penny Loafers
You have probably heard of penny loafers. These are the semi-formal cousin of moccasins.
Rockport Mens Barnaby Lane Penny Brown 1 115 W (Ee)
Clarks Men's Tilden Way Penny Loafer, Tan Leather, 105 Medium Us
Nunn Bush Men 84691-200 Penny Loafer, Brown, 105 M Us
Polo Ralph Lauren Men's Wes Penny Loafer,Polo/Tan,11 D Us
They are so called, because young men used the convenient slot like space in the front to keep their pennies for the phone in!
---
Belgian Loafers
So, what's the Belgian connection then?
A step up from tassel loafer, these are the smarter relation, with a bow on the front of them.
Men's Vintage Loafers For Men Belgian
Mens Smythe And Digby Tartan Tassel Belgian Loafers Leather (13) Red
Smythe & Digby Men's Black Patent Leather Belgian Loafers (105)
Smythe And Digby Men's Brown Leather Tassel Belgian Loafers (95)
Perhaps something you can imagine Hercule Poirot wearing, Belgian loafers are sewn on the inside, to give them their seamless, flawless finish.
---
Gucci Loafers
At the top of the scale, sit the Gucci loafer.
Designed in 1953, they are defined by the metal "snaffle" across the top of the vamp.
These are the gold standard of formal attire and any black-tie event demands a pair of Gucci loafers.
These days, other brands make this style also, but they are still known generically as 'Guccis'.
---
Driving Shoes
Just to go and confuse matters further, there are also driving shoes.
These are a type of loafer, designed specifically for use behind the wheel.
They come with grippy soles, for the best traction possible with the gas pedals when driving.
Although driving shoes are perfectly comfortable and wearable in a variety of situations, they have been created with driving in mind.
---
Monk Strap
If you weren't confused enough, there is the thorny issue of Monk Strap shoes.
Put simply, some purists don't believe these are loafers. Others do.
Clarks Men's Tilden Style Monk-Strap Loafer, Black Leather, 11 M Us
La Milano Mens Double Monk Strap Slip On Loafer Cap Toe Leather Oxford Formal Business Casual Comfortable Dress Shoes For Men
La Milano Mens Double Monk Strap Slip On Loafer Leather Oxford Formal Business Casual Comfortable Dress Shoes For Men
Stacy Adams Men's Macmillian-Cap Toe Monk Strap Slip-On Loafer Scotch 11 M Us
---
Which Color Should A Loafer Be?
Deciding upon a color is down to you. Generally, a loafer will only come in the simplest of shades – usually brown, gray and black.
Let us look at the two most popular.
---
Brown Loafers
The beauty of the brown loafer is its versatility. The chances are that you will make something work with brown, no matter what you want to wear them with.
Gifennse Men's Leather Loafers Shoes Mens Dress Shoes,Black Shoes,Brown Shoes(11Us/Brown
Bruno Marc Men's Gordon-07 Brown Leather Lined Dress Loafers Shoes Size 10 M Us
Dockers Men'S Proposal Leather Slip-On Loafer Shoe,Tan,10 M Us
Deer Stags Men's Drive Slip-On Loafer, Dark Luggage, 13 M Us
Brown loafers make a good choice, for the more casual occasion and can be paired successfully with jeans.
---
Gray Loafers
Ah. The ubiquitous gray. If the 'experts' were to be believed, gray is the new black.
This should mean you can wear it with the most formal outfits, but can you?
Go Tour Men's Classy Fashion Slip On Penny Loafers Casual Suede Leather Moccasins Driving Shoes Flats Classic Boat
Bruno Marc Men's Kendo-02 Grey Penny Loafers Moccasins Shoes Size 85 M Us
Jions Men's Driving Penny Loafers Suede Driver Moccasins Slip On Flats Casual Dress Boat Shoes Grey 13 D(M) Us/Eu 49
Crocs Men's Santa Cruz 2 Luxe M Slip-On Loafer, Charcoal/Light Grey, 11 D(M) Us
Possibly. But Best Walking Shoe Reviews must here sound a note of caution. We think that the most prestigious events still warrant a black Gucci loafer.
However, darker shades of gray might make a good compromise for the stylish man, looking to purchase just one pair of all-rounders.
---
Black Loafers
The black loafer is your go-to option for formal wear, time and again.
However, according to the snobs experts these should be limited to 'normal' suits and not black tie events.
Jitai Men's Penny Slip-On Leather Lined Loafer Luxury Men Shoes (10 D (M) Us, Black)
Cole Haan Men's Pinch Penny Loafer, Black, 12 D Us
Men Genuine Leather Mens Metallic Textured Slip-On Glitter Loafers Shoes (95 D (M) Us, Black)
M-Anxiu Men's Fashion Tuxedo Loafers Rhinestones Slip-On Black Wedding Moccasins (11)
But we think that decision is up to you!
---
Materials
---
May as well start with one of the classiest looking materials available in a loafer.
Velvet
For a look of luxury, we recommend a velvet loafer.
Although limited in its versatility, the velvet loafer adds those final touches to the dressier outfit -pair it with a velvet suit for maximum effect!
---
Suede
A suede loafer is likely to be the most comfortable. It is also the more casual option to go for.
Suede loafers can be accessorized nicely and make perfect 'date' wear – for all you lotharios out there!
---
Leather
Of course, loafers can be leather. The leather loafer is the more dressy of the options available.
It also has the advantage of being more versatile, hard wearing and suitable for all seasons (extreme weather excepting).
---
Brands
---
Now for a most excellent question and the answer as well…
Who Makes The Best Men's Loafers?
Some brands knocking out the best quality loafers include;
---
Gucci
Gucci Men's Chocolate Brown Leather Loafers
---
You have heard us talk about this next brand many a time.
Clarks
Clarks Reazor Drive Loafer
---
Another sought after brand would include…
Ted Baker
Ted Baker Men's Simeen 3 Loafer
---
If you know loafers, you'll no doubt have heard of…
Stacy Adams
Stacy Adams Men's Venice Smoking Loafer
---
Back to some pertinent questions about loafers that many men have put to us…
How Should Men's Loafers Fit?
Loosely. In a word, a loafer is meant to be a loose-fitting shoe, which slips on and off the heel easily.
That said, for the more formal end of the spectrum, you might want things to fit a little more snugly.
Tip – as loafers may be worn sockless, factor this into your calculations when selecting a size.
---
Can You Wear Loafers With A Suit?

You can absolutely wear loafers with a suit. But the devil is in the detail – pairing the exact right loafer with the correct suit can pose difficulty.
Leather or velvet will generally work best with more formal attire. And we think that a simple pair of black or brown loafers wins every time!
---
How To Wear Mens Loafers With Jeans
Add a pair of stylish loafers to your favorite jeans to upgrade your look from casual to smart casual.
A casual pair of suede loafers will complement a well-cut pair of jeans, for every occasion.
---
What Pants Go With Loafers?
Most styles of pants work well with loafers. Choose between jeans, chinos, or khakis for a timeless look.
If you are looking for something that can be worn with a blazer, then a good pair of loafers are your friend.
On the whole, shorter fitting pants should be worn with loafers.
You can also pair them with shorts in the summer and go sockless!
---
Is It Okay To Wear Socks With Loafers?
To sock or not to sock, that is the question!
The answer is a little more complex – essentially it is down to you.
Worn without socks, a loafer looks crisp and effortless. However, hotter days may make this a little sweaty and you may wish to consider thin cotton or invisible socks for comfort.
You will know whether the suit you're wearing can take socks or not. But a word of advice, as loafers reveal a fair amount of ankle – make sure they are clean!
---
Can You Wear Loafers In Winter?
The general advice is that while leather loafers can be worn in the winter, suede should be retired after the summer months.
On no account, get your suede or velvet loafers wet!
On the whole, loafers work better in temperate climes and indoor situations – you aren't going to want to go exposing them to the ravages of winter!
---
How Do You Wear Penny Loafers?
Casual is the name of the game for the vast majority of penny loafers, but their beauty comes in their versatility.
The penny loafer may be dressed up or down, with everything from jeans to a casual suit – just don't try wearing them with a tuxedo!
---
Are Dress Loafers Formal Or Casual?
The clue is in the name – dress loafers are geared to the formal end of the spectrum.
However, a dressier velvet loafer might add an interesting dimension to a more casual ensemble!
---
Here are some more detailed reviews of our favorites.
Stacy Adams Men's Rycroft Cap Toe Monk Strap
• MANUFACTURER: STACY ADAMS
• MODEL NAME: MEN'S RYCROFT CAP TOE DOUBLE MONK STRAP OXFORD
• STYLE: LOAFERS
• SIZES: 7-15 M (D)
• HALF SIZES: YES
• COLORS: BLACK, COGNAC
• OUTER MATERIAL: LEATHER
• SOLE: LEATHER
• ALSO: CUSHIONED INSOLE, LIGHTWEIGHT AND DURABLE, MEMORY FOAM PADDING, FLEXIBLE OUTSOLE, LIZARD PRINT DETAIL
• FIT AS EXPECTED: 75%
• PRICE GUIDE: $59.22-$90
• OUR RATING: 4 STARS OUT OF FIVE

The Rycroft Cap Toe Double Monk Strap Oxford By Stacy Adams
Style. You've either got it, or you haven't.
In other words, you've either got a pair of these Rycroft Cap Toe Double Monk Strap Oxfords kicking around your wardrobe, or you haven't.
Whether you're a dude who's into collecting shoes like a male Imelda Marcos, or someone more at home in a pair of sneakers, these stylish loafers should be your first choice for formal attire.
Surprisingly lightweight, your feet will thank you time and again for choosing these loafers. And you might forget yourself and think you're in your favorite pair of sneakers!
Comfortable and well made, these are a smart choice for any black-tie event you might need.
Not the cheapest, by any means, these are still a good buy at well under $100. Perplexingly, there's a steep price differential depending on whether you want the brown (cognac) loafers, or the black ones (much more expensive!)
With not just one, but two sharp looking buckles, these are a shoe which will get you noticed – but not in a bad way!
Stacy Adams Men's Rycroft Cap Toe Double Monk Strap Oxford Cognac 9 M Us
Stacy Adams Men's Sterling Bit Slip-On Mule Loafer Black 12 M Us
Stacy Adams Men's Danton Bike-Toe Slip-On Loafer
Stacy Adams Men's Valet Velour Bit Slip-On Loafer Black 11 M Us
Wear them if you dare to your next work appraisal or job interview!
---
Clarks Men's Ashmont Race Slip-On Loafer
• MANUFACTURER: CLARKS
• MODEL NAME: ASHMONT RACE
• STYLE: CASUAL AND DRIVING SHOES
• SHIPPING WEIGHT: 2 POUNDS
• SIZES: 7-13 D (M) US
• HALF SIZES: YES
• COLORS: BLACK, DARK TAN, BROWN, BROWN SMOOTH, COGNAC, LIGHT TAN LEATHER, DARK BROWN LEATHER, BLACK SMOOTH
• OUTER MATERIAL: LEATHER
• SOLE: SYNTHETIC
• ALSO: BREATHABLE LEATHER, THERMOPLASTIC RUBBER LUG DRIVING SOLE, ORTHOLITE CUSHION FOAM SOLE
• FIT AS EXPECTED: 66%
• PRICE GUIDE: $44.71-$135.22
• OUR RATING: 4 STARS OUT OF FIVE
The Ashmont Race By Clarks
A race you say? Go on then!
What we have here is a piece of class, from renowned shoe manufacturer, Clarks.
Clarks, of course are well known for both their quality and no-nonsense approach to footwear.
With a reputation for comfort as well as durability, they have become the brand of choice for anyone seeking easy wearing shoes that are kind to feet.
In the past, there has perhaps been a tendency to equate this emphasis on comfort, with a lack of style.
But that is no more, with the Ashmont Race – which is the classic men's loafer, in every way.
Made from quality leather, and with a handy grippy sole, these loafers are primarily driving shoes and have been designed to grip to the pedals.
However, don't let this put you off, if you also want to wear them out of the car. These are the perfect indoor shoes – so comfortable that your feet will think you're in slippers, yet smart enough to be worn into the office.
Clarks Men's Ashmont Race Driving Style Loafer Tan Leather 105 M Us
Clarks Men's Cotrell Step Slip-On Loafer,Brown Oily,105 D – Medium
Clarks Men's Escalade Step Slip-On Loafer- Black Leather 105 D(M) Us
Clarks Men's Tilden Free, Black Leather 105 M Us
Our only word of warning is that these won't stand up to lots of outdoor walking – so treat them carefully!
---
Clarks Men's Cushox Step Slip-On Loafer
• MANUFACTURER: CLARKS
• MODEL NAME: MEN'S CUSHOX STEP
• STYLE: CASUAL SHOES
• SHIPPING WEIGHT: 12.8 OUNCES
• SIZES: 7-15 US MEDIUM AND WIDE
• HALF SIZES: YES
• HEEL: 1.5 INCHES
• COLORS: BLACK, DARK TAN
• OUTER MATERIAL: LEATHER
• SOLE: SYNTHETIC
• ALSO: BREATHABLE LEATHER, EVA SOLE, COMFORT FOOT BED, NON-MARKING OUTSOLE, CUSHION SOFT MIDSOLE
• FIT AS EXPECTED: 71%
• PRICE GUIDE: $135
• OUR RATING: 4.7 STARS OUT OF FIVE
The Cushox Step Loafer By Clarks
Cushion max technology and a one and a half inch heel, lift these smart leather loafers, by manufacturer Clarks, out of the ordinary.
Scoring highly for both comfort and style, there is a timeless simplicity to the Cushox Step Slip On Loafer.
Available in only two colors – black or brown, these are a versatile loafer which will go with a wide variety of smart casual attire.
These also span a seven right up to a fifteen, with half sizes catered for as well as the choice between wide fit and standard. There should be something for everyone, no matter how much of a Yeti you are!
Light, comfortable, eminently wearable and smart – the Cushox Step Slip on has a lot to commend it and we can't find an awful lot of negatives either.
Clarks Men's Ashmont Race Driving Style Loafer Tan Leather 105 M Us
Clarks Men's Cotrell Step Slip-On Loafer,Brown Oily,105 D – Medium
Clarks Men's Escalade Step Slip-On Loafer- Black Leather 105 D(M) Us
Clarks Men's Tilden Free, Black Leather 105 M Us
---
Louechy Men's Liberva Leather Slip-On Loafers
• MANUFACTURER: LOUECHY
• MODEL NAME: LIBERVA
• STYLE: DRIVING SHOES
• SIZES: 6.5-12 US
• HALF SIZES: YES
• COLORS: BLACK, BLACK PUNCH, BROWN, BROWN PUNCH, BROWN OXFORD, COFFEE PENNY LOAFER, OCHRE, OCHRE PUNCH, DARK BROWN 213, BLACK 213, COFFEE OXFORDS, COFFEE PUNCH OXFORDS, BROWN PENNY LOAFER, BLACK PUNCH OXFORDS
• OUTER MATERIAL: LEATHER
• SOLE: RUBBER
• ALSO: HAND STITCHED LEATHER UPPER, LIGHTWEIGHT, LOAFER
• FIT AS EXPECTED: 78%
• PRICE GUIDE: $9.89-$37.89
• OUR RATING: 4.1 STARS OUT OF FIVE
The Liberva Slip On Leather Loafer By Louechy
Besides being a bit of a tongue twister to say, there is a lot to commend the Liberva Leather Loafer, by manufacturer Louechy.
Smart and lightweight, they come in a decent spectrum of sizes, including halves, although there is no wide fitting in this style.
Billed as a driving shoe, as well as having the potential to double up as a house shoe, we believe this model is best suited to the indoors.
Designed primarily to grip to the pedals, the Liberva comes with a decent looking tread and nice and easy style heel. This makes them perfect to just kick on and start driving – and then kick off again.
With more than one style inhabiting the same listing, it's as well to check out the full range within this design, as there are some radical differences. There are even Oxfords available – arguably not a loafer at all!
Most types are 'proper' loafers, however, with a split between the 'plain' color and the 'punch' – the latter coming with lattice style holes in the upper.
This might make them good for hotter days, but possibly not what you want for wet and wintery conditions.
Louechy Men's Liberva Genuine Leather Slip-On Loafer Casual Shoes Breathable Driving
Louechy Men's Notus Mesh Walking Loafers Breathable Casual Shoes Lightweight Driving
Louechy Men's Achicle Wide Glove Shoes Soft Leather Loafers Flat Walking